MARS EQUESTRIAN™ Named Presenting Sponsor of Washington International Horse Show
August 21, 2019 - Washington, D.C.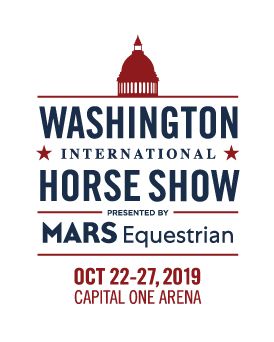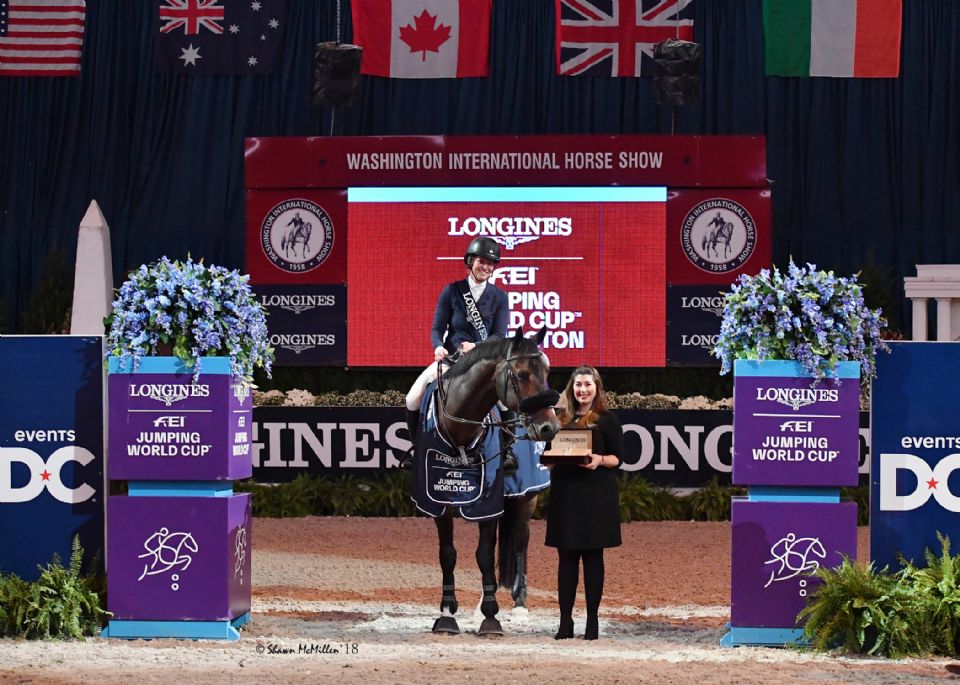 Beezie Madden and Breitling LS, winners of the 2018 Longines FEI Jumping World Cup™ Washington for the President's Cup, at WIHS.
Photo by Shawn McMillen Photography
MARS EQUESTRIAN™, a division of MARS Incorporated, has been named presenting sponsor of the Washington International Horse Show (WIHS), which will return to Capital One Arena in the heart of downtown Washington, D.C., from October 22 through 27, 2019.
MARS EQUESTRIAN is the link between their iconic brands and the equestrian community. For generations, MARS has celebrated a rich equestrian heritage, and through purposeful partnerships, MARS EQUESTRIAN is committed to the sport and building an enduring legacy. From world-class competitions across all equestrian disciplines, to stewarding the power of horses on society and sustainability, MARS EQUESTRIAN aims to enhance the lives of horses and people.
"MARS EQUESTRIAN is proud to become the presenting sponsor of WIHS," said Geoff Galant, Vice President of MARS EQUESTRIAN. "Not only has MARS, Inc. been a supporter of WIHS for the past 13 years, the Washington D.C. area is home to our corporate headquarters. MARS, Inc. is dedicated to cultivating vibrant communities within the Capital region through our numerous cultural and sporting partnerships. We are thrilled to include WIHS as one of our great partners, providing the rare opportunity to make Olympic-level equestrian competition accessible in the city center."
Loyal to supporting the growth of equestrian sport, WIHS joins a family of horse sport organizations and competitions championed by the sponsorships of MARS EQUESTRIAN, including the Land Rover Kentucky Three-Day Event, Upperville Colt and Horse Show, and MARS Essex Horse Trials to name a few.
"We are honored to build a relationship with a brand that strives to bring horses and people together, a value that aligns well with the goals of WIHS itself," said WIHS Executive Director Mary Helen Shaughnessy. "I can't wait to see how our partnership grows and witness what can happen when two organizations as devoted to horse sport as WIHS and MARS EQUESTRIAN come together for the betterment of the sport and industry as a whole."
MARS EQUESTRIAN's support of WIHS includes several initiatives and programs that will take place during show week. WIHS kicks off with Tuesday evening's Hunt Night, presented by BUCKEYETM Nutrition, and features top professional and amateur hunter competition as well as a side-saddle exhibition highlighting the history of the hunter discipline.
Additionally, an inaugural Barn Night Trick or Treat, presented by SNICKERS, will be a highlight of Thursday's ever-popular Barn Night, presented by Lindsay Maxwell Charitable Fund. Patrons and fans can "trick or treat" along the arena concourse, stopping to learn horse facts and answer equestrian trivia to earn candy.
MARS EQUESTRIAN's support also helps to underwrite WIHS' all-new Community Ticketing program, which provides complimentary tickets for every session of WIHS to D.C. public school students and K-12 teachers. WIHS will also once again offer comprehensive USEF Network live streaming throughout the show week courtesy of MARS EQUESTRIAN.

Each year, WIHS continues a longstanding tradition as one of the world's most celebrated indoor horse shows. After celebrating its 60th anniversary in 2018, the 2019 edition of WIHS will again play host to the $136,300 Longines FEI Jumping World CupTM Washington, with coveted qualifying points on offer for the 2020 Longines FEI Jumping World CupTM Final taking place on U.S. soil in Las Vegas, NV, in April. Additionally, WIHS will welcome qualified hunter, jumper, equitation, and pony riders from across the nation and celebrate year-end titles, including the coveted Lindsay Maxwell Charitable Fund WIHS Equitation Finals.
For more information, please visit www.wihs.org, join us on Facebook, and follow us on Twitter and Instagram, YouTube, and Snapchat. Tag us using #WIHS2019 #HorsesInTheCity, #FEIWorldCup, #JumpToGreatness, and #Longines.