Wordley Martin Arena Renovations Earn Rave Reviews at HITS Post Time Farm
February 24, 2023 - Ocala, FL
A frequent HITS competitor, top U.S. grand prix rider Aaron Vale expressed appreciation for the significant upgrade in the Post Time Farm's Grand Prix Arena.
Photo by ESI Photography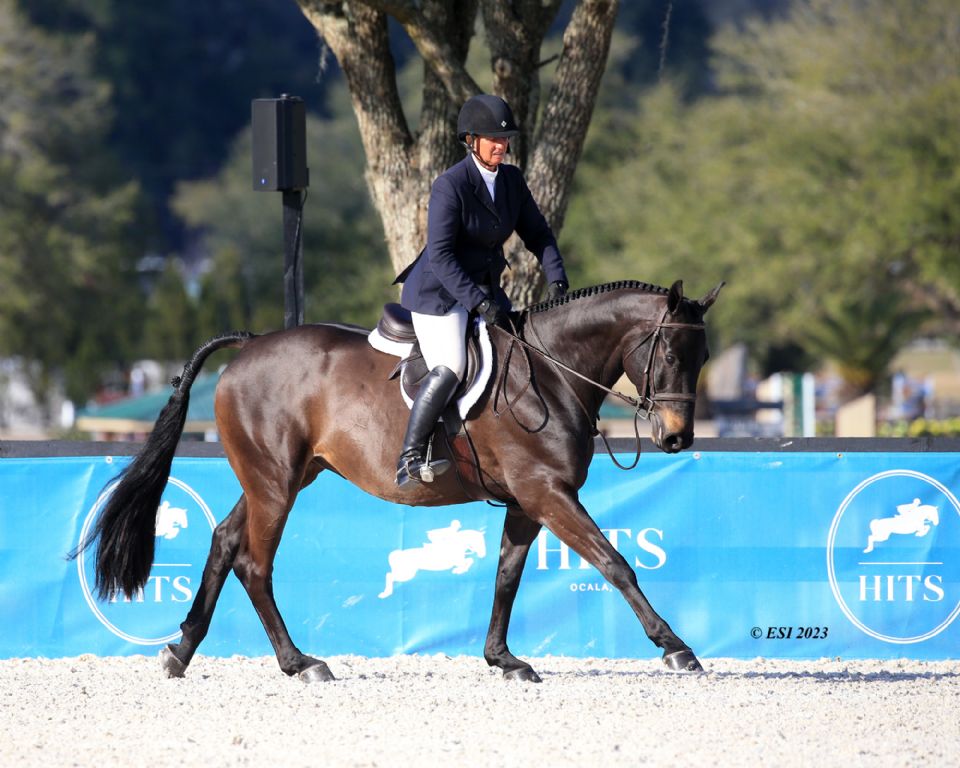 International Hunter Derby champion Jennifer Alfano has claimed numerous wins this winter show season on the new Wordley Martin footing in the redesigned Main Hunter Arena.
Photo by ESI Photography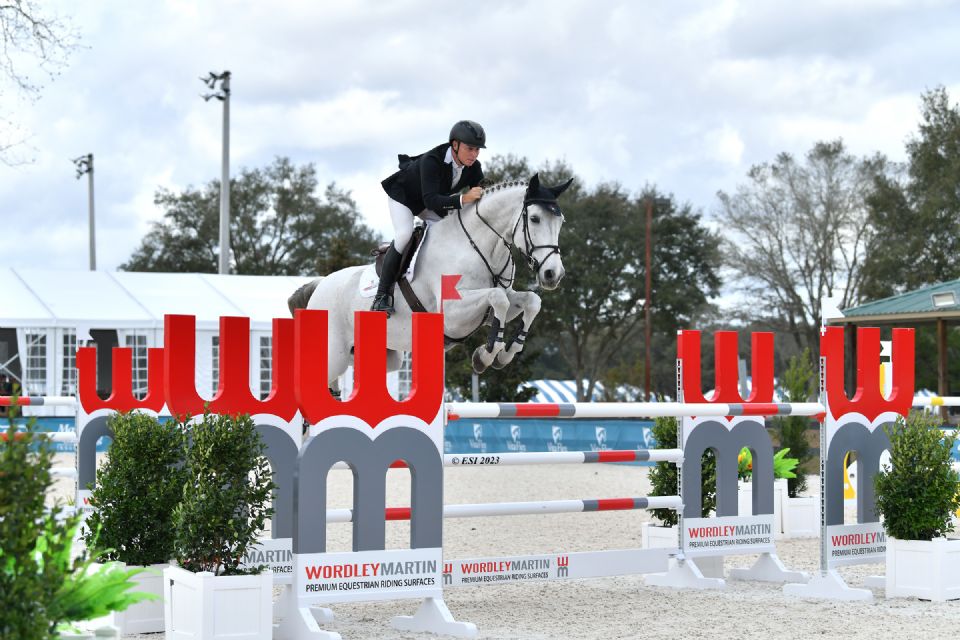 Wordley Martin Co-founder and New Zealand Olympian Sharn Wordley is a regular competitor at HITS Ocala, enabling him to more closely monitor the arenas as part of the HITS arena management team.
Photo by ESI Photography
The new HITS Post Time Farm arenas, designed and built by Wordley Martin, a leading developer of equestrian properties and premier riding surfaces, are proving to be a highlight of the 2023 HITS Ocala Winter Circuit for top jumper and hunter riders. The HITS renovation project marks the second foray into competition venue design for co-founders of Wordley Martin, Sharn Wordley and Craig Martin. Wordley Martin is already highly respected in the private arena construction industry and works with riders in the Olympic disciplines of show jumping, dressage, and eventing.
Wordley Martin's HITS Post Time Farm project featured a complete overhaul of both the Grand Prix Arena and Main Hunter Arena as well as the corresponding warm-up rings. Wordley Martin's premium equestrian surface footing was installed, and several structural improvements were made, including upgraded drainage systems and overall size expansions. The Wordley Martin team took special care to preserve the unique character of the arenas by showcasing the iconic granddaddy oak trees in the two competition arenas, which are both more than 100 years old.
Halfway through the winter competition season, the property improvements have drawn many of the best professional jumper and hunter competitors to the facility. Commenting on the quality of the new footing, star grand prix rider Aaron Vale was impressed that even in inclement weather, the new Grand Prix Arena remained in pristine condition.

"It's amazing," he said after his win in the $25,000 SmartPak Grand Prix on February 3, 2022. "The arena is very pretty to look at, and the footing is super. Even with the amount of rain we've had today, the footing was perfect. Great conditions for show jumping!"
Hunter riders are also reaping the benefits of the unique Wordley Martin footing, which is a proprietary sand mixture that incorporates textiles, engineered to support every footfall.
"The Main Hunter Arena looks beautiful," expressed International Hunter Derby champion Jennifer Alfano after her reserve championship in the 3'3" Green Hunters on February 2, 2023. "They really have done a great job."
Accomplished rider and trainer Bobby Braswell, who operates his Terrapin Hill Farm near the show in Ocala, Florida, added, "I think that the Main Hunter Arena is now one of the best riding rings in the country because of the size and the footing. They breathed new life into this horse show."
In addition to overseeing the immediate renovations, Wordley Martin signed on to be part of the HITS arena management team for the next three years to help ensure the new arenas continue to perform at an elite level. As part of their commitment to consistently producing the best riding conditions, Wordley, an Olympic show jumper originally from New Zealand, has been personally competing at HITS. He has racked up wins and other top placings, including a second-place finish in the $100,000 Ocala Electric Utility Grand Prix on February 19, 2023, just behind German Olympian and European Championship individual gold medalist Andre Thieme.
"It's unbelievable footing here in the schooling area and in the Grand Prix Arena," remarked Thieme after his win. "That's the most important thing for the horses. I like everything about HITS, I always have, but the new footing is extra, extra nice."
"We are delighted with how the arenas are performing and with the overall positive response from riders," expressed Wordley. "Our goal was to help bring HITS into a new era and provide an exceptional exhibitor experience, and I am pleased to see we have done that. We are even more excited to be part of the show's continued development with the Wordley Martin arenas as the focal point."
The popular HITS Ocala Winter Circuit, which features 10 weeks of US Equestrian (USEF) rated hunter/jumper competition, continues through March 26, 2023.

About HITS
For more than 40 years, HITS has established itself as an industry leader and the largest producer of hunter/jumper horse shows in the United States. HITS revolutionized the industry when it produced three of the then-richest grands prix in the world. By the numbers, HITS operates six venues; 60 weeks of sanctioned hunter/jumper competitions; six weeks of dressage events; and 65,000 horses are expected to compete in 2023. Based in the Village of Saugerties, New York, HITS is a national company producing horse shows in Ocala, Florida; Culpeper, Virginia; Wayne, Illinois; East Dorset, Vermont; Saugerties, New York; and Del Mar, California. Find out more at www.HitsShows.com.
About Wordley Martin
Wordley Martin provides equestrian arena architecture, construction, installation, and footing products to create a personalized, ideal riding environment. Founded by international grand prix riders Sharn Wordley and Craig Martin, Wordley Martin has installed more than 450 arenas throughout the United States and has become the choice of top athletes and owners from the Olympic disciplines of show jumping, eventing, and dressage who value Wordley Martin's exceptionally high standard of execution. Whether it be for a traditional outdoor arena, covered arena, indoor arena, or gallop track, Wordley Martin's unique sand mixture, incorporating textiles and fibers, results in a dust-free surface to ideally support every impact. Learn more at www.WordleyMartin.com.