Vermont Summer Festival Focuses on Horse Welfare with Required Vaccination Procedures
June 9, 2016 - East Dorset, Vermont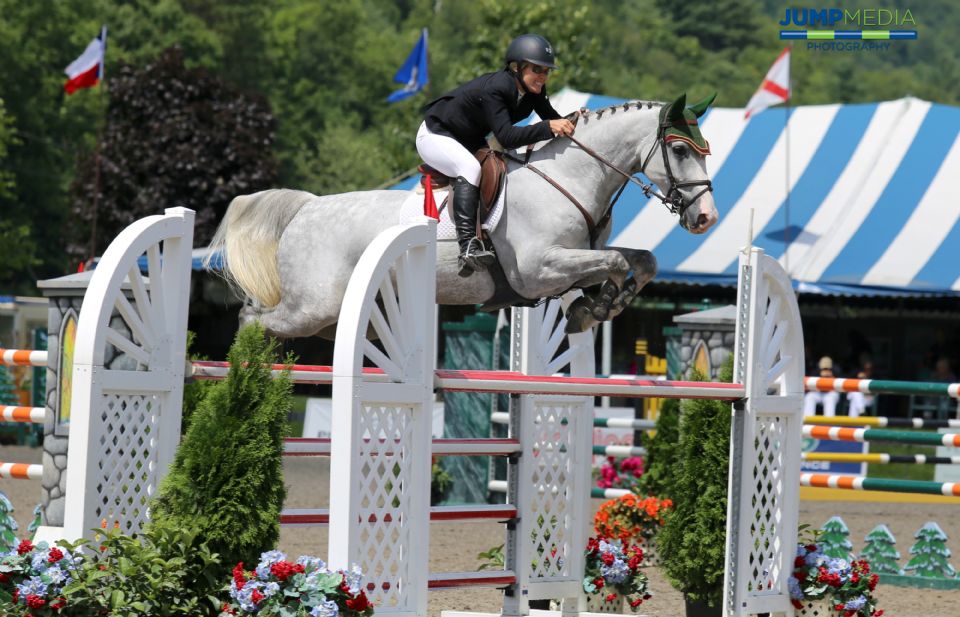 Alexa Lowe-Wiseman and her mount, Gringo, competing at last year's Vermont Summer Festival in East Dorset, VT.
Photo by Jump Media
All horses competing at the 2016 Vermont Summer Festival, running July 5 through August 14 at Harold Beebe Farm in East Dorset, VT, are required to comply with the State of Vermont and Federal Government equine health certification protocols.
In addition to general bio-security practices, the Vermont Summer Festival requires specific vaccination procedures, as well as proper documentation. Upon arrival at Harold Beebe Farm, each horse must have the following documentation on file in the horse show office before being issued a back number:
A completed Vermont Summer Festival Vaccination Declaration, which can be found here .

A negative Coggins test obtained within 12 months.

A Certificate of Veterinary Inspection (CVI) – dated within 30 days – designating the Vermont Summer Festival as the point of destination and 2971 Route 7, East Dorset, Vermont, as the physical destination.
More information, including FAQs on requirements for horses competing at the 2016 Vermont Summer Festival, is available at www.vt-summerfestival.com.
"We can not stress enough the importance of including the physical address of the show grounds on every health certificate," said John Ammerman, Vermont Summer Festival Show Manager. "The repercussions of an incorrect destination address will be that the horse will need to leave the state of Vermont to have a corrected health certificate issued, as mandated by state and federal agencies."
As this year's Vermont Summer Festival quickly approaches, exhibitors are not only reminded to complete the required vaccination and health documentation requirements, but to have their entries postmarked by the closing deadline of June 10. The 2016 prize list can be accessed here and entries for all six weeks of competition can now be submitted three ways. Entry forms can be obtained online and mailed, or can be submitted via HorseShowsOnline.com and EquestrianConnect.com.
For over 20 years, the Vermont Summer Festival has attracted exhibitors and their families to the Manchester region in southern Vermont for great competition in an ideal summer setting. The Vermont Summer Festival is a proud member event of the Show Jumping Hall Of Fame, the Marshall & Sterling League, and the North American League (NAL). Please e-mail or visit www.vt-summerfestival.com for more information about the Vermont Summer Festival.