Ottawa Equestrian Tournaments Prize List Now Available Online!
June 8, 2016 - Ottawa, Ontario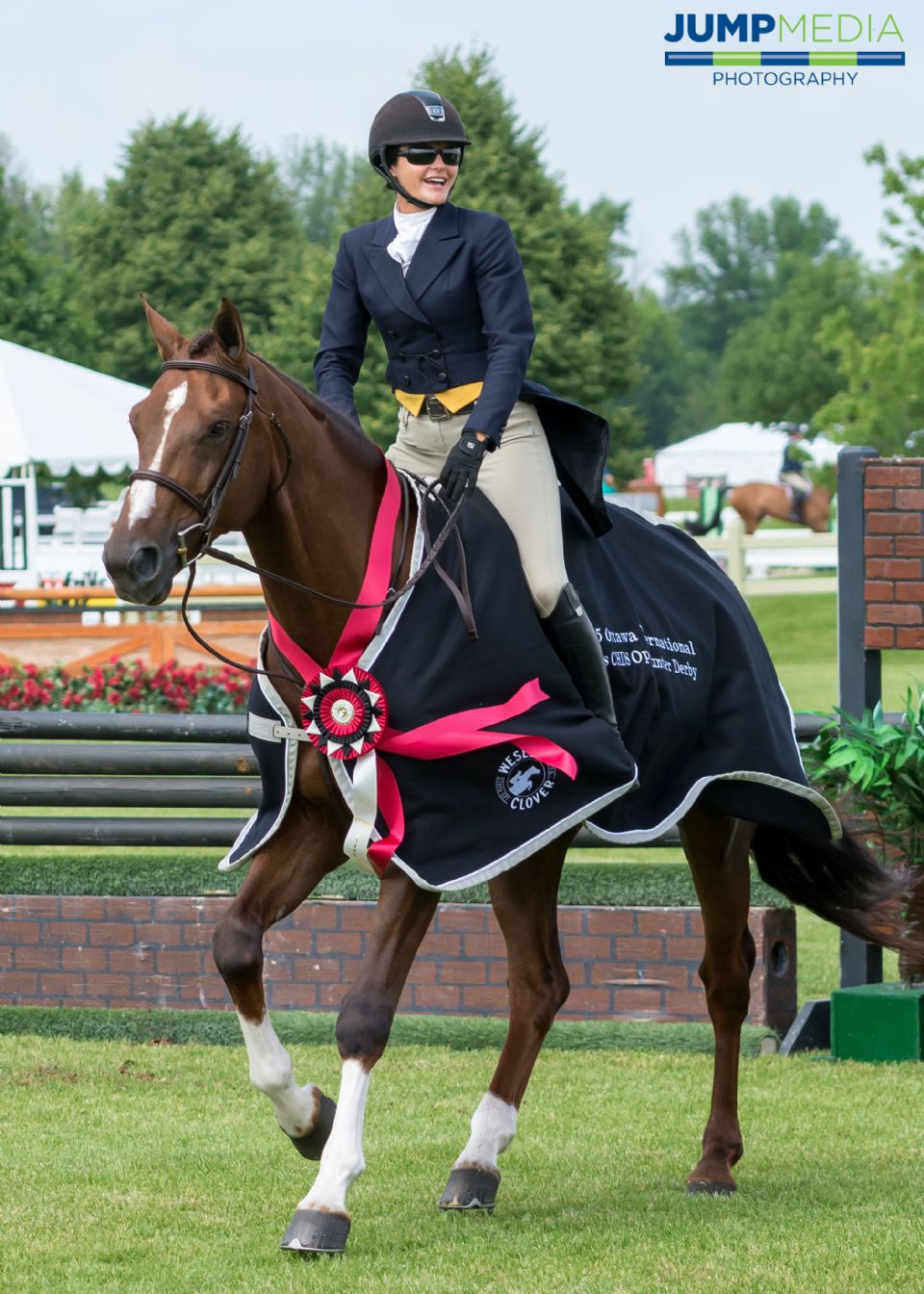 Ainsley Vince of Burlington, ON, and Magic Show won the 2015 edition of the $10,000 Canadian Hunter Derby held on the expansive grass grand prix field at Wesley Clover Parks.
Photo by Jump Media
The prize list for the 2016 Ottawa National and Ottawa International Horse Shows, to be held July 13-17 and July 20-24 respectively, are now available online. Click here to view the prize lists and learn more about the two-week show jumping tournament offered at Wesley Clover Parks in Ottawa, ON.
Entry deadlines for both weeks of competition are fast approaching, with entries for the Ottawa National Horse Show due July 1 and entries for the Ottawa International Horse Show due July 6. Schedules, entry forms and further information can be found here.
Highlights of the Ottawa National Horse Show include a $20,000 Open Welcome on Thursday, July 14, and a $50,000 Grand Prix on Saturday, July 16. Michel Vaillancourt, Canadian Olympic individual silver medalist and course designer for the 2015 Pan American Games, will be setting the tracks on the expansive grand prix field, widely considered to be the best grass jumping field in eastern Canada. Hunter riders will have their turn on the beautiful grass field on Sunday afternoon, July 17, during the popular $10,000 Canadian Hunter Derby.
The following week, Guilherme Jorge of Brazil will take over course designing duties for the Ottawa International Horse Show in what will be his final appearance before designing at the 2016 Rio Olympic Games. Sanctioned as a CSI2* by the International Equestrian Federation (FEI), featured events at the Ottawa International Horse Show include a $35,000 Open Welcome on Friday, July 22, and a $100,000 Classic on Sunday afternoon, July 24.
In addition to world-class competition, the Ottawa International Horse Show will host a cocktail reception, a children's pony party, and a welcome barbecue for all guests.
Conveniently located at the Moodie Drive exit off of the 417 highway, Wesley Clover Parks and the Ottawa Equestrian Tournaments bring top equestrian sport to the heart of Ottawa. All spectators are welcome and encouraged to attend and share their experiences using the hashtag #TheParks.
Sponsorship opportunities are available by contacting Tracy Howard at Tracy.Howard@wesleycloverparks.com. For more information on the Ottawa International and Ottawa National Horse Shows, please visit wesleycloverparks.com or follow Wesley Clover Parks on Facebook here.