Scott Stewart and John French Awarded with Equis Boutique Best Presented Model Horse Honors at Capital Challenge Horse Show
October 10, 2015 - Upper Marlboro, Maryland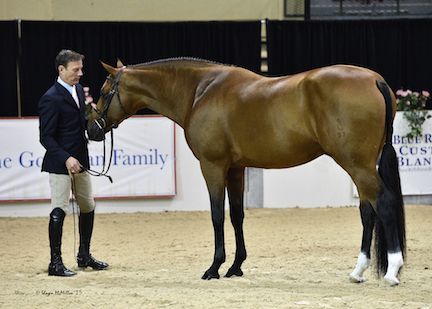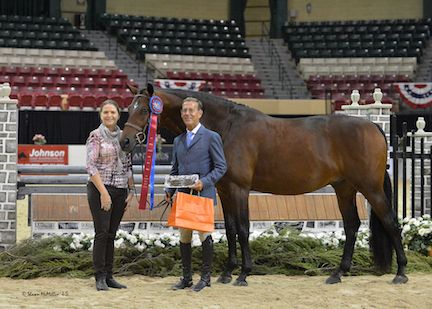 Scott Stewart of Wellington, FL, and John French of Woodside, CA, were both honored with the Equis Boutique Best Presented Model Horse Award at the 2015 Capital Challenge Horse Show, presented by Well Placed Smile. The Capital Challenge Horse Show, hosted at Prince George's Equestrian Center in Upper Marlboro, MD, will continue with elite hunter, jumper, and equitation competition through Sunday, October 4.

Stewart captured the Regular Conformation Model class with Lucador, a 2008 Oldenburg gelding (Lord Pezi x Quinta) owned by Dr. Betsee Parker of Middleburg, VA, while French and Boss, a 2006 Dutch Warmblood gelding (Samba Hit II x Vulana D) owned by Laura Wasserman of Beverly Hills, CA, took top honors in the Green Conformation Model class.

Lucador's fancy and refined look helped secure the win, according to Stewart. He also acknowledged his mount's naturally smaller body frame, praising his conformation as nearly perfect for the hunter discipline.


"He's a very beautiful type for the model and is a classy mover. He's not the biggest horse, but he's incredibly scopey," commented Stewart. "You could keep raising the height of the jumps and he would keep going just as easy. He really can jump."

Lucador has made waves on the national hunter scene this year collecting major wins in conformation classes at some of the biggest shows during the calendar year. Rarely beaten, Lucador and Stewart have earned top honors at several prestigious shows such as the Winter Equestrian Festival, Hampton Classic, Lexington Spring, and Devon Horse Show.
"He's very fun because he's brave and has a big stride. He's just very simple and it makes him such a pleasure to compete," added Stewart.

French had the ride on Boss for fellow West Coast trainer Archie Cox, and traveled from Southern California to the Capital Challenge Horse Show. French was elated for Cox and the entire Brookway Stables team for Boss' recognition as Best Presented Horse in the Green Conformation Model.

"I think it shows a lot that the horse finished second in the class, but still received the Best Presented Award. It says that the judges believed he was in the best condition with the best coat and I think it's great for the grooms. They were so excited to be recognized for their work behind the scenes to prepare the horse," said French of Brookway Stables grooms Carlos Soriano and Alex García. "They were so honored and, in my opinion, it's really their award because it's their work that makes the horses look spectacular in the ring."

With nothing but praise for the stunning dark bay gelding, French said Boss is quite a looker in the ring and always excels during the model, "He's just so pretty and everyone always makes comments on how beautiful he is when he's in the ring. He can make little mistakes here and there, but you can never get mad at him because he's just so nice to look at," he smiled.
The Equis Boutique Best Presented Horse Award was given to the best turned out horses in the Regular Conformation Model and the Green Conformation Model at the Capital Challenge Horse Show. Equis Boutique is also sponsor of the $12,000 Children's/Adult Amateur Jumper division. With a full week of World Championship Hunter Rider (WCHR) Finals classes and an array of elite equestrian competition, including equitation and jumpers, the 2015 Capital Challenge Horse Show represents the commencement of indoor season and is a popular destination for the nation's best equestrian athletes.


"We are proud to sponsor the Best Presented Model Horse Award at the Capital Challenge Horse Show this year, as it is one of the most well-attended indoor shows in the country," said Cesar Hirsch of Equis Boutique. "The model classes showcase the most beautiful hunters in the world and we look forward to continuing our support of this one-of-a-kind show in the future."

Equis Boutique made a successful debut season at WEF in Wellington, FL, and HITS Horse Shows in Ocala, FL, this winter, and has had a busy summer season at horse shows around the U.S. For a complete schedule of Equis Boutique locations, visit equisboutique.com/find-us.

For more information on Equis LLC boutiques, please visit EquisBoutique.com, or find EquisBoutique on Facebook and Instagram! Email info@equisboutique.com for questions on the stores and their products.

About Equis, LLC
Equis LLC delivers superior service in order to educate their consumers on the brands and products they offer and show the variety and quality of their made-to-order, customized products. By providing a unique shopping experience, Equis rises above your normal tack shop to offer only the best. "Live the Experience – A Boutique for the Discerning Equestrian."