Manchester Designer Outlets Continue Strong Support of Vermont Summer Festival
June 3, 2016 - East Dorset, Vermont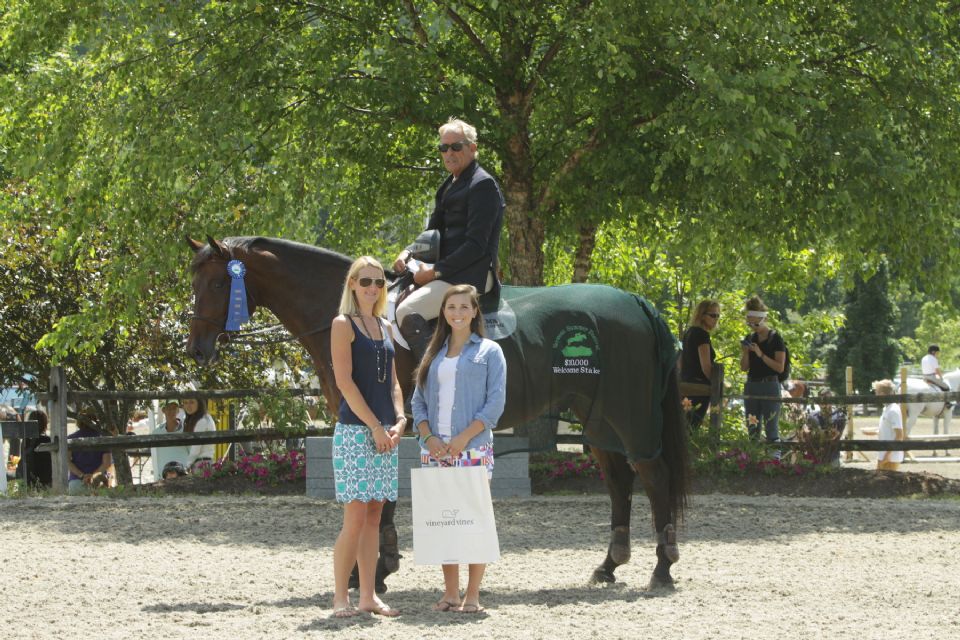 Several Manchester Designer Outlet retail brands, including Vineyard Vines, will present the $10,000 Open Welcome Stake Series held each Thursday throughout the 2016 Vermont Summer Festival.
Photo by David Mullinix Photography
The Manchester Designer Outlets (MDO) will continue its longstanding support of the Vermont Summer Festival by presenting the $10,000 Open Welcome Stake Series held each Thursday throughout the six-week circuit running from July 5 through August 14, 2016, at Harold Beebe Farm in East Dorset, VT.
The upcoming season marks the 11th year that participating brands that comprise MDO have stepped up to contribute to New England's largest hunter/jumper competition. Weekly $10,000 prize purses help the event to award more than $750,000 in total prize money, making it the richest sporting event based on purse in the state of Vermont.
In addition to their share of the weekly purse, each rider who wins one of the six MDO Open Welcome Stake classes will receive a $1,000 gift check from that week's sponsoring brand.
"For 11 years, various MDO brands have joined together in sponsoring the Open Welcome Stake series and their support adds exciting benefits for our riders," said Ruth Lacey, Marketing Director of the Vermont Summer Festival. "The retail brands of the MDO family are a huge draw for our exhibitors. We always endeavor to offer a showing experience that allows enough time to enjoy the area, and shopping is a big draw for many."
The $10,000 Open Welcome Stake, presented by Manchester Designer Outlets, will be held in the Grand Prix Ring each Thursday throughout the six weeks of competition. In 2016, returning brands include New Balance, Vineyard Vines, NYDJ, Overland, and Theory, as well as Bass, a new member of the MDO retail family. For more information on Manchester Designer Outlets, visit www.manchesterdesigneroutlets.com/our-stores.
"We are happy to welcome the Vermont Summer Festival to Manchester and hope all exhibitors enjoy their summer," said Lana Hauben of MDO. "MDO's newest outlet, Bass, opens on June 3 with more new stores and shopping opportunities coming soon."
Manchester Designer Outlets offer designer label fashions for both men and women with savings of up to 70 percent. In addition to the newest fashion trends, there are also unbeatable deals on luxury home furnishings, gifts and stylish accessories. The combination of culture and style, while showcasing the best of Manchester, makes for an enjoyable and relaxing shopping experience.
While exciting hunter, jumper, and equitation competition, as well as endless shopping opportunities await Vermont Summer Festival exhibitors, Hauben also encourages riders and their families to experience the other activities the Manchester area has to offer.
"The cultural scene in Manchester this season is very exciting," she said. "Highlights include the 80th Anniversary of the Weston Playhouse presenting Man of La Mancha and Mamma Mia, as well as Schoolhouse Rock Live. The Dorset Theatre is presenting, among others, Lady Day at Emerson's Bar and Grill, and the Manchester Music Festival continues with beautiful classical music."
For over 20 years, the Vermont Summer Festival has attracted exhibitors and their families to the Manchester region in southern Vermont for great competition in an ideal summer setting. The Vermont Summer Festival is a proud member event of the Show Jumping Hall Of Fame, the Marshall & Sterling League, and the North American League (NAL). Please e-mail or visit www.vt-summerfestival.com for more information about the Vermont Summer Festival.