Vermont Summer Festival Prize List Now Available
April 27, 2020 - East Dorset, VT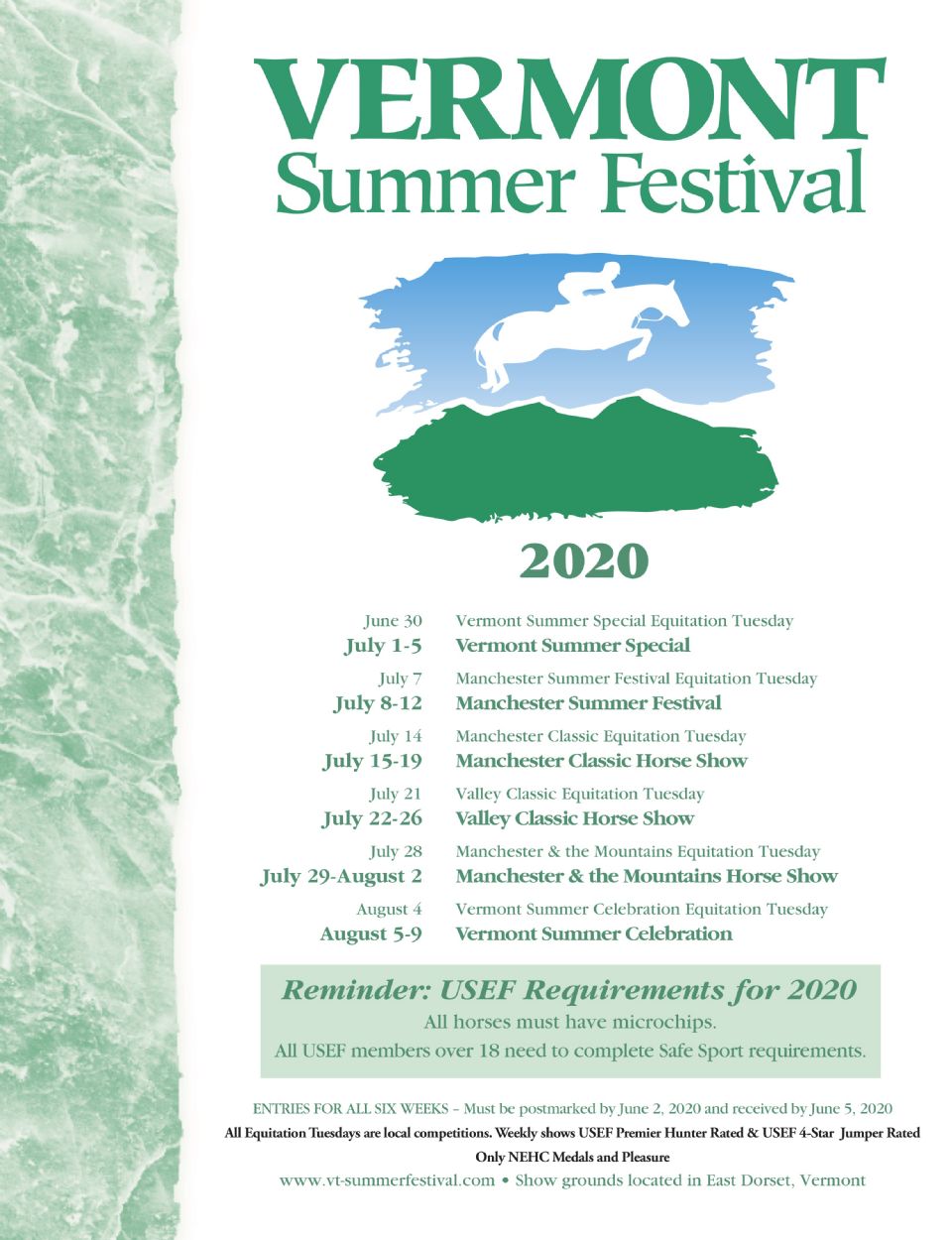 The 2020 Vermont Summer Festival prize list is now available at
VT-SummerFestival.com
with entries due June 5, 2020.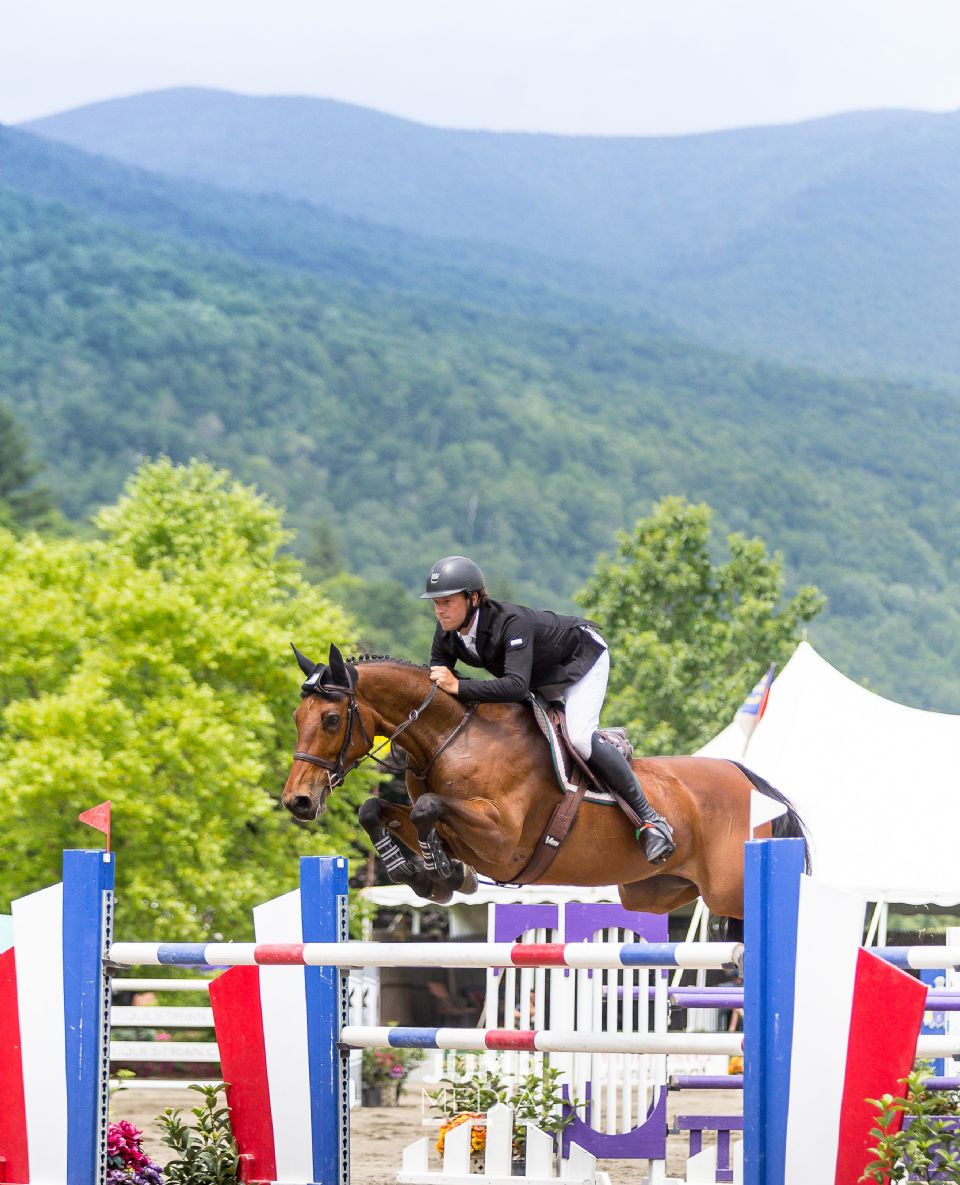 Ireland's Kevin McCarthy was a two-time grand prix winner riding Catch A Star HSS at the 2019 Vermont Summer Festival.
Photo by Jump Media
The prize list for the 2020 Vermont Summer Festival, running from June 30 through August 9 at Harold Beebe Farm in East Dorset, VT, is now available at VT-SummerFestival.com.
The six-week Vermont Summer Festival will offer an all-inclusive schedule of hunter, jumper, and equitation divisions, including its popular "Equitation Tuesdays" program.
In the hunter ring, the weekly $5,000 3'3" NEHJA Hunter Derby held each Thursday will lead up to a $15,000 purse in week six. World Champion Hunter Rider (WCHR) points will once again be on offer during the third week of competition.
For show jumping competitors, highlights include the $10,000 Open Welcome held each Thursday. A $30,000 Grand Prix, held the first five Saturdays of the six-week circuit, will culminate in the $50,000 Grand Prix on the final weekend. Making Saturdays even more special, the Vermont Summer Festival is introducing a new $5,000 1.25m Open Jumper Classic to be held each Saturday.
As part of the 30th anniversary of the Marshall & Sterling League, the Vermont Summer Festival has been selected as one of only eight "Gold Circle Shows" throughout the country. This designation gives Vermont Summer Festival competitors an opportunity to earn triple points in the Marshall & Sterling League during the first two weeks of the circuit, June 30 to July 5 and July 7 to 12.
"Thanks to committed sponsors, new supporters, and loyal competitors, the Vermont Summer Festival is optimistic about gearing up for another successful season," said John Ammerman, Manager of the Vermont Summer Festival. "The staff is working tirelessly to deliver an event that checks all the boxes for our athletes, and their health and safety is always our number-one concern. We will continue to monitor the COVID-19 situation on an ongoing basis and make any adjustments necessary."
Vermont Summer Festival management is diligently reviewing Centers for Disease Control and Prevention (CDC) protocols and is working with the United States Equestrian Federation (USEF), as well as state and local governments, to ensure a safe event. Strict social distancing protocols will be in place, and sanitation and other measures will be taken to ensure that horses and humans remain healthy throughout the summer season.
Click HERE to view the 2020 Vermont Summer Festival Prize List.
Entries for the six-week circuit are due June 5, and submission instructions and equine health protocol information can be found HERE.
The Vermont Summer Festival is New England's largest hunter/jumper competition and the richest sporting event based on purse in the state of Vermont offering more than $750,000 in prize money. The event is also a proud member of the Marshall & Sterling League and the North American League (NAL).
In addition to the horse show, Vermont Summer Festival competitors can enjoy the various entertainment, recreation, shopping, and dining options offered in the Manchester area. A study conducted by the Center for Rural Studies at the University of Vermont cited that the total direct spending of visitors frequenting Vermont for equine-related activities was estimated at nearly $15.5 million annually.
For more information on the Vermont Summer Festival, please e-mail or visit www.vt-summerfestival.com.