Palm Beach Equine Clinic Welcomes International Veterinarians Throughout CSIO Nations' Cup Week in Wellington
March 4, 2016 - Wellington, FL
The winning U.S. Show Jumping Team from the 2015 Winter Equestrian Festival's Nations' Cup, presented by Kingsland Equestrian.
Photo by Lindsay Brock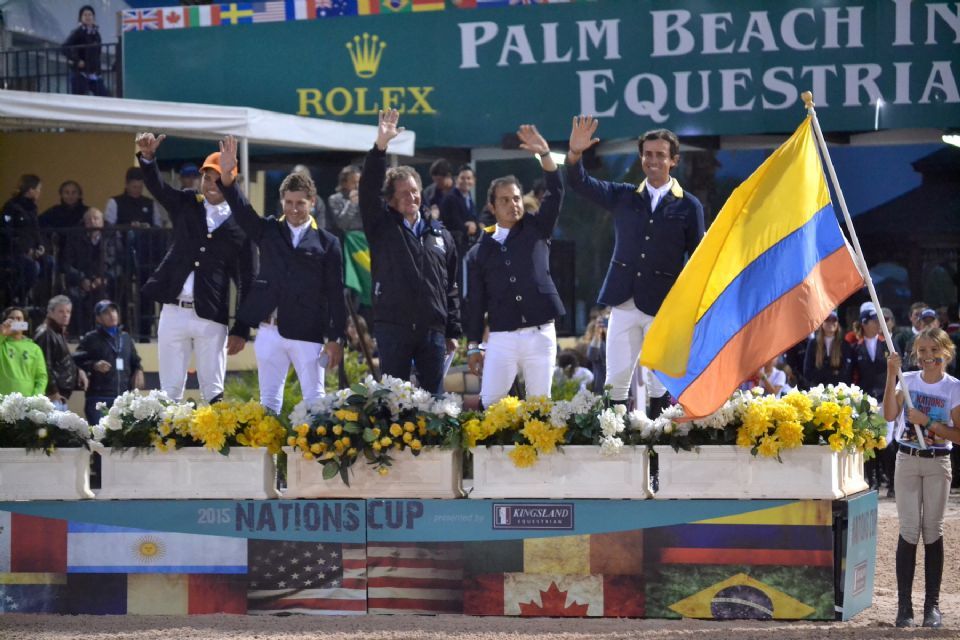 The Colombian Show Jumping Team prior to the 2015 Winter Equestrian Festival's Nations' Cup, presented by Kingsland Equestrian.
Photo by Lindsay Brock/Jump Media LLC
As the official veterinarians of the Winter Equestrian Festival (WEF) and Adequan® Global Dressage Festival (AGDF) in Wellington, FL, Palm Beach Equine Clinic (PBEC) welcomes all veterinarians, local and worldwide, to utilize their services and facilities throughout the winter season.
Located just down the road from the Palm Beach International Equestrian Center (PBIEC), PBEC offers state-of-the-art surgical tools, highly advanced diagnostic imaging equipment, three board-certified surgeons, one of the top board-certified equine radiologists in the country, and 28 accomplished and knowledgeable veterinarians available to treat clientele of any discipline.
During the winter season, the veterinarians of PBEC donate their time and services to the world-class competitors of the Winter Equestrian Festival. Week eight of the 12-week WEF circuit is currently underway with CSIO competition, and PBEC welcomes the international team veterinarians to make use of their services as horses and riders compete in the prestigious Nations' Cup classes.
Horse and rider teams from all around the world will be competing in the esteemed senior Nations' Cup on Friday night, March 4, beginning at 7 p.m. Hollow Creek Farm will be hosting the Children's, Junior and Young Rider FEI Nations' Cup team events on Saturday evening, March 5, 2016. The teams have flown from over ten different countries throughout South America, North America, and abroad to compete this week.
For PBEC President, Dr. Scott Swerdlin, the Nations' Cup events provide some of the most exciting competition of the circuit and he is proud to have his veterinarians well-represented.
"Those two nights that we have the Nations' Cup classes, everyone is so competitive and proud of their country and proud of the horses in their country," said Dr. Swerdlin. "Nations' Cup week is one of the highlights of WEF and we really appreciate having the opportunity to be supportive of all of the teams. For us, it is just a privilege to be a part of such special competition. We enjoy working with the different veterinarians and they are always welcome to come to PBEC if they are traveling with a team. Our motto is 'Make us a part of your team,' and we hope that visiting doctors will take advantage of the world-class services that we have to offer."
PBEC's Dr. Richard Wheeler spoke of the support that the clinic is able to provide to the teams as they compete throughout the week in Nations' Cup classes.
"Being a full-service facility, we are proud to provide support to the international teams," said Dr. Wheeler. "It is great to see the international horse community come together and it is fun for us to build relationships with vets from all over the world. We often have vets come to visit us and spend time in our hospital, and likewise, we visit them in their facilities.
"We are here to support them," Dr. Wheeler continued. "In an emergency situation, we are here to provide hospitalization and ambulatory services. We offer advanced imaging services such as MRI and Nuclear Scintigraphy, we have a fantastic team of internal medicine specialists that includes three board-certified surgeons, and we have one of very few board certified equine radiologists in the world."
Dr. Wheeler added, "PBEC always has a veterinarian on the show grounds any time competition is going on. We also have a new Annex office on the show grounds this year so that the doctors can quickly and safely treat horses in a clean environment. The hospital is then ready for emergencies 24/7, with specialists, equipment, and personnel ready to handle any situation."
PBEC Staff Surgeon Dr. Jorge Gomez serves as the team veterinarian for Colombia and Venezuela. Dr. Gomez finds his partnership with PBEC very important throughout the season.
Dr. Gomez explained his responsibilities as team vet, stating, "I am in charge of the health and soundness of the horses in the team. Before the events, and once the horses for the team are chosen, I look at all of the team horses individually to make sure the horses are in good condition to compete. We check all the health papers and passports to make sure they are up to date. During the competition days, I perform horse inspections before and after every class. In conjunction with the grooms, we also make sure that the horses are in normal condition with no modifications of their normal behavior."
If there are any concerns of a horse's well-being, Dr. Gomez and all of the team veterinarians have the diagnostic services of PBEC at their fingertips. Along with the advanced imaging capabilities and emergency surgical services, teams can make use of PBEC's niche offerings, such as chiropractic care or acupuncture as well.
Palm Beach Equine Clinic provides experience, knowledge, availability, and the very best care for the horses of Wellington. Have them be a part of your team! To find out more, please visit www.EquineClinic.com or call 561-793-1599. "Like" them on Facebook to follow along on what happens in Wellington and more, and get news from their Twitter!