Caroline Signorino and Anisette Are Best Pony Hunters at Capital Challenge Horse Show
October 7, 2017 - Upper Marlboro, MD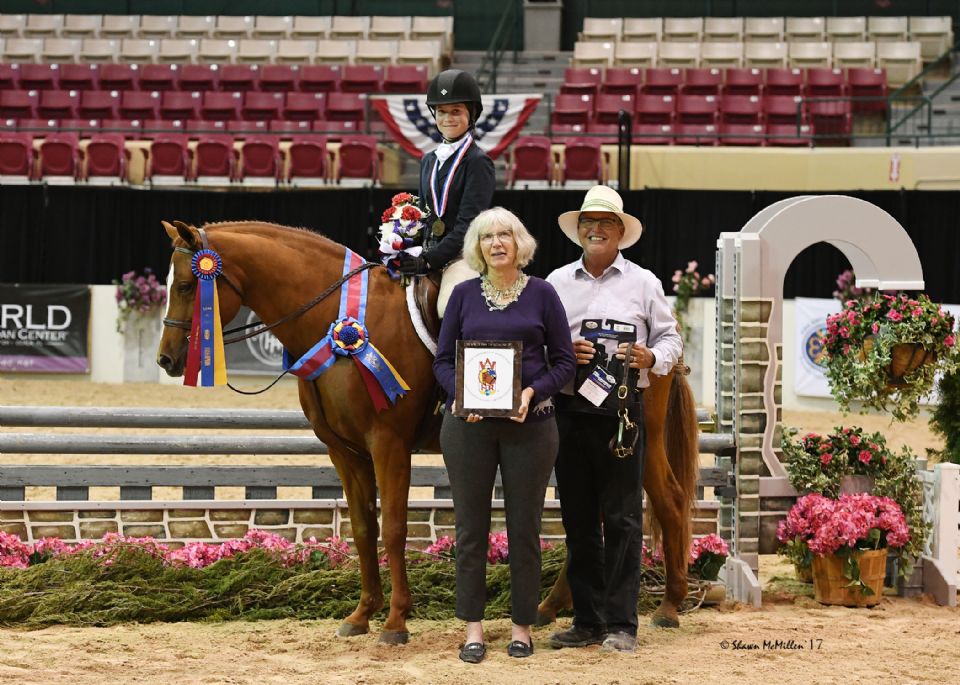 The Capital Challenge Horse Show's youngest competitors took center stage on Saturday, October 7, at the Prince George's Equestrian Center. Riding away with the Grand Pony Hunter Championship was Caroline Signorino on Anisette, owned by Hannah Hoch. Presented by the World Equestrian Center, the Capital Challenge Horse Show ends on Sunday, October 8, with the conclusion of the Junior and Children's Hunter divisions.
On their way to earning the grand championship title, 12-year-old Signorino of Basking Ridge, NJ, and Anisette, an 11-year-old Welsh Pony Cross mare, earned two victories over fences and the Medium Pony Hunter championship, sponsored by Kayla Makhloghi and Rosemont Farm.
As the top pony hunter horse and rider overall, Anisette and Signorino were presented with the Grand Pony Hunter Championship, sponsored by the Aycox Family and Whispering Willow Farm; the VanderMoore Designs Inc. Trophy, sponsored by Chuck and Melva VanderMoore; and the Best Pony Hunter Rider award, sponsored by Archie Cox and Brookway Stables. They were presented with The Kitty Borisoff Memorial Trophy, sponsored by Alexandra Borisoff.
Signorino also received the Stewart-Warner Pony Cup, sponsored by Don Stewart and Louise Serio, and given to the pony rider who, in the opinion of the judges, exhibits the best riding style on a hunter throughout the competition, and the EMO Best Pony Trip of the Show with a score of 90.
"It feels amazing," said Signorio of her numerous Capital Challenge accolades. "We've worked so hard, and from getting a 90 at Devon to this, it really can't get much better than this year."
Signorio has spent the last two-and-a-half years riding with trainers David Belford and Christopher Payne at New Hope Farm in Ohio, and Belford echoed Signorino on her accomplishments throughout the year and particularly at the Capital Challenge Horse Show.
"Caroline's done an amazing job. She and 'Annie' get along beautifully; Annie's really pushed her riding to the next level," said Belford. "This is a huge accomplishment. Winning at this horse show is winning from among everybody around the country. It's really one of the best horse shows, in my opinion, to be honored like this, and Caroline's worked so hard."
Finishing as the reserve champions behind Signorino and Anisette in the Medium Pony Hunter division were Grace Debney of Hampden, MA, and Denmark, owned by John Skinner.
Debney also earned the Large Pony Hunter Championship, sponsored by World Equestrian Center, aboard her own Storyteller, and she and the 14-year-old German Sport Pony gelding returned to the ring to take the victory in the $2,500 World Championship Hunter Rider (WCHR) Pony Challenge.
The Large Pony Hunter reserve championship was presented to Stella Wasserman of Beverly Hills, CA, and her own Benetton.
In the Small Pony Hunters, Alexa Lignelli of New York, NY, rode her pony iParty to the championship, and Reilly Gogul of Chagrin Falls, OH, and Brownland's Mr. Mack, owned by Sofia Roberts LLC, finished in reserve.
Capital Challenge also awarded two junior hunter championships on Saturday afternoon, with the Small Junior 16-17 Hunter division title, sponsored by Cynthia Williams, going to Emma Kurtz of Hudson, OH, riding Akinda, owned by Hillside Farm LLC. Emma Weiss of New York, NY, and her gelding Cheveaux took home the reserve championship. In the Large Junior 16-17 Hunters, sponsored by Beacon Hill Show Stables and Stonehenge Stables, both the championship tricolors went home with Kurtz, who earned the championship with Due West, owned by Popish Farms LLC, and the reserve with Dedication, owned by Dr. Betsee Parker. XXX also won Grand Junior 16-17 Hunter Champion honors.