Entries Open for World Equestrian Center Premier Cup Equitation Championship and $100,000 Trainer Bonus
February 4, 2021 - Ocala, FL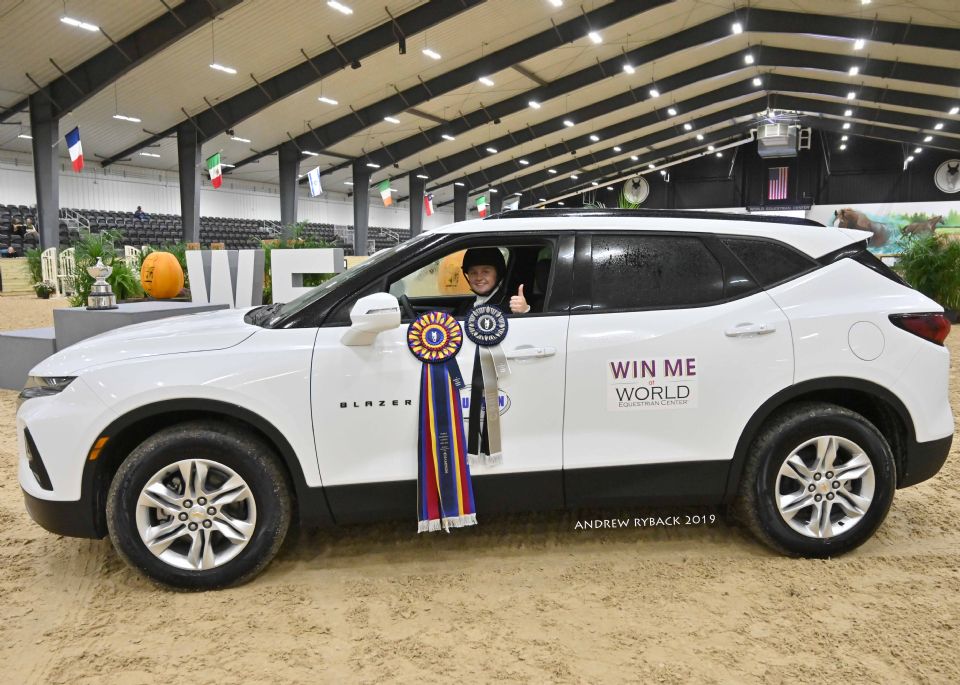 Premier Cup Winner Takes Home a New Car!
Entries are open now for the World Equestrian Center Premier Cup Equitation Championship at World Equestrian Center – Ocala. The Premier Cup Equitation Championship will take place February 13, 2021, during week six of competition at the Winter Spectacular and is open to junior riders who will compete over three phases: flat, fences and a test of the top 14 riders to determine who will claim the ultimate grand prize of a brand new 2020 Chevrolet Blazer.
For full class specifications, click here.
Qualifications for this exciting class have been expanded due to the disruption in showing caused by the Coronavirus pandemic, so junior riders that qualified in 2020 for this class who are now showing as adults are allowed to compete in the class.
New in 2021, the Premier Championship Cup Equitation Championship will feature a $100,000 trainer bonus for the trainer of the winning rider. The breakdown of the trainer bonus is as follows:
Winning trainer receives $40,000
Second place trainer receives $30,000
Third place trainer receives $20,000
Wild card trainer receives $10,000
The wild card trainer will be drawn from all trainers involved in the class who have not received the first, second or third place bonus.

About World Equestrian Center
World Equestrian Center features two premiere equestrian and multidisciplinary venues in Ocala, Florida, and Wilmington, Ohio.
These exclusive facilities comprise state-of-the-art arenas, expansive stadiums, versatile outdoor space, sporting fields and well-appointed exposition centers. An abundance of lodging options and luxury accommodations are conveniently located on-site, along with shopping and dining throughout each property.
Dedicated to offering great sport and fun in a family-friendly environment, World Equestrian Center promises an unparalleled experience for exhibitors, spectators, vendors, sponsors and retailers built on three core values: Quality. Class. Distinction.
Learn more at wec.net
Media Contact:
Candace FitzGerald
candace.fitzgerald@wec.net
603.738.2788