Wordley Martin Completes HITS Post Time Farm Renovation
January 5, 2023 - Ocala, FL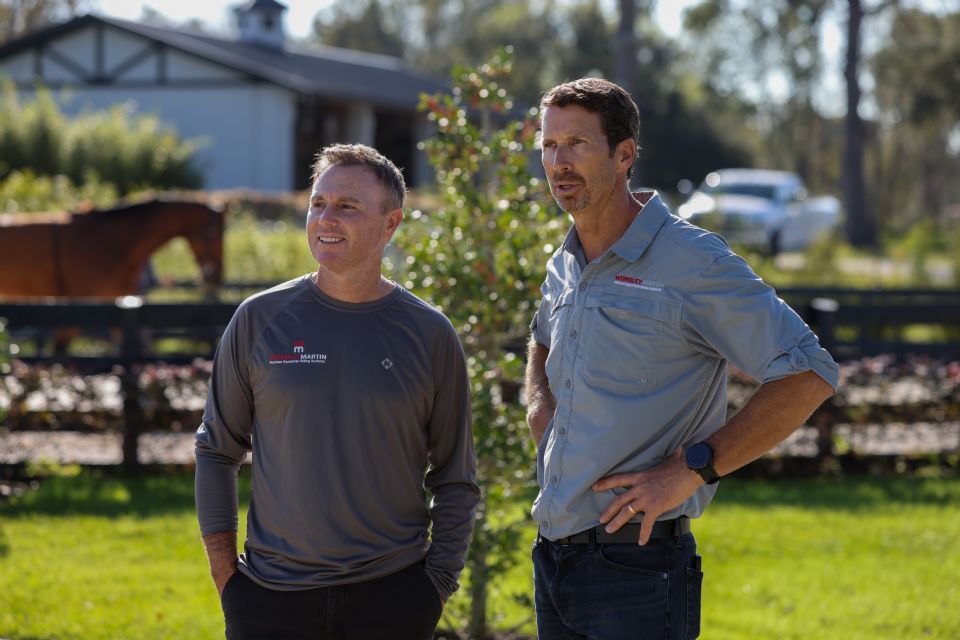 In addition to spearheading the reconstruction project, Wordley Martin co-owners Sharn Wordley (left) and Craig Martin will help maintain the arenas at a high standard as part of the HITS Ocala Arena Management Team for the next three years.
Photo by Starship Farms Media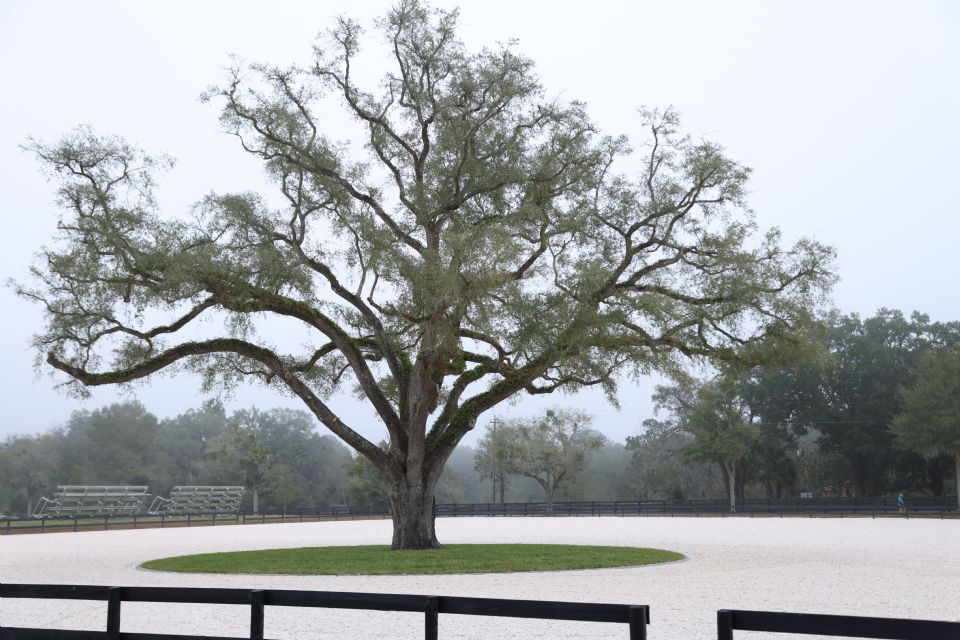 The Post Time Farm renovations include a complete design overhaul of both competition arenas and warm-up rings, featuring updated drainage systems and the installation of Wordley Martin's premium equestrian surface footing.
Photo by Starship Farms Media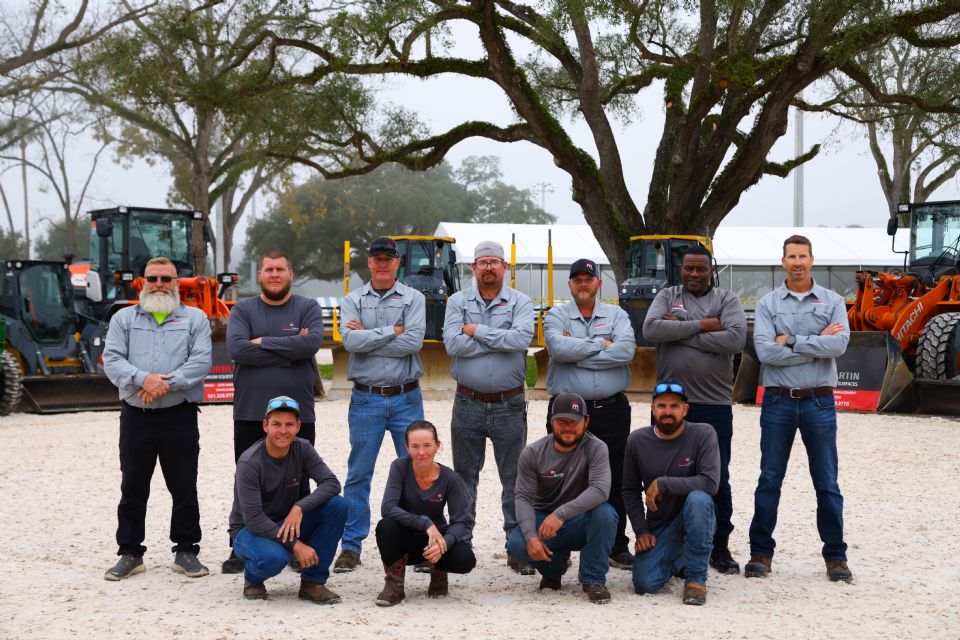 The Wordley Martin crew has worked to transform the Grand Prix Arena, Main Hunter Arena, and the corresponding warm-up rings at HITS Post Time Farm in Ocala, Florida, for an elevated exhibitor and equine experience.
Photo by Starship Farms Media
Wordley Martin, a leading developer of equestrian properties and premier riding surfaces, has completed a significant renovation project at HITS Post Time Farm in Ocala, Florida, ahead of the 2023 edition of the popular HITS Ocala Winter Circuit, which features 10 weeks of US Equestrian (USEF) rated hunter/jumper competition beginning on January 17.
Known for overseeing private arena construction for Olympic athletes in show jumping, dressage, and eventing, Wordley Martin co-owners Sharn Wordley and Craig Martin have leveraged their personal grand prix riding experience to produce equestrian surfaces that the best of the best can ride on with confidence.
"Working with the team at Wordley Martin has been nothing short of amazing," said HITS Chief Customer Officer, Joe Norick. "Their incredible expertise and experience have been invaluable during the project as we all work toward our goal of giving HITS clients the best surface possible for their horses. Sharn and Craig have worked closely with our team to help reimagine these rings and bring our dream to fruition. We look forward to working closely with them over the next three years to manage these arenas and deliver a world-class experience for everyone at HITS."
"We are really excited with the results of the arena reconstructions," said Sharn Wordley, co-founder of Wordley Martin. "We treat every project as if we are designing for ourselves with the highest standard of execution possible, but in this case, that's even more of a reality because we will be regularly riding and competing at HITS. Being closely connected with the new arenas will allow us to monitor and maintain them to continuously deliver a top-quality surface for every round."
Wordley Martin's updates centered around the Grand Prix Arena and Main Hunter Arena as well as the corresponding warm-up rings, where Wordley Martin's premium equestrian surface footing was installed and several structural improvements were made. Both competition arenas were given a complete design overhaul, creating the proper elevations to accommodate the best drainage systems possible in order to consistently produce the most ideal riding conditions. The completed Grand Prix Arena measures 270' by 360', totaling 97,200 square feet, while the Main Hunter Arena measures 300' by 200' for a 60,000 square-foot total.
Two iconic granddaddy oak trees, both more than 100 years old, are standout features in the Grand Prix Arena and the Main Hunter Arena at HITS Ocala and were therefore an important consideration in the renovation process. Wordley Martin brought in an arborist to balance and trim those trees, as well as plant additional ones lining the outside of the arenas. The Wordley Martin team then poured a concrete curb around each of the trees in the arenas and grassed these areas to showcase the significance of this natural element.
The warm-up rings were also completely rebuilt. The resulting 150' by 250' grand prix schooling arena offers better proximity to the competition, allowing riders to see what is happening in the main arena while warming up. Additionally, there are two interconnected entrance chutes for easy access into the main arena, all featuring the same Wordley Martin footing throughout. The new 220' by-145' hunter warm-up arena emulates these design highlights, providing riders with an enhanced competition experience.
While the Grand Prix Arena, Main Hunter Arena, and corresponding warm-up rings underwent the most significant changes, Wordley Martin assisted in several additional property updates. Other competition arenas had their bases regraded and freshened top material added, and all arenas received new fencing.
The world-class Wordley Martin updates are a pivotal component in creating a premier exhibitor and equine experience at Post Time Farm as HITS enters a new era. Wordley Martin has also signed on to be part of the HITS arena management team for the next three years to help ensure the new arenas continue to perform at an elite level.

About HITS
For more than 40 years, HITS has established itself as an industry leader and the largest producer of hunter/jumper horse shows in the United States. HITS revolutionized the industry when it produced three of the then-richest grands prix in the world. By the numbers, HITS operates six venues; 60 weeks of sanctioned hunter/jumper competitions; six weeks of dressage events; and 65,000 horses are expected to compete in 2023. Based in the Village of Saugerties, New York, HITS is a national company producing horse shows in Ocala, Florida; Culpeper, Virginia; Wayne, Illinois; East Dorset, Vermont; Saugerties, New York, and Del Mar, California. Find out more at www.HitsShows.com.
About Wordley Martin
Wordley Martin provides equestrian arena architecture, construction, installation, and footing products to create a personalized, ideal riding environment. Founded by international grand prix riders Sharn Wordley and Craig Martin, Wordley Martin has installed more than 450 arenas throughout the United States and has become the choice of top athletes and owners from the Olympic disciplines of show jumping, eventing, and dressage who value Wordley Martin's exceptionally high standard of execution. Whether it be for a traditional outdoor arena, covered arena, indoor arena, or gallop track, Wordley Martin's unique sand mixture, incorporating textiles and fibers, results in a dust-free surface to ideally support every impact. Learn more at www.WordleyMartin.com.