Tori Colvin Takes Her First WCHR Pro Finals Title at Capital Challenge Horse Show
October 4, 2019 - Upper Marlboro, MD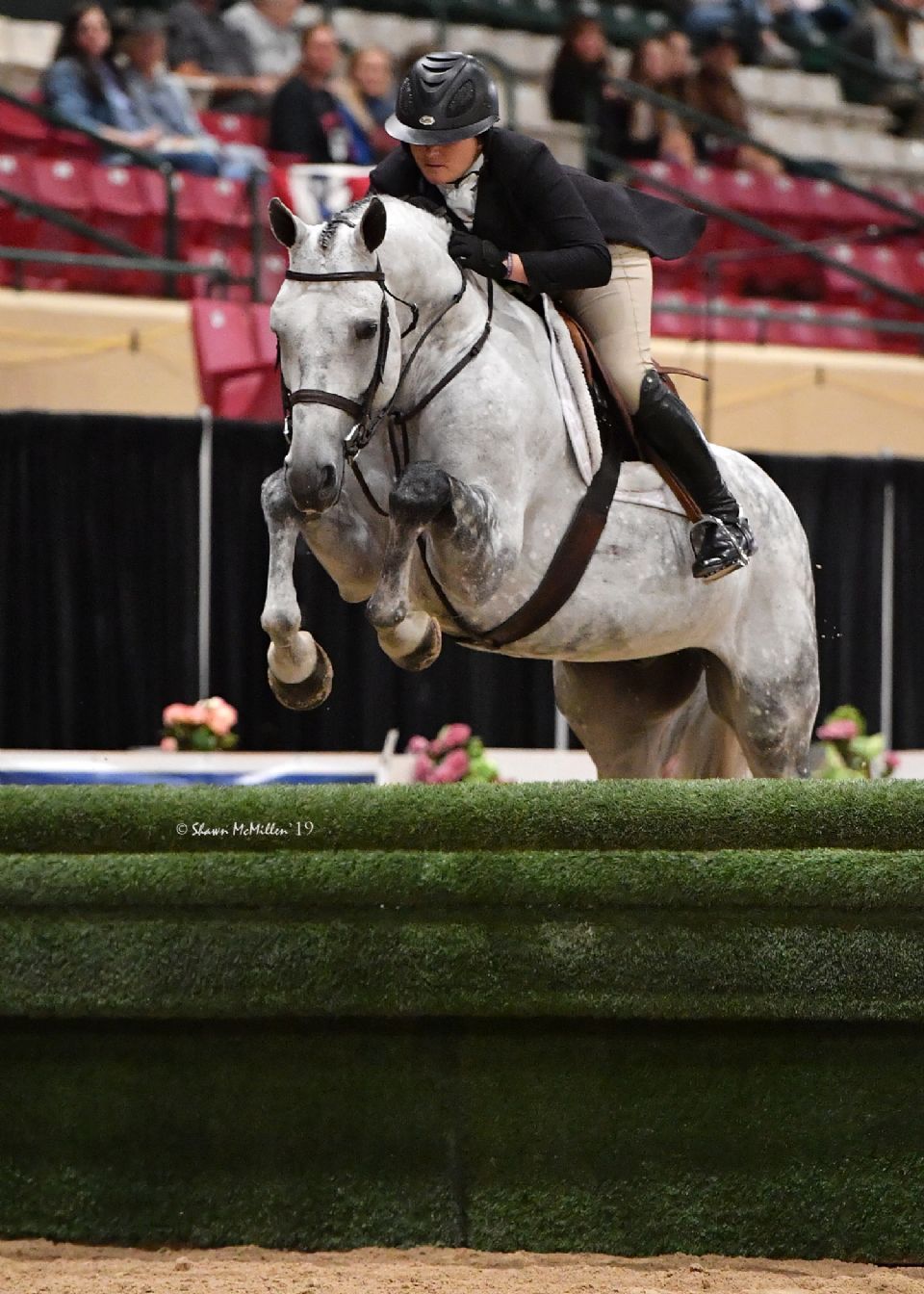 Tori Colvin on Lindsay Maxwell's High Society during the handy round of the WCHR Professional Finals.
Photo by Shawn McMillen Photography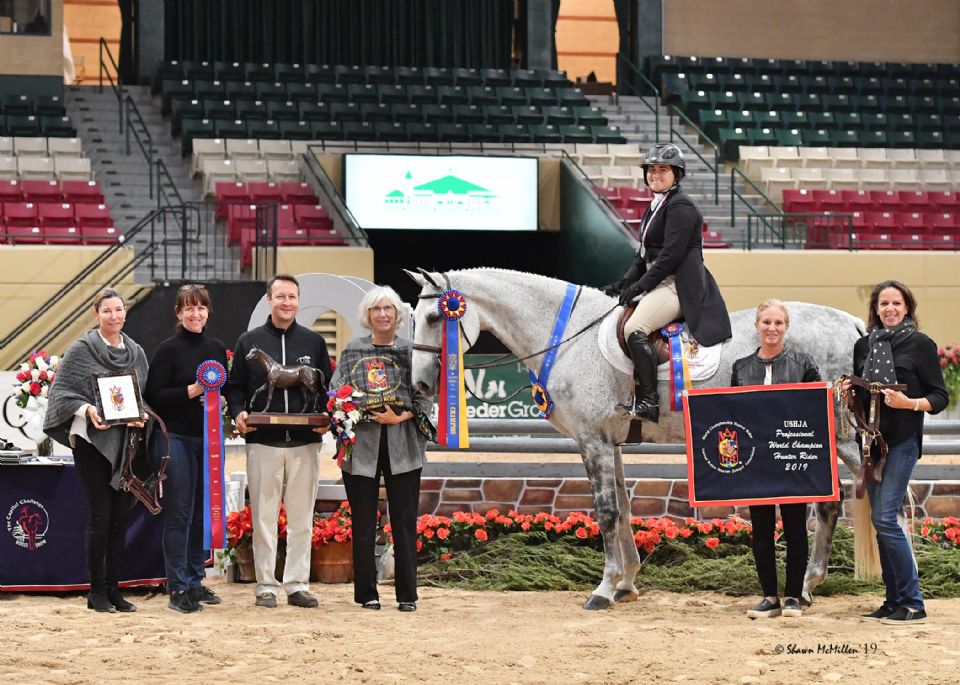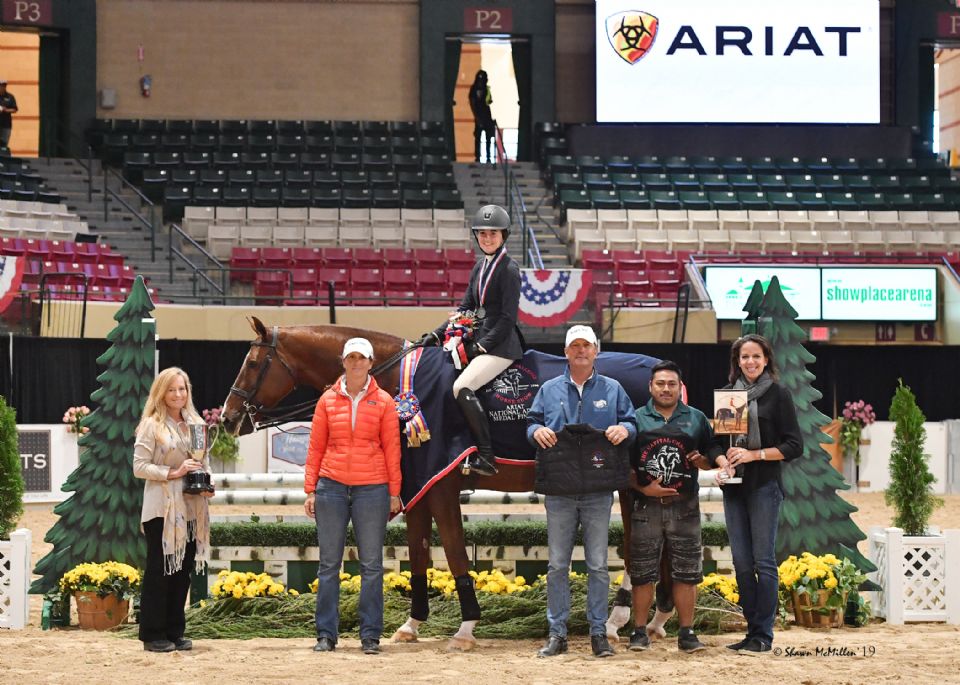 Tori Colvin added another line to her resume as professional hunter competition at the Capital Challenge Horse Show concluded on Friday, October 4, with the highlight $10,000 World Championship Hunter Rider (WCHR) Professional Finals.
Seven of the top professional hunter riders in the country went head to head at the Prince George's Equestrian Center, with Colvin, of Wellington, FL, claiming the title for the first time.
"This class has meant a lot to me," Colvin, 22, said. "I've been watching it since I was riding in the juniors, and I've seen Scott Stewart win it a lot, so to be able to be someone who won it is amazing."
This was Colvin's third appearance in the class, and she joined Liza Boyd, John French, Jeff Gogul, Cassandra Kahle, Amanda Steege, and Stewart in the line-up.
Colvin qualified for the WCHR Professional Finals by placing second in the WCHR National Professional year-end standings by virtue of points earned at WCHR-designated shows throughout the year. "I wouldn't have been able to do it without the horses that got me here," she said. Many of Colvin's mounts in the professional divisions are horses owned by the Ingram family of Nashville, TN.
This year, the first round of the $30,000 WCHR Professional Challenge, held on Wednesday, October 2, also counted as the first round of the $10,000 WCHR Professional Finals, with the top six riders in the national WCHR professional standings bringing forward their scores from Wednesday night into Friday's class. Kahle joined them to make the field seven deep when she earned a wild card by winning the $30,000 WCHR Professional Challenge aboard Monday Balous.
The seven riders started the Pro Finals on Friday night with a handy hunter round on the horse of their choosing. Only the top four scorers from that round would advance to the Final Four, where they took turns riding four unfamiliar horses.
Colvin chose to ride Lindsay Maxwell's High Society in the handy round even though she had never shown the horse before. "We had four of John and Stephanie Ingram's horses here who would have done this, but they've done a lot this week. I didn't really want them to have to do it," Colvin said. "One morning I was talking to [the Ingrams' trainer] Tom Wright, and said, 'What about High Society?' I had schooled him once before. Tom asked them, and it all fell into place. I'd never shown him before, but he went right around and was great."
Steege won the handy round riding Cheryl Olsten's Lafitte de Muze with a score of 177.33; Colvin placed third with High Society with 174.52, putting her into the Final Four. "I was a little nervous about that round, because you still had to qualify for the top four; I just wanted to make sure I wasn't eliminated," Colvin said. French, riding Laura Wasserman's Boss, scored a 175.49 for second place and a Final spot, while Gogul secured his first appearance in a Final Four by claiming fourth on Roberts Stables LLC's Small Gesture. Kahle, Boyd, and Stewart didn't qualify to advance.
Colvin, French, Gogul, and Steege started on a clean slate as they returned to each jump four courses, rotating turns on horses generously donated by their owners.
Gogul set the pace in the first rotation with scores in the 90s aboard Sheree Holliday's KT Lansini, but Colvin took over that lead in the second rotation piloting the same horse.
In the third rotation, French ran into trouble when KT Lansini misbehaved upon entering the ring. He completed the course, but the judges, Steve Wall, Linda Andrisani, Brian Lenehan, Jeff Ayers, Rob Bielefeld, and Sissy Wickes, decreed he could have a re-ride on the alternate horse, Charlotte Murray's Univers Theod. Colvin maintained her top spot in the third round with scores of 94, 91, and 93 on Renaud Farm's Corallo Z.
Colvin's final ride was on R&R Stables' When In Rome, who received the Far West Farms Perpetual Trophy, donated by the Karazissis Family, as the horse with the highest cumulative four-round score. She catapulted herself into a virtually unbeatable margin of victory with scores of 92, 92, and 94 on the gray. She finished with a 365.98 total, while Gogul placed second with 361.81. French claimed third with 355.82 and Steege placed fourth with 346.14.
"It means a lot to be able to win this," Colvin said. "I think it's really important to be able to show you're able to just get on and show your catch-riding abilities. Usually, most of the horses you show, you show them all year and you know them like the back of your hand. It's great to be able to get on random horses and have the judges judge you for how the horses react to you instead of just on the horse."
Gogul was thrilled to finish in second at his first attempt at the class, and he enjoyed the process. "Everybody said there was a lot of camaraderie and I think we were all pulling for one another," he said. "I like to catch-ride, so I wasn't nervous at all. All the horses went beautifully for me. I had a great time doing it."
French put himself back in the running with his re-ride and then finished up on Corallo Z to claim third in his 13th appearance in the class that he's won four times. "I appreciate the judges giving me the re-ride; it was a great decision that they did that," he said. "This class, there's no warm-up or anything. Even catch-riding, you get to warm up and get a little bit of a feel for the horse. This class, you just get on at the gate and go in the ring and hope for the best."
Steege placed fourth and admitted that her favorite part of the evening was winning the handy round on her usual mount, Lafitte de Muze. "I was most excited about getting to do the class tonight to have one more chance to go around on Lafitte out there, so that was worth it," she said. "Even though I had an amazing year on him last year, this year he felt so much more relaxed for Wednesday night's [WCHR Professional Challenge] class and for the round tonight. He felt like a professional out there."
Also as part of Friday night's presentations, Gogul's mount Small Gesture and his groom, Benny Veuntes, were awarded the Shapley's Best Presented Award.
Yowan Flies in to Win Ariat National Adult Medal Finals
Vivian Yowan only spent 48 hours at Capital Challenge, but she made those two days count by winning multiple titles. She concluded her visit by leading the victory gallop in the Ariat National Adult Medal Finals on Friday, October 4.
Yowan, from Lexington, KY, and Condor were unbeatable in the class, earning scores of 91 in round one and 92 in round two for a total of 183, finishing 10 points ahead of the field.
Yowan added the Ariat Finals title to her list of wins after topping the WCHR Adult Amateur Hunter Challenge and tying for the Adult Amateur Hunter Grand Championship with the catch-ride Calou. She was champion and reserve in the Adult Amateur Hunter, 18-35 division with Calou and Condor, respectively.
"This has always been such a big horse show for me," said Yowan, 22, who claimed the Grand Junior Hunter Championship at Capital Challenge in 2015. "I don't think I expected this to happen, especially because I've been at school. I flew in for 48 hours, so this is definitely beyond my expectations. Winning the Ariat and the Challenge class has given me some motivation to keep going and get back into it."
A senior at Southern Methodist University (SMU) in Texas, Yowan is studying business and rides on the SMU National Collegiate Equestrian Association team. She showed multiple horses as a junior but has taken a bit of a step back from showing now that she is in college. She started showing in the Ariat National Adult Medal classes on Rebecca Morris' Condor over the summer and then decided to aim for the Finals.
"I've gotten to know him pretty well, so going into this I had a pretty good partnership with him. The whole summer, this is what I've been working toward," she said. "It's a lot of fun. To me, it's something you can aim for. There are a lot of people like me, who go to college and don't ride as much as they did as a junior. This is a good way to get yourself back into the game. It actually feels like just as much pressure as anything else."
Her trainers, Tim and Kelly Goguen, have helped Yowan by providing catch-rides like Condor to show since she no longer owns any currently competing horses.
Second place in the Ariat National Adult Medal Finals went to Anna Claire Smith of Atlanta, GA, and Addie Jabin's Axtrex, who finished with scores of 87.66 and 85.5 for a total of 173.16. Anna Koenig of Hollywood, FL, rode Ashland Farms' Ballendo to third place with scores of 85.83 and 87 and a total of 172.83.
The Capital Challenge Horse Show, which runs through Sunday, October 6, continues on Saturday with the championships for the pony hunters, the 16-17 junior hunters, and the Children's Pony Hunters in the daytime session. The evening session features the $12,000 North American Low Junior/Amateur-Owner Jumper Challenge and the $15,000 North American Medium Junior/Amateur-Owner Jumper Challenge.
To learn more about the Capital Challenge Horse Show, visit www.capitalchallenge.org.