Scott Stewart Tops $10,000 WCHR Professional Finals Record Seventh Time
October 8, 2021 - Upper Marlboro, MD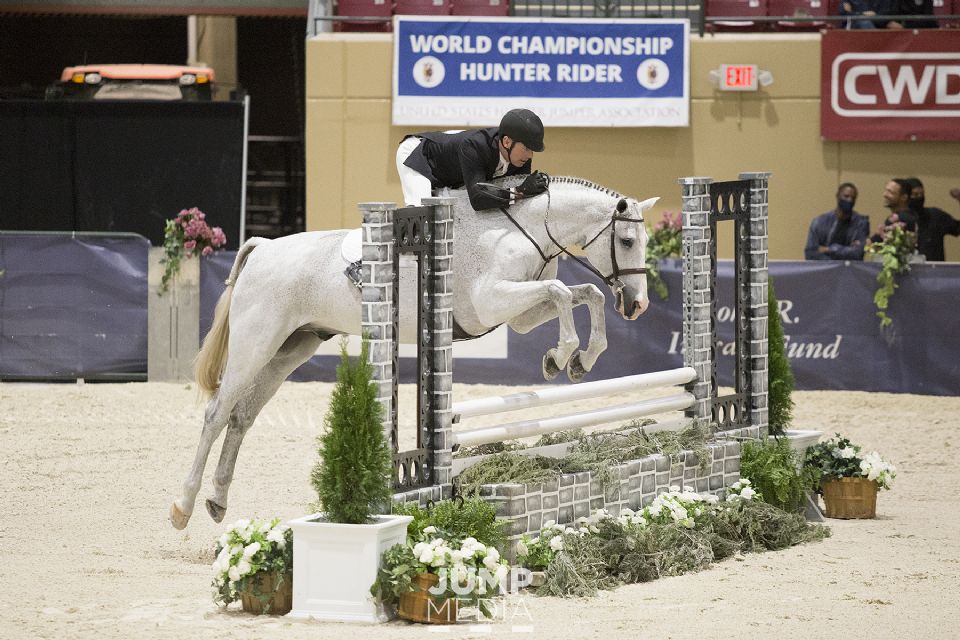 Scott Stewart rode Catch Me scoring a record seventh win in Friday's $10,000 WCHR Professional Finals.
Photo by Jump Media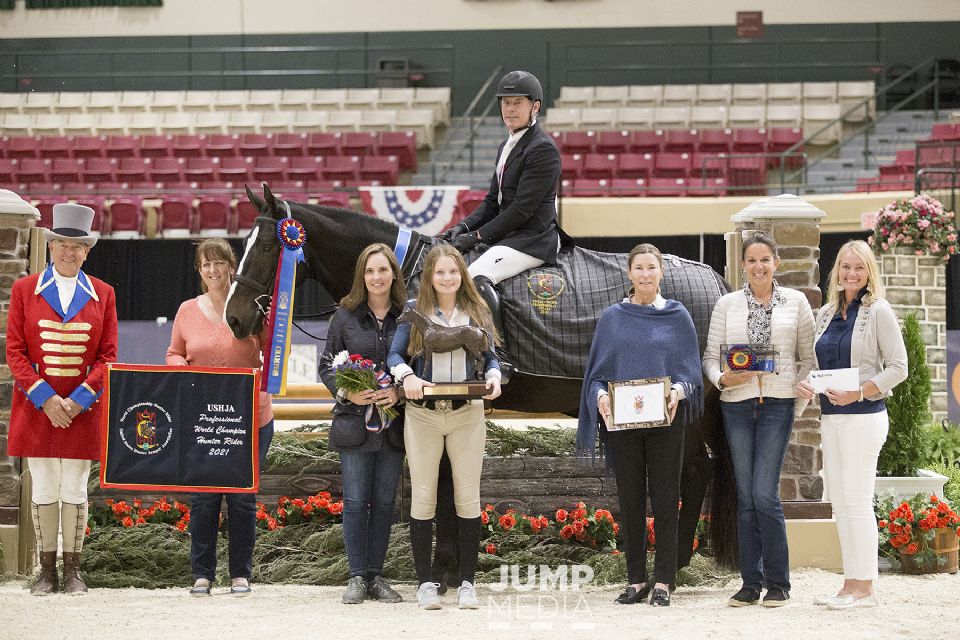 Scott Stewart and Catch Me were presented with the All The Way Perpetual Trophy, donated by Elizabeth Busch Burke and Lysa Burke Horkan.
Photo by Jump Media
In his 21st time competing in the $10,000 WCHR Professional Finals, the inimitable Scott Stewart of Wellington, Fla., scored a record seventh win against the five other best hunter riders in the country on Friday, October 8, 2021, at the Capital Challenge Horse Show in Upper Marlboro, Md.
Stewart rode Catch Me, owned by Gochman Sport Horses LLC, for his first score in Wednesday's WCHR Professional Challenge, then returned in the opening Playoff Round on Friday evening. Riding four other unfamiliar horses to scores above 90, Stewart captured the victory by more than five points.
Second place went to John French, while Jimmy Torano was third, Victoria Colvin finished fourth, Amanda Steege placed fifth, and Geoffrey Hesslink was sixth.
Stewart came into the WCHR Pro Finals, presented by the Rein Family, with a score of 87.75 in the WCHR Pro Challenge. He and Catch Me, a 14-year-old Holsteiner gelding by Casiro I, had the high score of 91.33 in the handy Playoff Round, which qualified Stewart for the Final Four, where the riders started on a clean slate.
"It was really one of my most fun rounds on him, and he was great," said Stewart of his veteran partner Catch Me. "He is just a phenomenal horse, and I appreciate having him."
On his first horse Spectacular, owned by Sarah Entzian, Stewart had even scores of 90 across the board. With Q King of Hearts Z, owned by Brannon Loomis Mooney, he upped his score to 93, while he received a 92.66 with Diablue 7, owned by 7 Dog Farm LLC. Heading into his last round, Stewart was trailing John French by one point. But with Elise Iafrate's Nabisco, he received his highest score of 93.33, which catapulted him into the lead by more than five points with a total of 368.99.
Stewart admitted that going into his final round with Nabisco, nerves struck him. "The instructions of the way to ride him were the opposite of the way I ride, and I didn't know how to do it," he admitted. "I just really listened to [the horse's trainer and owner] about how to ride him, and it worked."
While Stewart admitted that competing in the WCHR Pro Finals more than 20 times "means I'm really old," he also remarked, "It means I'm really lucky and fortunate to be doing this at this level and competing against these great riders and having nice horses to show, so I'm very grateful for that."
Stewart has seen the format for the class change throughout the years, and he praised this year's class and that the WCHR Pro Challenge score carried over, as well as Joseph Carnicom's interesting handy hunter course. "I thought it was pretty exciting," he said.
French ended up coming in second place with a total score of 363.66. He led following the Playoff Round, where he rode Marnell Sport Horses' Ocean Road. His highest score in the Final Four came from Spectacular, who received an average of 94.
French echoed the feelings about the class format. "I liked that my score from the other day brought me into this round," he said. "I was able to not have to do anything crazy in the handy round tonight to make the top four. I rode a horse in the handy, Ocean Road, who is owned by the Marnells and actually, he was really good. I don't normally ride him, so it was nice for them to give me the opportunity to ride him tonight."
This was Torano's first time competing in the WCHR Pro Finals, and he also has the notable statistic of being one of three people to ever compete in and judge the class (the others are Russell Frey and Rick Fancher). Torano rode Isalou Inc.'s Laskano in the Playoff Round, and his highest score in the Final Four came with Diablue 7, who scored 91. He finished with a total of 359.15.
"I would like to thank all of the owners and trainers of all these horses that were donated," he said. "I thought we had a good group of horses tonight. It was my first time doing it, and I've watched it a lot of years.
"It's nice going head-to-head with these guys," he continued. "We do this day in and day out. We show against each other every single week, and this is fun because it's a different format. I'd like to do it again if I have the horses."
Finishing in fourth place was Victoria Colvin, who piloted Montauk, owned by Libbie Gordon, in the Playoff Round. Her high score of 91 came with Diablue 7, and she finished with a total of 353.32.
"I was fortunate to have Libbie Gordon's Montauk to show in the handy round," said Colvin. "I wasn't sure I'd have a horse, so I'm grateful she lent me that horse and he was great to get me into the top four. I thought everybody had a great night, and it was a good class. It was a lot of fun."
For his victory in the WCHR Pro Finals, Stewart was presented with the All The Way Perpetual Trophy, donated by Elizabeth Busch Burke and Lysa Burke Horkan.
Torano's Playoff Round mount Laskano was given the Shapley's Best Turned Out Award.
The Far West Perpetual Trophy donated by the Karazissis Family was presented to Nabisco, as the horse with the highest cumulative point total in the four rounds of the WCHR Professional Finals.
Final Results: WCHR Professional Finals, presented by the Rein Family
1 Scott Stewart: 90, 93, 92.66, 93.33 – 368.99
2 John French: 92.66, 94, 90, 87 – 363.66
3 Jimmy Torano: 87.66, 91, 90.16, 90.33 – 359.15
4 Victoria Colvin: 91, 90.66, 83.66, 88 – 353.32
5 Amanda Steege: 79.75, 87 – 166.75
6 Geoffrey Hesslink: 85.95, 45 – 130.95