Rayne Dubois Reigns Supreme in $20,000 Ottawa National Grand Prix at Wesley Clover Parks
September 17, 2022 - Ottawa, Ontario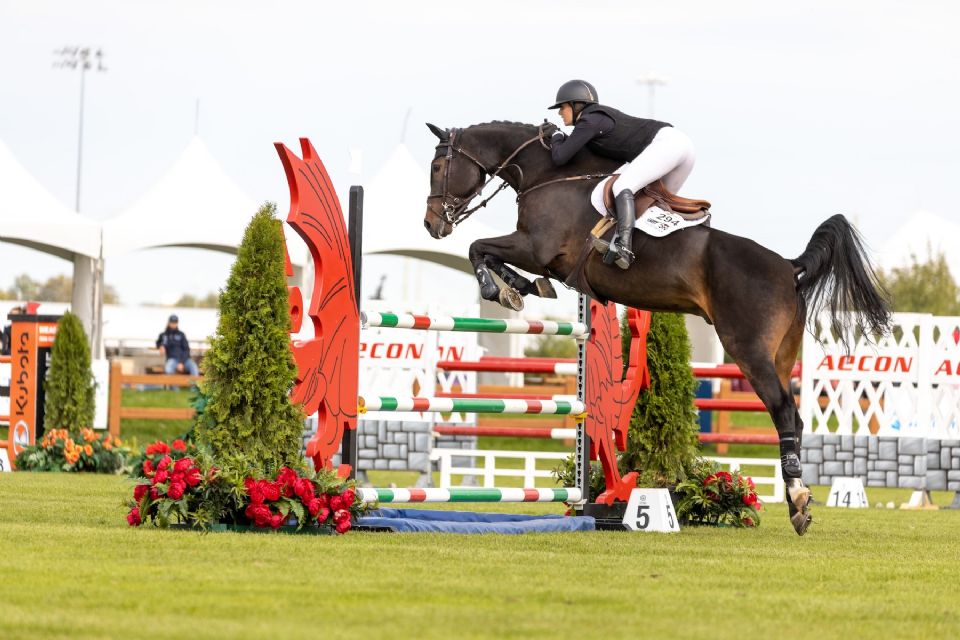 Ottawa's Rayne Dubois, 22, riding Dublin won the $20,000 Grand Prix, presented by Saniton Plastic, on September 17, 2022, at Wesley Clover Parks in Ottawa, ON.
Photo by Sunkist Media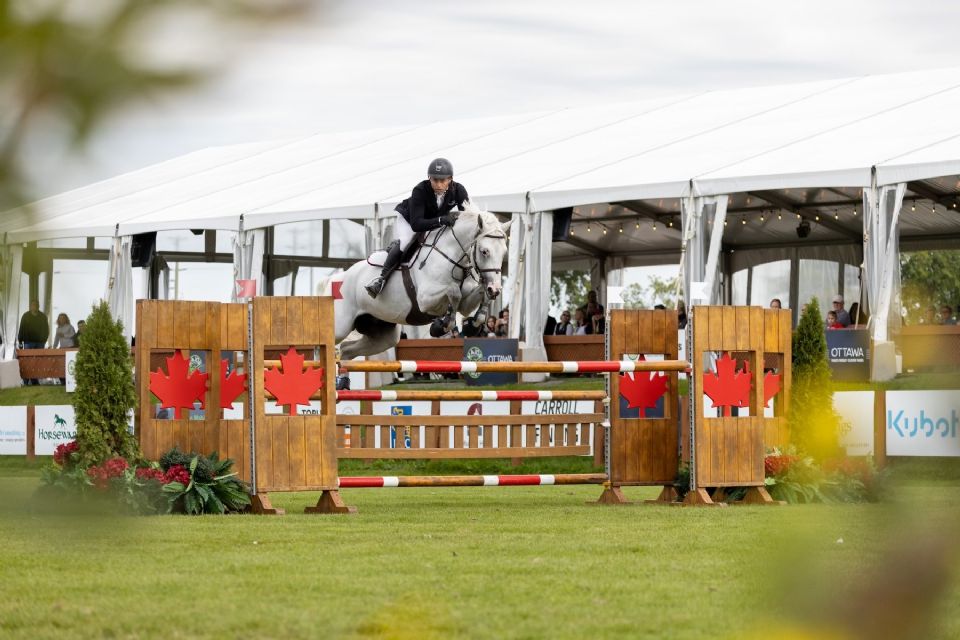 David Arcand of Montreal, QC, finished runner-up riding Phil v/d Wezelse Heihoeve in the $20,000 Grand Prix held at Ottawa's Wesley Clover Parks.
Photo by Sunkist Media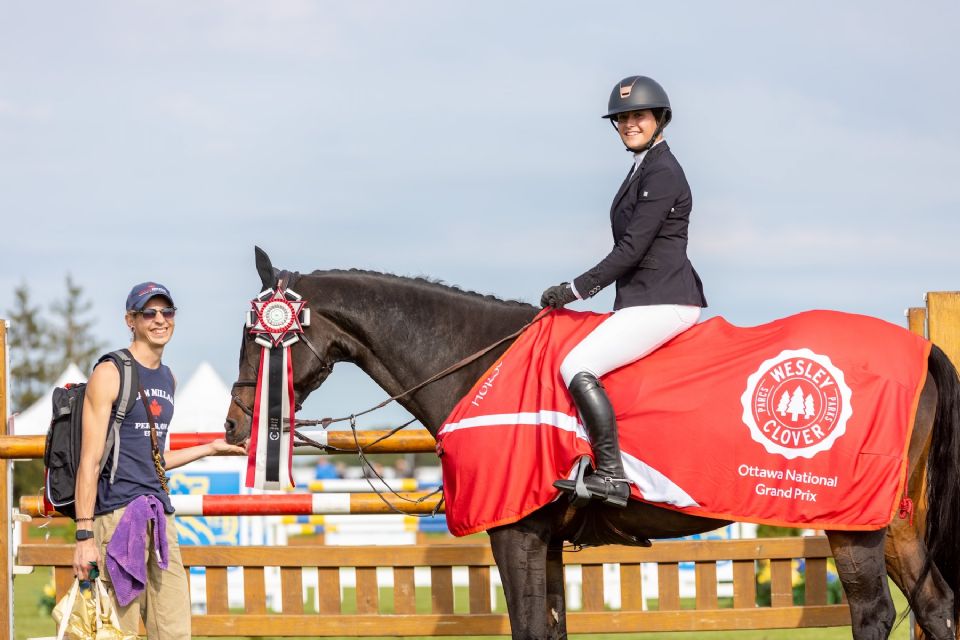 Rayne Dubois aboard Dublin, alongside groom Noah Lawlor, is presented as the winner of the $20,000 Grand Prix, presented by Saniton Plastic.
Photo by Sunkist Media
Ottawa's own Rayne Dubois won the $20,000 Grand Prix, presented by Saniton Plastic, on Saturday, September 17, 2022, during the Ottawa National show jumping tournament at Wesley Clover Parks in Ottawa, ON.
Canadian course designer Mike Pegg made good use of the expansive grass field at Wesley Clover Parks, setting a track that saw seven horse and rider combinations advance to the all-deciding jump-off. As the final jump-off challenger, Dubois was chasing a target time of 43.04 seconds set by David Arcand of Montreal, QC, riding Phil v/d Wezelse Heihoeve. With Dublin, her partner of two years, Dubois shaved fractions of a second from Arcand's leading time to claim victory in 42.98 seconds.
"They raised the last fence, a vertical, in the jump-off, which we thought might be the bogey fence," said Dubois of the jump-off track. "You basically had to let them go and try to get one less stride and let them pop over. If I had helped him, I probably would have got in his way!"
The only other double clear rounds belonged to another Ottawa-based rider. Christine Wiggins, 37, left all the jumps in place riding Cabaliero 2 but the pair's slower time of 47.27 seconds placed them third overall behind Dubois and Arcand. Colleen Loach, a two-time Canadian Olympian in the equestrian discipline of eventing, knows how to gallop. Riding FE Golden Eye, Loach of Dunham, QC, turned in the fastest jump-off time by far, 38.36 seconds, but a rail fell early on course to leave her in fourth position. Kelley Robinson of Russell, ON rounded out the top five with four faults in the jump-off riding Foolproof.
"He is such a trier," said Dubois of her winning partner Dublin, a 13-year-old Belgian Sport Horse gelding sired by Ugano Sitte and owned by Millar Brooke Farm. "Anything I ask him to do, he says, 'Absolutely.' He has done this before; he was with Jonathon [Millar] before I had him. He's a seasoned horse, he knows his job, and the best part about him is how confident he makes me."
Formerly campaigned by Canadian Show Jumping Team veteran Jonathon Millar, Dublin has been partnered with Dubois since November of 2020. Dubois got her start riding at Wesley Clover Parks in 2016 before transitioning to train with the Millar family at Millar Brooke Farm in Perth, ON.
"I'd like to give a big thank you to the entire Millar Brooke team; my groom, Noah Lawlor; and my biggest supporter, Elizabeth White. Ian [Millar] especially has taken on so many of the students this year and he puts so much time and effort into it. I try to absorb it like a sponge. I so appreciate how much time he's spent with us," said Dubois of training with the 10-time Canadian Olympian.
The win marked the second trip to the grand prix winner's circle at Wesley Clover Parks this season for Dubois and Dublin. In June, the pair won the $15,000 Grand Prix during the Ottawa Welcome tournament.
"It's so lovely to be able to compete here, especially since I grew up here and I used to ride at Wesley Clover Parks," said Dubois, who is currently studying psychology at Carleton University. "The grass is cool to jump on, and the show management does such a good job. We're so happy to be here; it's truly an honour whenever we get to show here."
As a local competitor, Dubois also had some special fans cheering her on. In addition to competing in show jumping, Dubois is an avid fox hunter with the Ottawa Valley Hunt Club and several members of the club were in attendance to show their support.
"I'm a full-fledged member with my colours, and I keep my own horses in Ashton," said Dubois of her other equestrian pursuit. "I started when I was 16 in the hunt's junior program, then I took a break to focus on show jumping. Last year I renewed my membership and got my colours. I'm truly in love with fox hunting again. A lot of the hunt members came today to see me ride. They are like a second family to me and truly so supportive."
The Ottawa National, held September 15-18, marks the final show jumping tournament of the 2022 season at Wesley Clover Parks and the last opportunity to earn points towards the Ottawa Circuit Awards, presented by Ride Every Stride. With prizes awarded in 29 divisions, competitors collect points at all Gold and Platinum shows hosted at Wesley Clover Parks this season. For more information, visit https://www.ottawaequestriantournaments.com/ottawa-circuit-awards.
For more information on the Ottawa Equestrian Tournaments, visit www.OttawaEquestrianTournaments.com. Full results are available at www.ottawaequestriantournaments.com/results. Get the latest updates, news, and photos by following Ottawa Equestrian Tournaments on Facebook here and Instagram and Twitter @TheWCParks.
$20,000 1.40m Grand Prix, presented by Saniton Plastic
Saturday, September 17, 2022
Rider / Hometown / Horse / Faults / Time
1. Rayne Dubois / Ottawa, ON / Dublin / 0:0 / 42.98
2. David Arcand / Montreal, QC / Phil v/d Wezelse Heihoeve / 0:0 / 43.04
3. Christine Wiggins / Ottawa, ON / Cabaliero 2 / 0:0 / 47.27
4. Colleen Loach / Dunham, QC / FE Golden Eye / 0:4 / 38.36
5. Kelley Robinson / Russell, ON / Foolproof / 0:4 / 44.10
6. Elyse Batista / Guelph, ON / Viva's Dolce W / 0:4 / 44.94
7. Olivia Blaber / Ottawa, ON / Mauna Lani / 0:4 / 46.55
8. Julia Wiggins / Kanata, ON / Astrid de B'Neville / 4
9. Karen Sparks / Nepean, ON / Lugano / 4
10. Stirling Miller / Dunrobin, ON / Can't Believe / 4