Paul Halpern Wins at $15,000 Topline Trailers Grand Prix at Wesley Clover Parks
September 16, 2023 - Ottawa, Ontario, Canada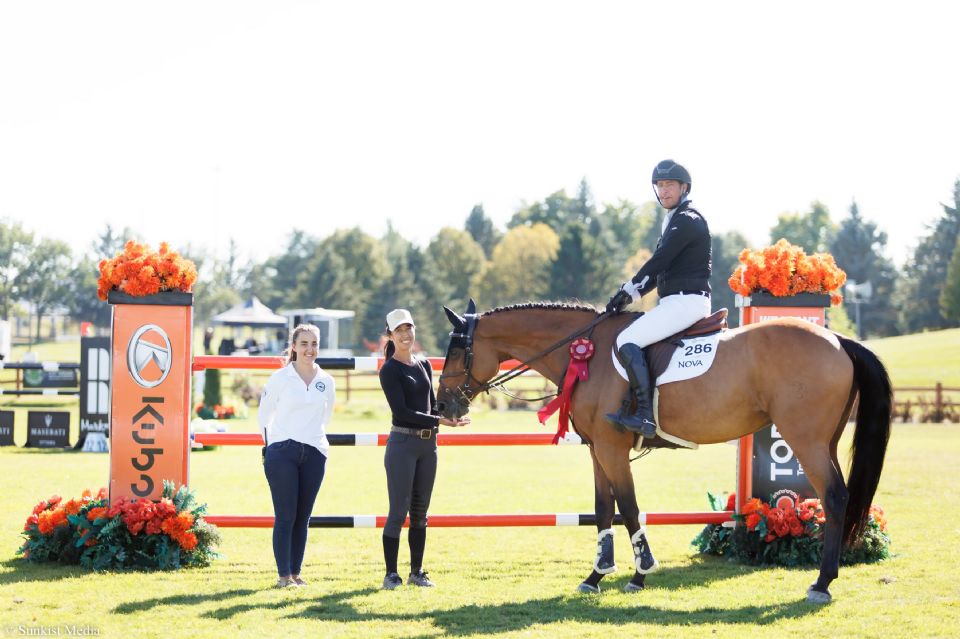 Paul Halpern, pictured aboard Esra, is presented as the winner of the $15,000 Topline Trailers Grand Prix by Taylor McRae, Tournament and Grants Coordinator for Wesley Clover Parks, and Vanessa Lee, owner and groom of Esra.
Photo by Sunkist Media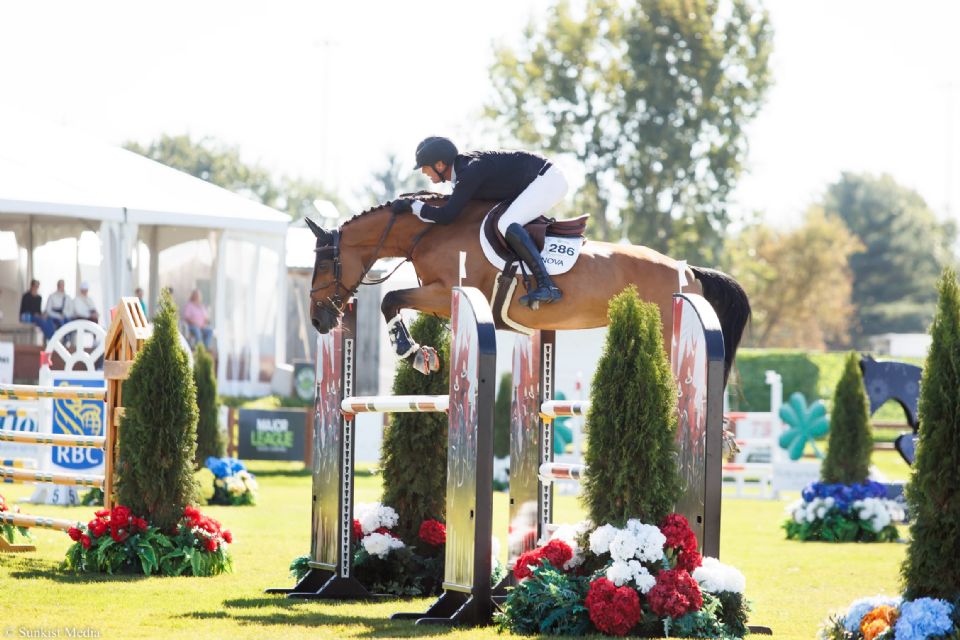 Paul Halpern of Saint Anne des Plains, QC, was double-clear riding Vanessa Lee's Esra to win the $15,000 Topline Trailers Grand Prix held on September 16, 2023, at Wesley Clover Parks in Ottawa, ON.
Photo by Sunkist Media
Paul Halpern riding Esra won the $15,000 Topline Trailers Grand Prix on Saturday, September 16, to close out the 2023 show jumping season at Wesley Clover Parks in Ottawa, ON.
Course designer William Dean-Stobie of Edmonton, AB, set a track on Wesley Clover Parks' renowned grass field that would see only two horse-rider combinations jump clear to force a jump-off. Olivia Blaber of Ottawa, ON, was the first rider to return for the jump-off. Riding Mauna Lani, her 12-year-old Canadian-bred gelding, Blaber incurred four faults after attempting to save time with a tricky inside turn. Knowing a clear round would clinch the win, Halpern of Saint Anne des Plaines, QC, opted for a steady ride aboard Esra to claim victory.
"I trusted that she wouldn't touch a jump and just stayed efficient and consistent," said Halpern of his winning plan.
"I've been with Esra since she was five," said Halpern of the now 11-year-old Holsteiner mare (Bratt Z x Nekton) owned by Vanessa Lee. "Her owner does the flatwork and has ridden her along the way, and I've done all the showing since she was a baby. She's a feisty mare; she doesn't hold anything back. She's a trier, and she lets you know what she thinks. At the same time, she's a sweetheart and I think she's highly intelligent. She's the full package for the sport – she's careful and she looks for the jumps. We know each other like good friends. It's fun to have a partnership like that."
The Ottawa National tournament marked Halpern's competitive return since breaking an area under his shoulder in three places in May. Halpern was pleased to be showing at Wesley Clover Parks, which ranks among his favourite places to compete, with 10 horses including his own and those of his clients.
"It's one of my favorite shows and I'm not just saying that because I won!" laughed Halpern. "It seems to be lucky for me. Everything about Wesley Clover Parks is horse friendly. It has great stabling, there's lots of space to ride, and the grass field is amazing. There's nothing I can fault about it. It's lovely. A big thank you to the team at Wesley Clover; we are thrilled with what they do."
A three-time North American Youth Championship competitor, Blaber, 18, settled for second with four faults in the jump-off. Ashley McInnis of Barrie, ON, also jumped clear riding Pacifica but incurred three time faults for exceeding the 78-second time allowed in the opening round. Blaber's coach, Kelley Robinson of Russell, ON, was fourth with the fastest four-fault effort aboard Foolproof while Hyde Moffatt of Brantford, ON, rounded out the top five riding Onslow.
Earlier in the week, Moffatt rode Onslow to victory for owner Genevieve di Perna in the $2,500 Open Welcome on Thursday, September 14. Halpern took second aboard Jerlot W, owned by Marianne Grothe, while Robinson rounded out the top three riding Foolproof, owned by Robin Hannah.
The Ottawa National tournament, held from September 14 to 17, marked the final show jumping event of the 2023 season at Wesley Clover Parks and also determined the final standings in the Ottawa Circuit Awards, presented by Ride Every Stride.
For more information on the Ottawa Equestrian Tournaments, visit www.OttawaEquestrianTournaments.com. Full results can be found at www.ottawaequestriantournaments.com/results-2023. Get the latest updates, news, and photos by following Ottawa Equestrian Tournaments on Facebook here and Instagram and Twitter @TheWCParks. Share your Ottawa Equestrian Tournaments experience by tagging @TheWCParks and #RideTheParks!

$15,000 Topline Trailers Grand Prix
Saturday, September 16, 2023
Rider / Hometown / Horse / Faults / Time
1. Paul Halpern / Saint Anne des Plains, QC / Esra / 0:0 / 44.41
2. Olivia Blaber / Ottawa, ON / Mauna Lani / 0:4 / 43.25
3. Ashley McInnis / Barrie, ON / Pacifica / 3
4. Kelley Robinson / Russell, ON / Foolproof / 4
5. Hyde Moffatt / Brantford, ON / Onslow / 4
6. Mikayla Sancho / Kirkland, QC / Marcus / 4
7. Mackenzey Nadeau / Stittsville, ON / HHS Fairy Fort / 4
8. Hyde Moffatt / Brantford, ON / Kaspian / 5
9. Rayne Dubois / Ottawa, ON / Eristos de l'Heribus / 6
10. Karen Sparks / Nepean, ON / Lugano / 6