Palm Beach Equine Clinic Gives Back to the Wellington Community
February 2, 2016 - Wellington, FL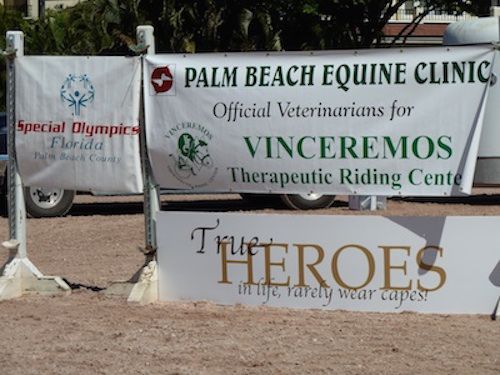 The doctors at Palm Beach Equine Clinic serve as the Official Veterinarians for Vinceremos Therapeutic Riding Center.
Photo by Eques Solutions, Inc.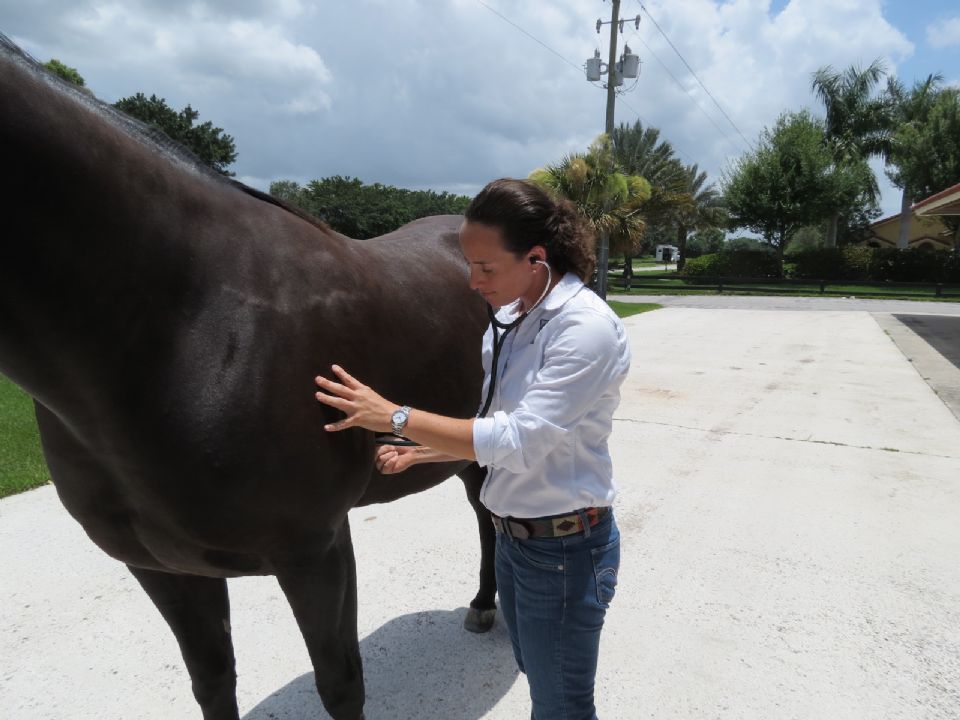 A leader in sport horse medicine, Palm Beach Equine Clinic (PBEC) is a mainstay in the equestrian-centric Village of Wellington in South Florida. Known as the 'Winter Equestrian Capital of the World,' Wellington welcomes equestrians from around the globe to compete in events such as the Winter Equestrian Festival (WEF) and the Adequan® Global Dressage Festival (AGDF), for which PBEC serves as the official veterinarians. PBEC is dedicated to providing exceptional care to the horses and equally committed to strengthening relationships within the local community.
PBEC President Dr. Scott Swerdlin strongly encourages his veterinarians to share their expertise and get involved in philanthropic community relations in Wellington. Many of the veterinarians generously donate their time and energy to many different projects throughout the community each year.
Vinceremos Therapeutic Riding Center
One local organization that PBEC annually supports in various ways is Vinceremos Therapeutic Riding Center (VTRC). VTRC is a 501 (c) 3 not-for-profit corporation that provides therapeutic horseback riding to those with disabilities and hippotherapy in Palm Beach County since 1982. Dr. Swerdlin sits on VTRC's Board of Directors and also serves on the organization's Executive Committee.
"Vinceremos is an exceptional organization," Swerdlin stated. "There is nothing that you can possibly do that will make you feel better than spending time at Vinceremos and being involved in that organization. It is horse oriented, but what they are doing is providing solutions for children who are disabled. You see the way they light up and how excited they are to be on those horses and all of a sudden that disadvantage disappears. You see it in their faces, you see it in their smiles. You see it in every aspect of their well-being. To see the improvement in the health and the capabilities of these children is amazing."
All of the doctors at PBEC have been involved with VTRC in some way, but two women who have gone above and beyond for the program are Dr. Janet Greenfield-Davis and Dr. Jordan Lewis.
"Janet just had her second child and Jordan just had her first child, and they both put a lot of time and energy into helping other children," Dr. Swerdlin noted. "What I try to do is coach a philosophy, and that philosophy is how fortunate we all are to be here in this community taking care of these kinds of horses and clients, and that we owe something back. We need to appreciate what we are doing and try to give back to the community."
For Dr. Greenfield-Davis, donating her time and expertise at VTRC is fun and rewarding work. She serves as the primary veterinarian to VTRC, treating the horses on an as-needed basis and helping with pre-purchase exams and evaluations of donated horses. Other surgeons and veterinarians at PBEC offer their skills when needed as well.
"It is a spectacular program," said Dr. Greenfield Davis. "I have been doing work there for the last four years, and I have learned so much. What they provide is a huge benefit for those kids. Even the kids who volunteer that are shy or have communication problems, they, too, just blossom there.
"I think it is important for us to give back to the community," Dr. Greenfield-Davis added. "We are a rather large fixture in the community. We are one of biggest equine hospitals in the area and for us to help and contribute to their program is important for all of us."
She continued, "Everybody at the clinic has been there at one point or another; everybody chips in. The clinic foots the bill for all of the horses there and all of the veterinarians and surgeons donate their time and services. It is fun, too. They invite us to their horse shows and events, and we all have a good time."
Additional Charity Involvement in Wellington
In addition to PBEC's contributions with VTRC, the clinic donates to JustWorld International, an organization of equestrians funding and sustaining education, nutrition, and health programs for children in Cambodia, Guatemala, and Honduras. PBEC has supported JustWorld International since its inception.
Other charitable work includes donations to the Great Charity Challenge, presented by Fidelity Investments® (GCC), which is hosted each year during the Winter Equestrian Festival. The pro-am team competition has distributed more than $7.5 million to over 150 nonprofits in Palm Beach County over the last six years. Founded in 2010 by Equestrian Sport Productions CEO Mark Bellissimo and his daughter Paige, the Great Charity Challenge has seen the equestrian community take charitable giving to a new level through their love of horses. PBEC is proud to be a part of such a fantastic event.
"The Great Charity Challenge is so much fun. You see these riders just barreling to try to win for their charity," said Dr. Swerdlin. "Vinceremos was chosen (as a charity recipient for the GCC) this year, so we are very excited and hope to have a big turnout. I enjoy the competition and the mystery of who is going to win and what the charities will get. The way they have it devised so that it is such a win-win for all of the charities is wonderful. It is just fun for everybody, and it is such a good cause."
Local Veterinary Educational Opportunities
Education of the public is also on the forefront of PBEC's community involvement. Currently, through Wellington High School's (WHS) Equine Pre-Vet Program, PBEC has a hands-on program for students looking to pursue a career in veterinary medicine.
WHS seniors that choose to pursue the Equine Pre-Vet Program have a wealth of knowledge at their fingertips with one of the most advanced equine medical centers just down the road. Through the program at WHS and the generosity of the veterinarians at PBEC, students in the Equine Pre-Vet Program have the unique opportunity to learn all about the profession by shadowing the very best.
Dr. Janet Greenfield-Davis is also very involved with this program and mentors the senior students.
"We try to play an active role in our community, and we really enjoy having the kids visit the clinic," Greenfield-Davis stated.
Dr. Swerdlin added, "We have board certified radiologists, we have three boarded surgeons, we have boarded internal medicine veterinarians, and we have boarded ophthalmologists. We also have the most high-tech diagnostic equipment, so for a young veterinarian, PBEC is paradise. We like spending the time to teach American veterinarians as well as foreign veterinarians. I think we are improving the success and the health of horses all over the world by offering those opportunities."
Palm Beach Equine Clinic enjoys getting involved in the community and looks forward to continued involvement in 2016.
Palm Beach Equine Clinic provides experience, knowledge, availability, and the very best care for the horses of Wellington. Have them be a part of your team! To find out more, please visit www.EquineClinic.com or call 561-793-1599. "Like" them on Facebook to follow along on what happens in Wellington and more, and get news from their Twitter!