Opening Day at the 2015 Vermont Summer Festival
July 1, 2015 - East Dorset, Vermont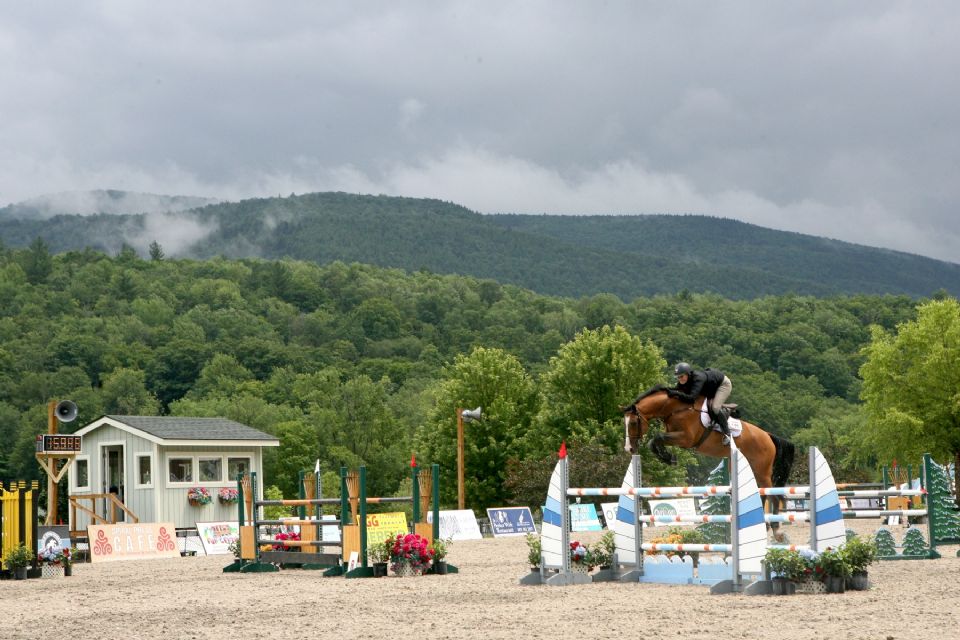 Competition is officially underway at the Vermont Summer Festival, running July 1 through August 9 at Harold Beebe Farm in East Dorset, VT. The six-week show jumping tournament offers more than $750,000 in prize money, making it the richest sporting event in the state of Vermont.
In addition to prize money, competitors have another reason to celebrate; the unveiling of all-new Kruse Cushion Ride (KCR) footing at the Vermont Summer Festival. The new surface encompasses all competition rings, schooling areas and lounging pads at Harold Beebe Farm, a change that is meeting with rave reviews.
"We've created a big buzz with our long-term exhibitors who are thrilled about the new footing," said William Glass, Vermont Summer Festival Technical Coordinator. "In addition to welcoming them back, we're seeing a lot of old friends returning to Vermont, many of whom we haven't seen in a few years. Overall, the expectation is that we're going to have an outstanding six weeks of show jumping."
Add that to world-class course designers and the charm of Vermont's shopping, dining and outdoor activities, and it's no wonder the Vermont Summer Festival has been a favorite among East Coast exhibitors for well over 20 years.
"It's always gratifying to hear our exhibitors tell us how much they enjoy showing here in Vermont," said Ruth Lacey, Marketing Director for the Vermont Summer Festival. "And, the message we're getting this year is that everyone is excited to get the summer underway!"
For jumpers, the $10,000 New Balance Welcome Stake, presented by Manchester Designer Outlets, will take place on Thursday, July 2, before the first of six highly-anticipated grand prix events – the $30,000 Vermont Summer Special Grand Prix – takes place on Saturday, July 4. Each Thursday, Manchester Designer Outlets will continue to present the Welcome Stake, while grand prix show jumping events culminate in the $50,000 Vermont Summer Celebration Grand Prix on Saturday, August 8.
Thursday, July 2, marks the return of the weekly $5,000 3'3" NEHJA Performance Stake Hunter Derby in preparation for the $15,000 offering during week six.
Competition at the 2015 Vermont Summer Festival runs weekly from Wednesday through Sunday, beginning at 8 a.m. Admission prices are $5 for adults, $3 for children from Wednesday through Friday. On Saturday and Sunday, admission is $7 for adults, $5 for children. 100% of the gate proceeds benefit area libraries, including Manchester Community Library.
The Vermont Summer Festival is New England's largest hunter/jumper competition, and the richest sporting event based on purse in the state of Vermont. For over 20 years, the Vermont Summer Festival has attracted exhibitors and their families to the Manchester region in southern Vermont for great competition in an ideal summer setting.
The Vermont Summer Festival is a proud member event of the Show Jumping Hall Of Fame, the Marshall & Sterling League, and the North American League (NAL). Please e-mail or visit the website for more information about the Vermont Summer Festival.