Old Salem Farm Welcomes Top Equitation Riders at Region 1 and 2 ASPCA/NHSAA Maclay Championships During American Gold Cup
September 17, 2016 - North Salem, New York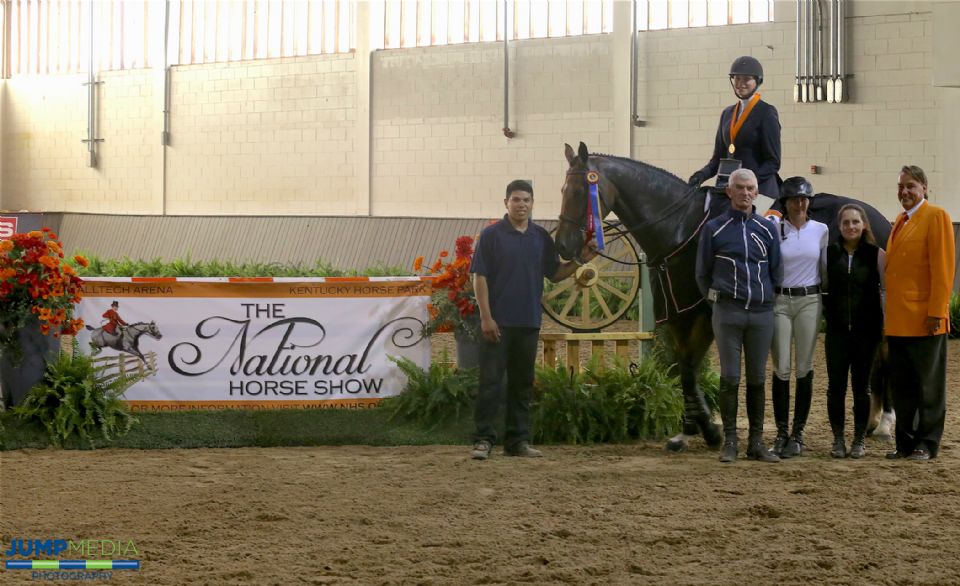 Katherine Bundy, aboard Co Co Pop, with trainers John Brennan, Maggie Gampher, and Kelly Wilson, and groom Roberto Rodriguez are presented as winners of the Region 1 ASPCA/NHSAA Maclay Championship by Mason Phelps, representing the CP National Horse Show.
Photo by Jump Media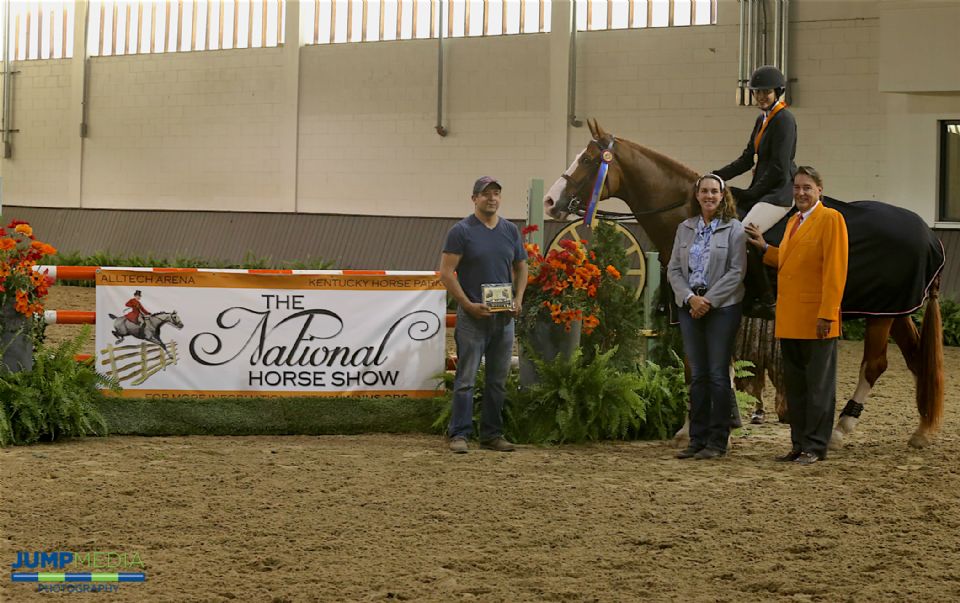 Maya Nayyar, aboard Fox Z, with trainer Stacia Madden and groom Julian Armadillo are presented as winners of the Region 2 ASPCA/NHSAA Maclay Championship by Mason Phelps, representing the CP National Horse Show.
Photo by Jump Media
Old Salem Farm was host to both the Region 1 and 2 ASPCA/NHSAA Maclay Championships on Saturday, September 17, during the American Gold Cup CSI 4*-W. Elite local equitation riders competed with hopes to qualify for the ASPCA Maclay Horsemanship Championship at the CP National Horse Show on November 1-6 in Lexington, Kentucky.
Old Salem Farm gives equitation riders an early opportunity for indoor competition at a top-quality venue before all of the indoor finals each fall. Seizing that opportunity, both Katherine Bundy of Westport, CT, and Maya Nayyar of New York, NY, are making the most of their final year as junior riders and clinched Regional Championship wins at Old Salem Farm after an over fences phase and a flat phase. Bundy and her mount Co Co Pop, owned by her trainer Missy Clark and North Run, topped Region 1 competition, while Maya Nayyar and her own Fox Z won for Region 2 under the direction of trainer Stacia Madden.
The American Gold Cup at Old Salem Farm offers equitation riders a chance to shine among some of the best riders in the world as top athletes converge for a stop on the Longines FEI World Cup™ Jumping North American League tour. For Bundy, who also won the Regional Maclay Championship at Old Salem Farm in 2015, it is a learning moment.
"I have always loved Old Salem Farm because I think the indoor is amazing and so well kept, but competing during the [American] Gold Cup is really special," said Bundy. "So many people who flock to this horse show are important to watch and having that visual experience is so important for me. I love watching a 1.40m speed or a 1.50m and then go do the regionals. Although they are different classes, the discipline is similar. It's really important to be here and watch those people, and that's why I love this horse show."
Bundy admits that Co Co Pop is a seasoned veteran in the equitation ring, having ribboned at the Regional Championships at Old Salem Farm with several past riders of North Run trainers Missy Clark and John Brennan. She, however, is eager for the experience she gains at the Regional Championships leading into the finals season.
"Each year getting competition experience and having that mentality of going into finals and composing yourself gets less and less intimidating," she said.
When asked about Bundy as a rider, Clark responded, "She is such a great competitor, and she has worked so hard. She has a very calm attitude in these situations, and I felt very confident in her handling the course today. This indoor is a great venue, and these equitation riders are accommodated so well all weekend."
For Nayyar, Saturday's Region 2 win was a not an uncomplicated one. While warming up for the over fences phase, both she and Madden noticed that their entered mount, Connaro, was not quite himself.
"Maya gets a tremendous amount of credit," said Madden. "I've learned through experience that anyone who has the ability to have a backup horse should have it here and ready. She jumped one jump and said, 'I need to be fair to my horse'."
Madden left the final decision to Nayyar who chose to compete Fox Z.
"She had faith in her horses, preparation, instructor, and herself to make a good judgment that was right for the horse and ultimately right for her," added Madden.
"Today was a good confidence booster," said Nayyar. "I am happy we qualified, and my plan was just to get everything done. I came [to Old Salem] just for regionals, and I'm glad it worked out."
When asked what she likes about bringing riders to Old Salem Farm, Madden said, "I'm a big proponent of having all the regionals indoors because I think that if you're getting ready for finals indoors, you should be having your regionals indoors. This is a very nice venue to use as preparation."
The American Gold Cup CSI 4*-W continues through Sunday, September 18, when the $216,000 Longines FEI World Cup™ Jumping New York takes the stage as part of the Longines FEI World Cup™ Jumping North American League. Tickets to watch the $216,000 Longines FEI World Cup™ Jumping New York in person and experience Old Salem Farm can be purchased online by clicking here. The event will also be streamed live at www.theamericangoldcup.com.
Final Results: Region 1 APSCA/NHSSA Maclay Championship
1 809 CO CO POP KATHERINE BUNDY
2 817 ZAPFIER EVE JOBS
3 226 BIG STAR COCO FATH
4 1051 POP ROCKS SOPHIA PILLA
5 301 FINNICK JORDYN ROSE FREEDMAN
6 677 AMALITA 2 CAROLINA CROSSFIELD
7 823 ARANDELLI YASMIN RIZVI
8 683 FUTURE FIDDLER ALEXA SCHWARTZ
9 800 CAPTAIN JACK KENDRA GIERKINK
10 1008 IN THE KNOW MADELINE SCHAEFER
Final Results: Region 2 APSCA/NHSSA Maclay Championship
1 316 FOX Z MAYA NAYYAR
2 322 STALLONE MADISON GOETZMANN
3 329 KASKADE T.J. O'MARA
4 657 CHECKER OLIVIA BLOCH
5 985 CHARISMA TAYLOR ST JACQUES
6 1022 CLASS ACTION LUCY DESLAURIERS
7 650 CADEN SHANNON ECKEL
8 321 SAN REMO VDL KATHERINE STRAUSS
9 282 CASAN KAITLYN WILLIAMS
10 770 COURAGE CATHERINE APOSTOL
Full horse show results can be found at www.theamericangoldcup.com.

About Old Salem Farm
Old Salem Farm, located just one hour north of New York City, is one of the best equestrian competition venues in North America, as rated by the North American Riders Group in 2011 through 2015. Host of the Old Salem Farm Spring Horse Shows, the prestigious American Gold Cup CSI 4*-W, and year-round competitions, the facility offers a state-of-the-art turf grand prix field, indoor riding arena, and two all-weather footing rings. For the past five years, the North American Riders Group (NARG) has recognized the Old Salem Farm competitions on their NARG Top 25 List. As a boarding and training facility, Old Salem Farm is second to none and home to top trainer Frank Madden. For more information on Old Salem Farm, including its yearlong competition schedule, prize lists, clinics, boarding, lessons and training, visit www.oldsalemfarm.net or call 914-669-5610.