NetJets® U.S. Jumping Team Finishes Eighth at FEI Jumping Nations Cup™ CSIO5* Calgary
September 7, 2019 - Calgary, Alberta, Canada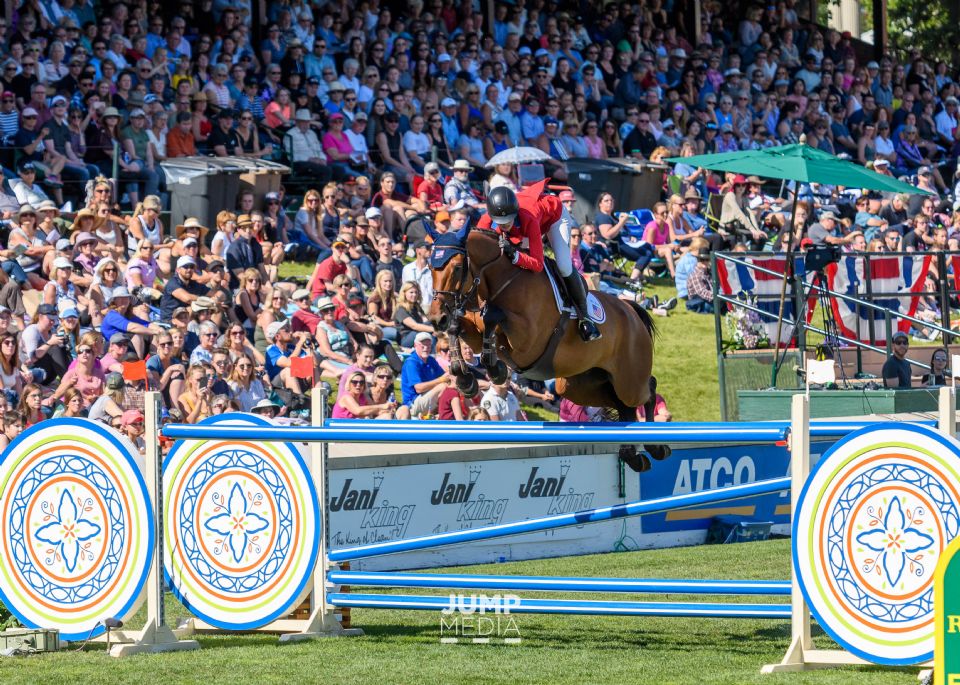 Sloane Coles made her Nations Cup debut on the NetJets U.S. Jumping Team, which placed eighth at the FEI Jumping Nations Cup™ Calgary.
Photo by Jump Media
The NetJets® U.S. Jumping Team finished in eighth place at the FEI Jumping Nations Cup™ CSIO5* Calgary during the 2019 Spruce Meadows 'Masters' Tournament on September 7 in Calgary, Alberta, Canada. Led by Chef d'Equipe Robert Ridland, the team consisted of Sloane Coles, Charlie Jacobs, Beezie Madden, and McLain Ward.
"It's sport," said Ridland of the team's disappointing finish. "We didn't get the best draw going early in a class with a very tight time allowed. If McLain had gone later, he for sure would have done different options. You can go through all the 'what ifs,' but it was bad luck across the board. It was a tough course and there were a lot of surprising scores.
"It's show jumping," he continued. "There are some good teams out here, and it wasn't our day. We've had more than a good week leading up to this and didn't have a great afternoon."
The pathfinder for the NetJets U.S. Jumping Team was two-time Olympic team gold medalist McLain Ward (Brewster, N.Y.) and Noche de Ronda, a 2009 Oldenburg mare owned by Ward, Marilla van Beuren, and Bob Russell. With one rail down and one time fault, they finished on a five-fault score.
A five-fault score was also contributed by Sloane Coles (The Plains, Va.), who was competing in her first Nations Cup for the United States. She rode Chippendale's Boy DZ, a 2009 Zangersheide gelding owned by The Springledge Group.
"With Sloane, she had a great round," said Ridland. "She really rode the pants off that horse. It's a new combination, and they did a really good job."
When Jacobs (Buffalo, N.Y.) and Cassinja S, a 2006 Zweibrücker mare owned by CMJ Sporthorse LLC, had an unfortunate slip before a jump and the mare fell on course, they were eliminated. Ridland noted that Cassinja S was examined by the team veterinarian and fine once outside of the arena.
Anchor rider and also a two-time Olympic gold medalist, Beezie Madden (Cazenovia, N.Y.) and Coach, a 2008 Holsteiner gelding owned by Abigail Wexner, finished on eight faults.
Standing in eighth place following the first round, the team did not make the cut for the top six teams to return for the second round. Belgium took the top spot on the podium for first place on four faults, the home team from Canada was silver with 14 faults, and the bronze medal went to Ireland with a total of 19 faults.
Stay up to date on the NetJets U.S. Jumping Team by following USA Jumping and US Equestrian on Facebook and US Equestrian on Twitter and Instagram. Use #USAJumping.
The USEF International High Performance Programs are generously supported by the USET Foundation, USOC, and USEF sponsors and members.