Jimmy Torano Goes 1-2 in $15,000 Hunter Derby Finale at Vermont Summer Festival
August 7, 2015 - East Dorset, Vermont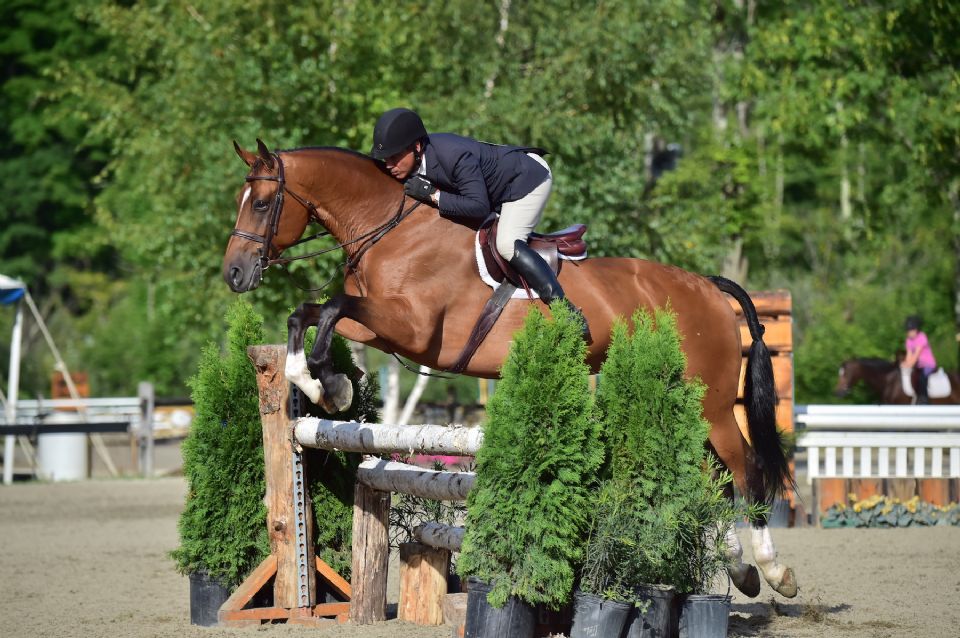 Jimmy Torano and Lion Hearted won the $15,000 NEHJA Performance Stake Hunter Derby, sponsored by Land Rover Experience, during the final week of the Vermont Summer Festival.
Photo by David Mullinix Photography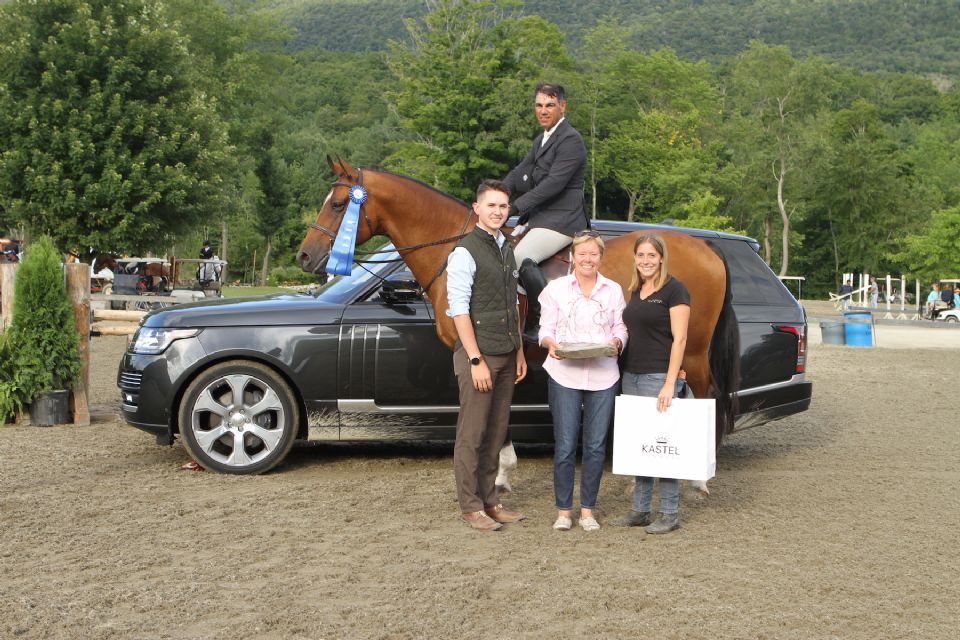 Jimmy Torano and Lion Hearted are presented as the winners of the $15,000 NEHJA Performance Stake Hunter Derby, sponsored by Land Rover Experience, by Sebastien Dutton of Land Rover Experience, and owners Laurie and Kayla Paternoster of Beacon Woods at the Vermont Summer Festival.
Photo by David Mullinix Photography
Jimmy Torano of Wellington, FL, won the $15,000 NEHJA Performance Stake Hunter Derby, sponsored by Land Rover Experience, aboard Lion Hearted and finished second with Argentus on Thursday, August 6, at the Vermont Summer Festival. The Vermont Summer Festival continues through Sunday, August 9, at Harold Beebe Farm in East Dorset, VT. Highlighting the final week of competition is the $50,000 Vermont Summer Celebration Grand Prix on Saturday at 1 p.m.
After winning last week's $5,000 NEHJA Performance Stake Hunter Derby, presented by Eastern Hay, with Lion Hearted, Torano and his ten-year-old Warmblood mount, owned by Beacon Woods, led both rounds of Thursday's finale.
The track, set by Joe Carnicom, spanned two competition rings as it has each Thursday afternoon during the six-week Vermont Summer Festival. Following the first round, the top 12 entries returned in reverse order of standing for a handy course, which again utilized both rings.
Scoring an 89 in the first round, Torano and Lion Hearted returned last over the handy course where they pocketed a 90 to post a final score of 179 for the win.
When he entered the ring aboard Lion Hearted, Torano was in the unique position of already having the class won aboard his second mount Argentus, owned by Isalou, Inc. Because of his multiple rides, Torano returned second with Argentus and earned a handy score of 88, which combined with an 82 for 170. That score sat in the lead throughout the entire second round until it was bumped to second by Lion Hearted.
Donald Bourque of Hudson Falls, NY, and Apollo, owned by Timothy Hooker, finished third with scores of 84 and 80 for a 164 total. Jennifer Bauersachs of Frenchtown, NJ, rode Overjoyed, owned by Courtney Carey, to fourth on scores of 88 and 72 for a 160 total. Kirsten Malacarne of Wakefield, RI, and Kalifornia Dreamin' rounded out the top five for owner Kelley Norton with an 80 and 75 to finish on 155.
Torano imported Lion Hearted as a three-year-old and recently took the ride back over for Beacon Woods. The pair was also first and third over fences in the 3'3" Performance Working Hunter division this week.
"I was really happy with him. He hasn't done much of this stuff, so winning last week and then coming back and doing it again is kind of shocking really," said Torano. "He was amazing in the handy last week and really good in both rounds this week. He deserved to win the class."
Torano shined over the handy course on both Lion Hearted and Argentus, who is a nine-year-old Hanoverian gelding (Argentinus x Agenda) he's had the ride on for more than a year. "I went for it on both horses and took all the risks," he said. "I set up the trot jump and asked for the turns and they responded really well.
The crowd held their breath as Torano cantered much of the approach to the trot fence element of the handy, but he admits the delayed reaction was all part of his plan. "I like waiting to trot in the handy. I figure anybody can trot 20 strides out, I like to trot four our five strides out and really make it handy," he said. "I asked of the horses and they both came through for me."
Thursday's finale event was the culmination of wildly successful weekly hunter derby offerings throughout the Vermont Summer Festival and boasted 31 entries.
"It was a great class," said Torano. "What the Vermont Summer Festival does for the exhibitors with this class as the finale is a great thing and they were rewarded with a lot of entries. It was the perfect way to end for the hunters."
For the win, Torano was presented with a scrim from Mona's Monograms and earned the Kastel Denmark Style of Riding Award for the second week in a row. In addition, all ribbons winner's earned ForeRunner samples from ForeFront Equine.
Competition at the 2015 Vermont Summer Festival runs through Sunday, August 9 and begins each day at 8 a.m. Admission is $6 for adults and $3 for children from Wednesday through Friday. On Saturday and Sunday, admission is $9 for adults, $5 for children. 100% of the gate proceeds benefit the Manchester Community Library and Dorset Equine Rescue.
The Vermont Summer Festival is New England's largest hunter/jumper competition, and the richest sporting event based on purse in the state of Vermont. It is a proud member event of the Show Jumping Hall of Fame, the Marshall & Sterling League, and the North American League (NAL). For over 20 years, the event has attracted exhibitors and their families to the Manchester region in southern Vermont for great competition in an ideal summer setting.
Please e-mail or visit the website for more information about the Vermont Summer Festival.
$15,000 NEHJA Performance Stake Hunter Derby, sponsored by Land Rover Experience
Thursday, August 6
Rider Hometown Horse Scores
1. Jimmy Torano Wellington, FL Lion Hearted 89/90 = 179
2. Jimmy Torano Wellington, FL Argentus 82/88 = 170
3. Donald Bourque Hudson Falls, NY Apollo 84/80 = 164
4. Jennifer Bauersachs Frenchtown, NJ Overjoyed 88/72 = 160
5. Kirsten Malacarne Wakefield, RI Kalifornia Dreamin' 80/75 = 155
6. Jennifer Bauersachs Frenchtown, NJ Cleaveland 86/68 = 154
7. Robert Lee Old Saybrook, CT El Grecco 79.5/70 = 149.5
8. McKayla Langmeier East Granby, CT Czar-Z 81/66 = 147
9. Claire Kenna Wakefield, RI Corice Z 85/61 = 146
10. Linda Orton Stamford, VT Demi 79/65 = 144
11. Elizabeth Solomon Huntingdon Valley, PA Graffitti 80.5/60 = 140.5
12. Brady Mitchell Katonah, NY Answer Me This 87/45 = 132