Jeffrey Ayers Captures Pre-Green Incentive Stake Win at Vermont Summer Festival
July 15, 2015 - East Dorset, Vermont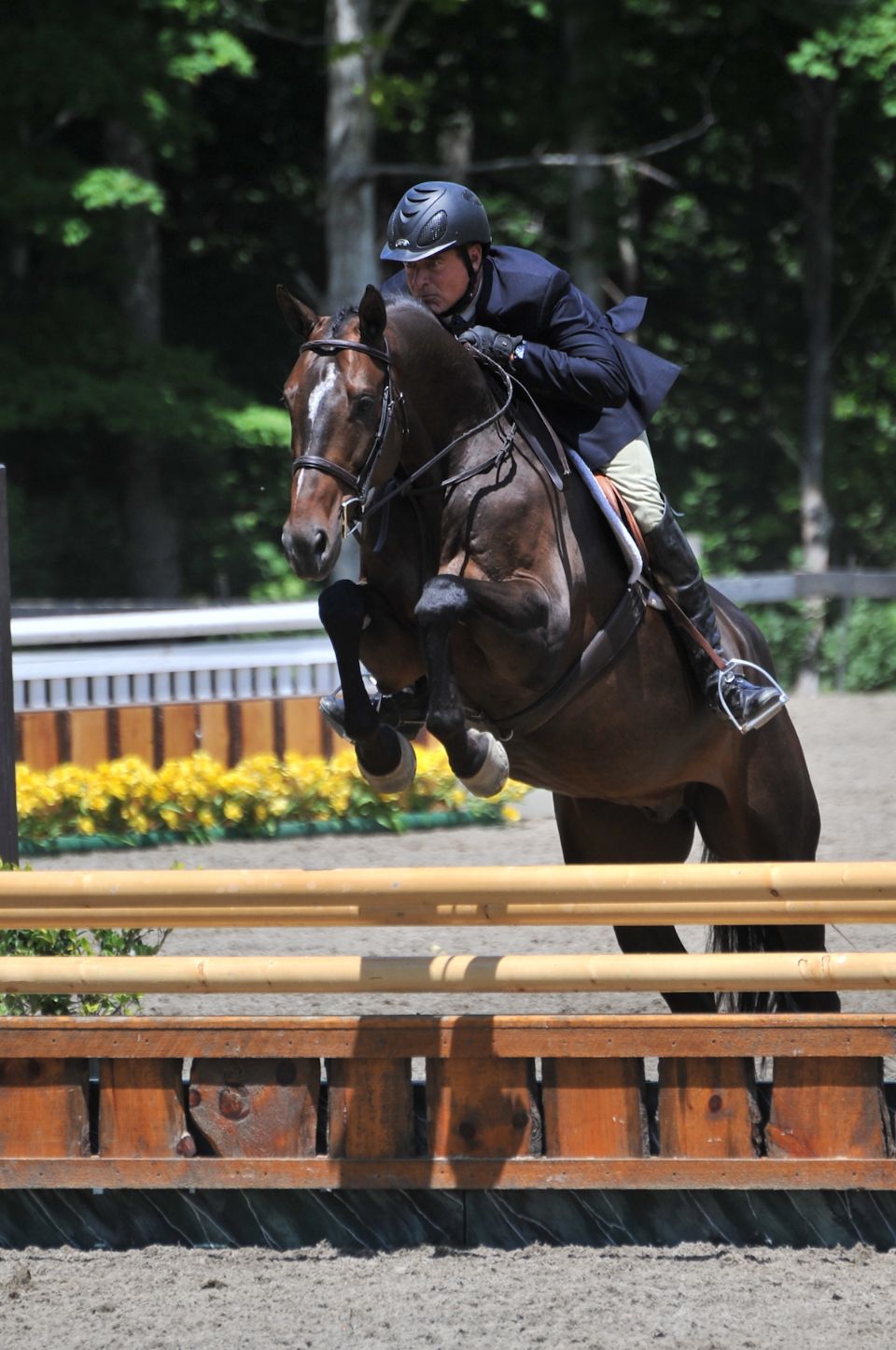 Jeffrey Ayers riding Exclaim won the Pre-Green Incentive Stake on July 15 at the Vermont Summer Festival in East Dorset, VT.
Photo by David Mullinix Photography
Jeffrey Ayers of Sellersville, PA, riding Exclaim won the Pre-Green Incentive Stake on Wednesday, July 15, to kick off the Vermont Summer Festival's third week of hunter/jumper competition. The Vermont Summer Festival runs for six consecutive weeks, from June 30 through August 9, at Harold Beebe Farm in East Dorset, VT.
Exclaim, a nine-year-old Thoroughbred/Warmblood-cross gelding, carried Ayers to a top score of 86 to bring home the win for new owner, Roberta Previ. She purchased the horse last week from Ayers as a mount for her to pilot in the Amateur-Owner Hunter divisions.
Ayers is a regular competitor in the Pre-Green Incentive Program, thanks to a $1,000 purse, in addition to add-back money. While jumping to several Pre-Green Incentive ribbons at different horse shows, Wednesday marked his first-ever win at the Vermont Summer Festival, as it was the first time the show has offered a Pre-Green Incentive class.
"I owned the horse up until a week ago and now that he's not mine, we go and win the class," laughed Ayers.
The Pre-Green Incentive Program is an innovative effort by the United States Hunter Jumper Association (USHJA) designed to encourage the development of pre-green horses. Competitors in both the 3' and 3'3" sections at the Vermont Summer Festival are in the hunt to qualifying for the USHJA Pre-Green Incentive Championship, which will celebrate its third anniversary at the Kentucky Horse Park in Lexington, KY, August 11-13, 2015.
Fifi Schmidt of Hopkinton, MA, and Elizabeth Phillips' No Doubt were right on the heels of Ayers and Exclaim with a score of 84 to land second-place honors. Jimmy Torano of Wellington, FL, and his own Nina took third on an 82, while Erin Hastings of Marshall, MA, riding Waterfall scored an 81 and finished fourth for owner Jennifer Combs. Phoebe De Mott of Cedars, PA, rounded out the top five aboard Virginia Reiss' Harbour Town with a score of 80.
According to Ayers, the class was competitive and the Pre-Green divisions have been tough so far at this year's the Vermont Summer Festival. But, Ayers was happy to admit he sat on a focused horse throughout the day.
"The temperature dropped today and we saw a bit of wind, so that made a big difference for some of the horses," he said. "But, Exclaim went great; I could ride around the whole time on a loose rein.
"He is a classic hunter," he continued. "He has a big stride, is slow in the air, and jumps with perfect style."
Ayers has frequented the Vermont Summer Festival for the past 15 years and rode to a weekly championship in the 3' Pre-Green Division on Exclaim last year before moving up to the 3'3" this year.
Competition at the 2015 Vermont Summer Festival runs weekly from Wednesday through Sunday, beginning each day at 8 a.m. Admission is $6 for adults and $3 for children from Wednesday through Friday. On Saturday and Sunday, admission is $9 for adults, $5 for children. 100% of the gate proceeds benefit the Manchester Community Library and Dorset Equine Rescue.
The Vermont Summer Festival is New England's largest hunter/jumper competition, and the richest sporting event based on purse in the state of Vermont. It is a proud member event of the Show Jumping Hall of Fame, the Marshall & Sterling League, and the North American League (NAL). For over 20 years, the event has attracted exhibitors and their families to the Manchester region in southern Vermont for great competition in an ideal summer setting.
Please e-mail or visit the website for more information about the Vermont Summer Festival.
Pre-Green Incentive Stake
Wednesday, July 15, 2015
Rider Hometown Horse Score
1. Jeffrey Ayers Sellersville, PA Exclaim 86
2. Fifi Schmidt Hopkinton, MA No Doubt 84
3. Jimmy Torano Wellington, FL Nina 82
4. Erin Hastings Marshall, MA Waterfall 81
5. Phoebe De Mott Cedars, PA Harbour Town 80
6. Keri Kampsen Wellington, FL Balletomane 79
7. Megan Young Jacksonville, FL Rockaway 78
8. Elizabeth Phillips New Canaan, CT Sienna 77