International Dressage Competition To Begin at World Equestrian Center – Ocala
April 15, 2021 - Ocala, FL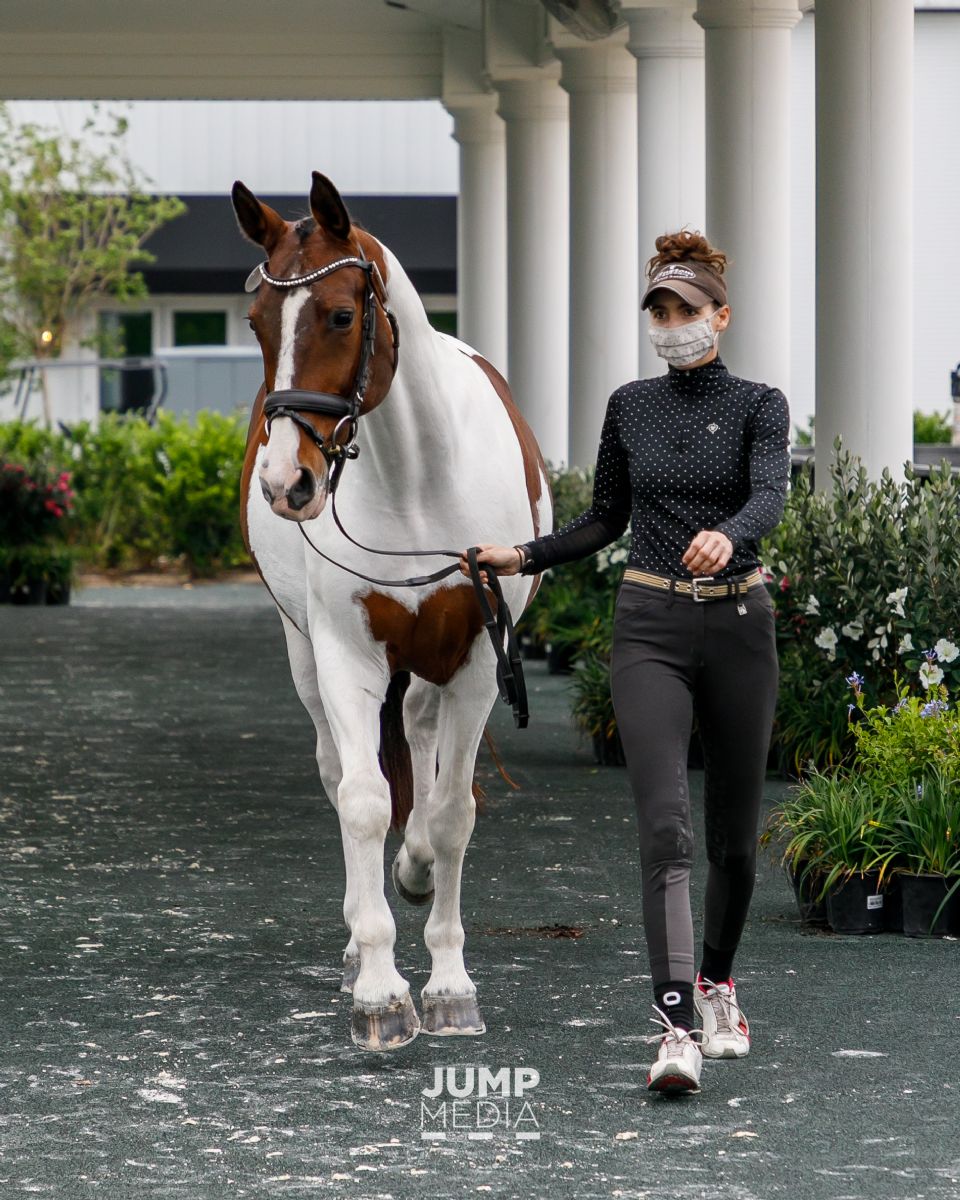 Nora Batchelder and Gangster Girl at the horse presentation for the World Equestrian Center Dressage III CDI3*.
Photo by Jump Media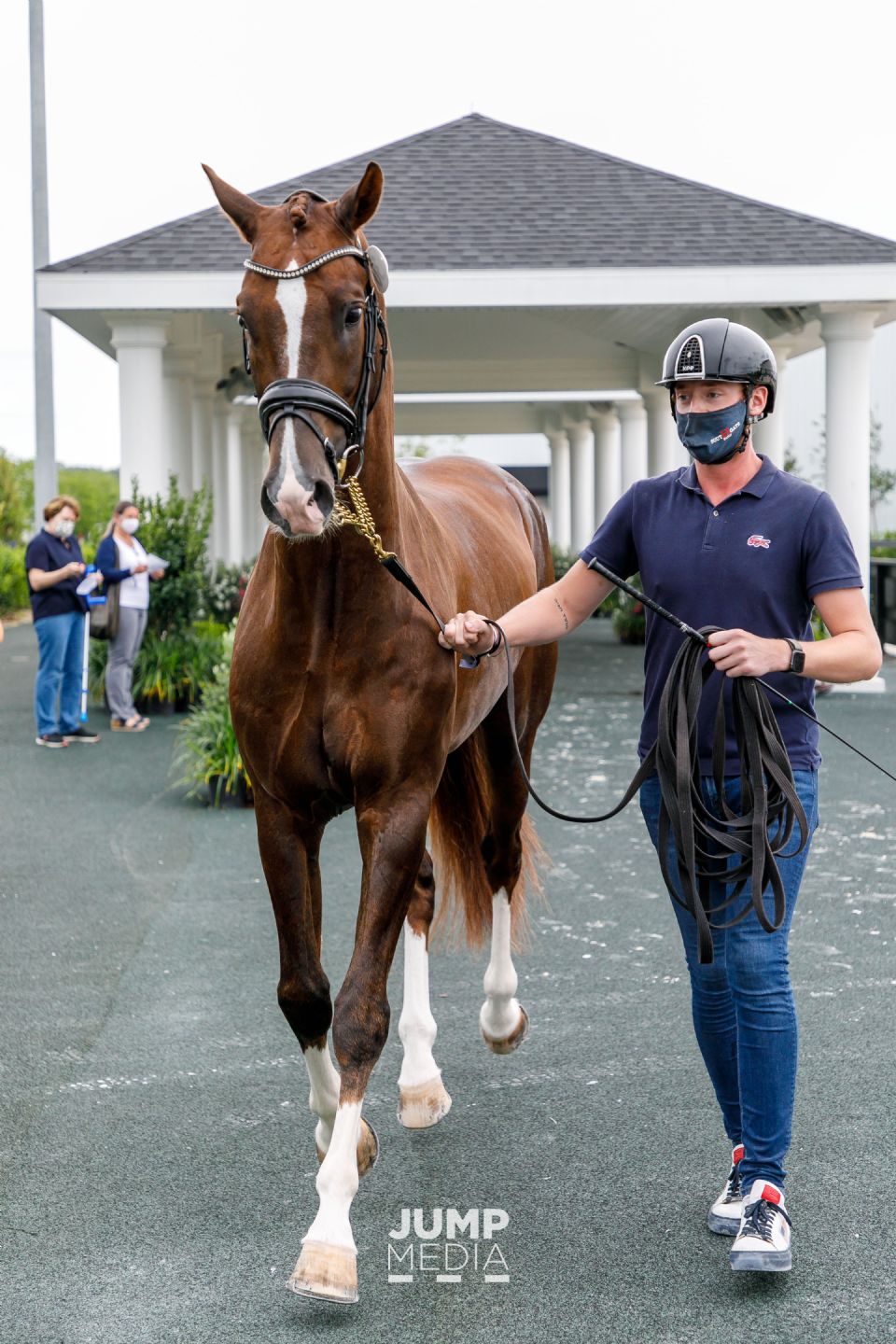 Nate Tucker jogging Hansel, who will compete in the FEI Prix St. Georges on Friday with Olympic bronze medalist Ashley Holzer.
Photo by Jump Media
Ocala, Florida – World Equestrian Center – Ocala opened its doors to international dressage competitors on Thursday, April 15, and will host the World Equestrian Center Dressage III CDI3*, through Sunday, April 18, 2021.
The World Equestrian Center Dressage III CDI3* is the first international competition sanctioned by the Fédération Equestre Internationale (FEI) to be held at the new World Equestrian Center – Ocala venue. The competition serves as an Olympic qualifying event with class offerings including the Grand Prix, Grand Prix Special and Grand Prix Freestyle as well as Prix St. Georges, Intermediate 1, Intermediate 1 Freestyle and more.
Horses were presented to the ground jury on Thursday afternoon with CDI competition beginning on Friday at 8 a.m. with the FEI Prix St. Georges CDI3*. The FEI Grand Prix CDI3* will be on Friday at 1 p.m., while the fan-favorite FEI Grand Prix Freestyle is on Saturday at 6 p.m. The FEI Grand Prix Special takes place on Sunday at 10 a.m.
Riders such as Olympic bronze medalist Ashley Holzer (USA); Pan American Games individual and team gold medalist Sarah Lockman (USA); fellow American dressage riders Shelly Francis, Catherine Haddad-Staller, Anna Marek, Mikala Munter, and Melissa Taylor; as well as Canadian Brittany Fraser-Beaulieu, who earned double silver medals at the 2015 Pan American Games; highlight a contingent of more than 70 entries in the CDI.
Jill Irving, who won a team gold medal at the 2019 Pan American Games and also competed at the 2018 FEI World Equestrian Games for Canada, was thrilled with her first impressions of World Equestrian Center – Ocala.
"It's fantastic, and I specifically love that they invested in the landscaping," said Irving. "It's very horse friendly. As a horse person, it's great for all horse people and all sports. The people are so friendly. It's made for horses."
Irving brought her top horses, Degas 12 and Arthur, to compete in the CDI.
"It's great to ride at a new venue and to ride new indoors; we haven't done that in a while due to COVID," she explained. "The last time I was at a new venue was the Pan Am Games in 2019 in Lima, Peru. It's super important going into the Olympic Games for everybody to experience competing in a new setting. We are lucky to have this. I'm really happy to be here."
Along with CDI3* competition, a Level V-rated United States Equestrian Federation (USEF) national dressage show is running concurrently, which will qualify horses and riders for the USEF Dressage National Championships, GAIG/USDF regional championships, as well as dressage scores for year-end awards and rider awards.
Dressage fans can enjoy wall-to-wall livestreaming of the event courtesy of ClipMyHorse.tv.
An equestrian lifestyle destination unlike anywhere in the world, World Equestrian Center – Ocala offers exhibitors, trainers, owners and guests an endless list of Florida horse show amenities and superior customer service.
For a full schedule of 2021 events hosted by World Equestrian Center – Ocala, click here.
For more information on World Equestrian Center – Ocala, visit www.wec.net.

About World Equestrian Center
World Equestrian Center features two premiere equestrian and multidisciplinary venues in Ocala, Florida, and Wilmington, Ohio.
These exclusive facilities comprise state-of-the-art arenas, expansive stadiums, versatile outdoor space, sporting fields and well-appointed exposition centers. An abundance of lodging options and luxury accommodations are conveniently located on-site, along with shopping and dining throughout each property.
Dedicated to offering great sport and fun in a family-friendly environment, World Equestrian Center promises an unparalleled experience for exhibitors, spectators, vendors, sponsors and retailers built on three core values: Quality. Class. Distinction.
Learn more at www.wec.net.
Media Contact:
Candace FitzGerald
candace.fitzgerald@wec.net
603-738-2788