Inaugural Ottawa International Horse Show Opens at Wesley Clover Parks
June 17, 2015 - Ottawa, Ontario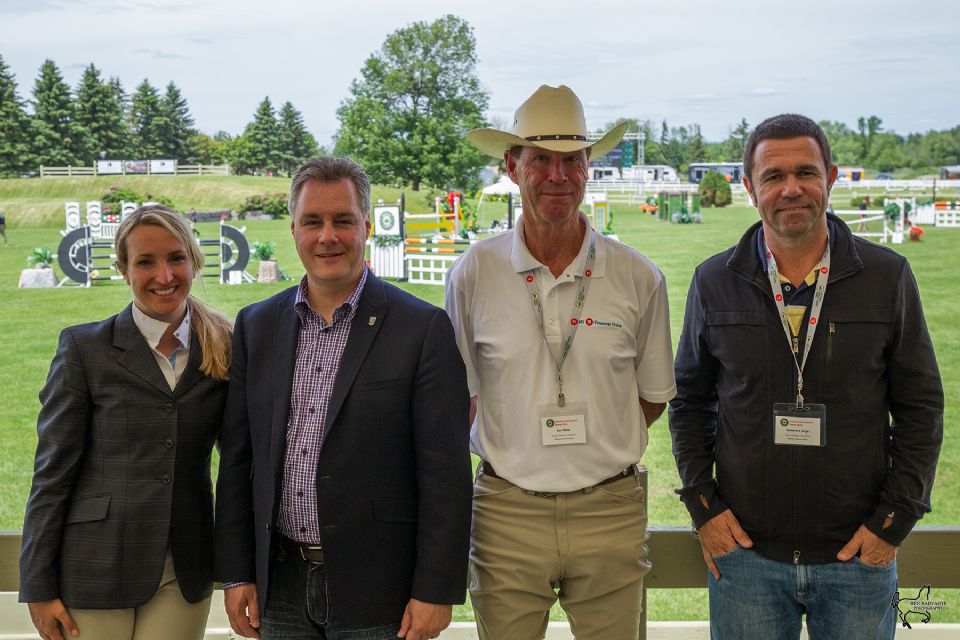 The Ottawa International Horse Show press conference panel of Karen Sparks, Executive Director of Wesley Clover Parks; City of Ottawa Deputy Mayor Mark Taylor; ten-time Canadian Olympian Ian Millar; and Ottawa International course designer Guilherme Jorge of Brazil.
Photo by Ben Radvanyi Photography.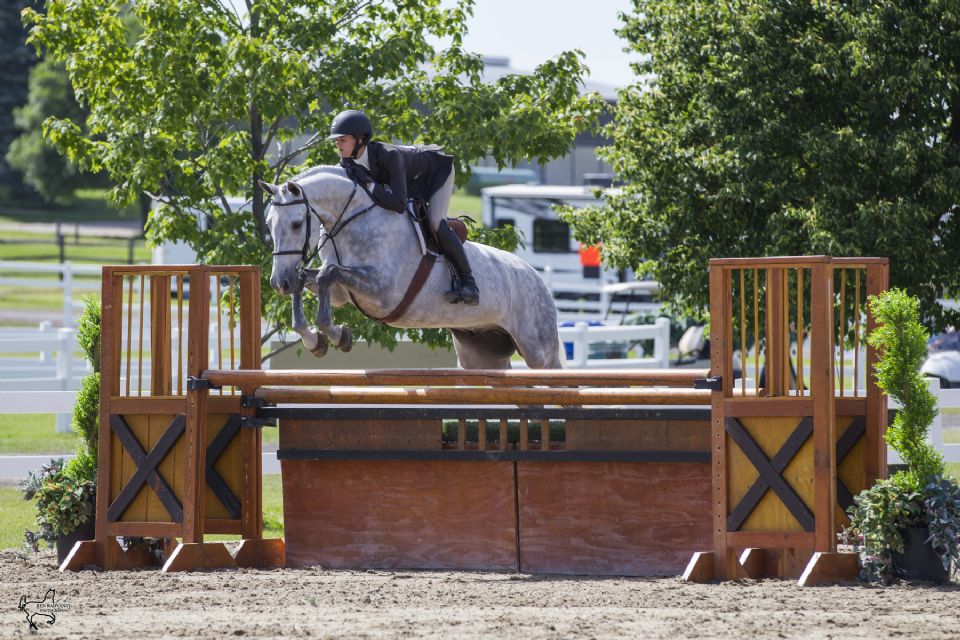 Christi McQuaker of Schomberg, ON, riding Californica in the Main Hunter Ring during opening day of the inaugural Ottawa International Horse Show at Wesley Clover Parks.
Photo by Ben Radvanyi Photography.
Competition at the highly-anticipated Ottawa International Horse Show got underway on Wednesday, June 17, welcoming show jumping talent to the nation's capital.
At an opening day press conference held at Wesley Clover Parks in Ottawa, ON, Karen Sparks, Executive Director of Wesley Clover Parks, welcomed media to the facility alongside Deputy Mayor Mark Taylor, ten-time Canadian Olympian Ian Millar, and Ottawa International course designer Guilherme Jorge of Brazil.
The Ottawa International, which runs June 17 to 21, is the first major show jumping tournament to be held at Wesley Clover Parks, formerly the Nepean National Equestrian Center, since 2011. Sparks, whose family's Wesley Clover Foundation took over the facility two years ago, has been dedicated to reopening the riding school that once called the Park home, as well as reintroducing equestrian competition to the region.
"Our first order of business was to bring back the riding school so its students could return, and our second was to have a horse show again," said Sparks of Ottawa, ON. "The equestrian industry needs it. There is a vibrant equestrian community in Toronto and Quebec, and I personally felt that the Ottawa Valley was primed but not quite there. What it needed was a top-quality facility to host regional shows and to also have international and national events for riders to aspire to. I'm from the west end of Ottawa, and it was sad to see the economic activity - to the order of $6 million - disappear simply because the facility was not being used. We're bringing it back!"
Formerly under the stewardship of the City of Ottawa, Wesley Clover Parks is beginning to build up the economic impact it once presented to local communities. Deputy Mayor Taylor gave a nod of approval to how quickly Sparks and her team have returned the facility back to its previous glory with hopes to become a world-renowned equestrian facility.
"This was once run by the Parks and Recreation Department, but we aren't an equestrian organization, we are a city government," said Taylor. "We know what we do well and what we don't do well, so we were concerned with finding a partner that could operate this facility. We were thrilled that Wesley Clover stepped up. The economic impact of events like this extend beyond Ottawa into eastern Ontario and, in a broader sense, it is a compelling value add to the west end and integral to its rejuvenation and economic fabric."
In anticipation of the Ottawa International Horse Show, Wesley Clover Parks has undergone an extensive multi-million dollar transformation to bring the competition venue up to international standards. Met with excitement and high expectations, entries for the one-week horse show topped out at over 400 horses well before the closing date. Upgrades, which were unveiled this week, include reviving the Grand Prix field, installation of a new all-weather jumper ring with the high-quality sand and fiber footing, and state-of-the-art stabling.
Millar, who calls Perth, ON, home, has been on the organizing committee at the Wesley Clover Parks facility since its formation, and is ecstatic to see it being returned to its former greatness.
"At one point, they were doing 500 riding lessons a week here and we are on our way back up to that number," said Millar, who was recently named to a record tenth Pan American Games team for Toronto 2015. Millar made the cross-country trip from Calgary, AB, where he was competing at Spruce Meadows, in order to compete at the inaugural Ottawa International with Star Power, his 2012 London Olympic mount. "If there's one sentence I would use to describe the Matthews Family, it's 'excellence is a habit'. Here we are with this facility, which in a very short time has been brought right up to standard."
While ascetically beautiful from entrance to exit, Millar also noted that footing in every ring has not failed to impress, saying, "When riders come to a horse show, their first concern is footing and this is perfect. This place is really happening, and it's a big deal what Karen [Sparks] and her team have done."
After good footing comes exciting courses, and Brazilian course designer Jorge will bring international-caliber courses to the Grand Prix Field this week. Jorge has been appointed the course designer for the 2016 Rio Olympic Games and is happy to see another grass field make an appearance on the North American show jumping scene with the Ottawa International.
"Tradition is a very important part of our sport and the roots of that sport are grass fields – riders like to jump on it and we, as course designers, like to build on it," said Jorge, who designs the courses at top show jumping competitions around the world. "This field is in the best condition I've ever seen and it is as good as any. With the addition of the all-weather ring and the existing space, you have all the tools you need to do any kind of event here and evolve to host international events."
While equestrians are the priority this week at Wesley Clover Parks, Sparks hinted at developing plans for many upcoming events and opportunities, including cross country ski trails and events, road races, concerts, and the newly-installed FIFA soccer field, which is currently being used for practice events during the Women's World Cup of soccer.
"Our goal is for this to be an outdoor hub for the city and for horse sport, this is our springboard to launching competition back into Ottawa," she said. "You can see the love, time and passion that has been put into the facility, and it will continue to grow bigger and better every year."
To celebrate the inaugural Ottawa International Horse Show, the Royal Canadian Mounted Police (RCMP) Musical Ride will break from its national tour to return to Ottawa for a special performance at Wesley Clover Parks on Friday, June 19, at 6:30 p.m. Tickets for the RCMP Musical Ride are $5 per person, with children ten and under admitted free. Tickets are available through advance purchase ONLY, and can be purchased at the main office at Wesley Clover Parks, by calling (613) 271-5452, or by visiting https://www.snapuptickets.com/events/detail/rcmp-musical-ride.
In addition to hosting the press conference, competition at the Ottawa International officially got underway with 1.20m and 1.30m Open Jumper classes on the pristine Grand Prix field. Katie Bowles christened the field with a top placing in the 1.20m aboard her own Valentijin, while Kelly Soleau of the United States and her own Itty Bitty won the 1.30m competition. Over in the Main Hunter Ring, Pre-Green and High Performance Hunters kicked off their respective divisions.
Upcoming competition highlights include Thursday's $10,000 Karson Open Welcome at 2 p.m., the $7,500 Lynn Millar Memorial Speed Derby on Friday, as well as the $35,000 Brookstreet Grand Prix at 2 p.m. on Saturday. The $10,000 CHDS Canadian Hunter Derby will cap off the week on Sunday.
Conveniently located at the Moodie Drive exit off the 417 highway, Wesley Clover Parks brings equestrian sport to the heart of Ottawa. For more information on the Ottawa International Horse Show, please visit www.wesleycloverparks.com.