Hometown Win for Kelley Robinson in $20,000 Open Welcome
July 15, 2021 - Ottawa, Ontario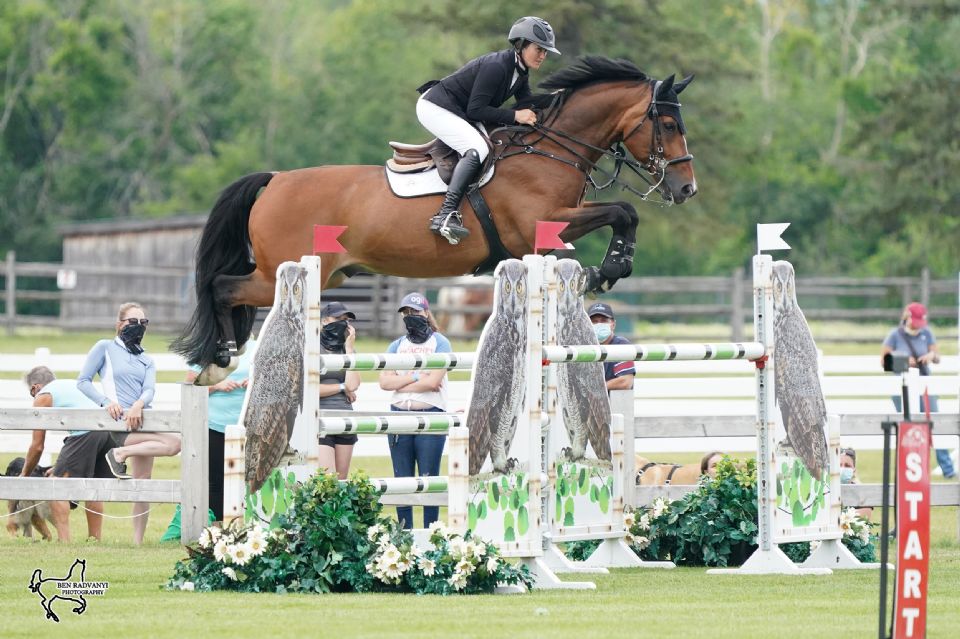 Kelley Robinson of Russell, ON, won the $20,000 Open Welcome held Thursday, July 15, during the Ottawa Summer Tournaments at Wesley Clover Parks in Ottawa, ON.
Photo by Ben Radvanyi Photography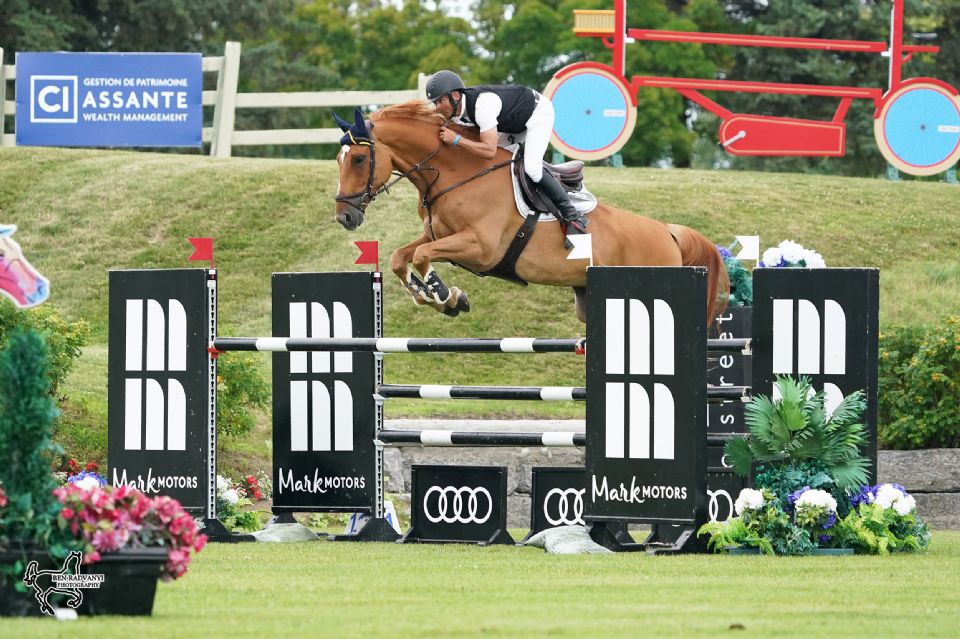 Hyde Moffatt finished second riding Donjo for owner Ariel Grange in the $20,000 Open Welcome at the Ottawa Summer Tournaments.
Photo by Ben Radvanyi Photography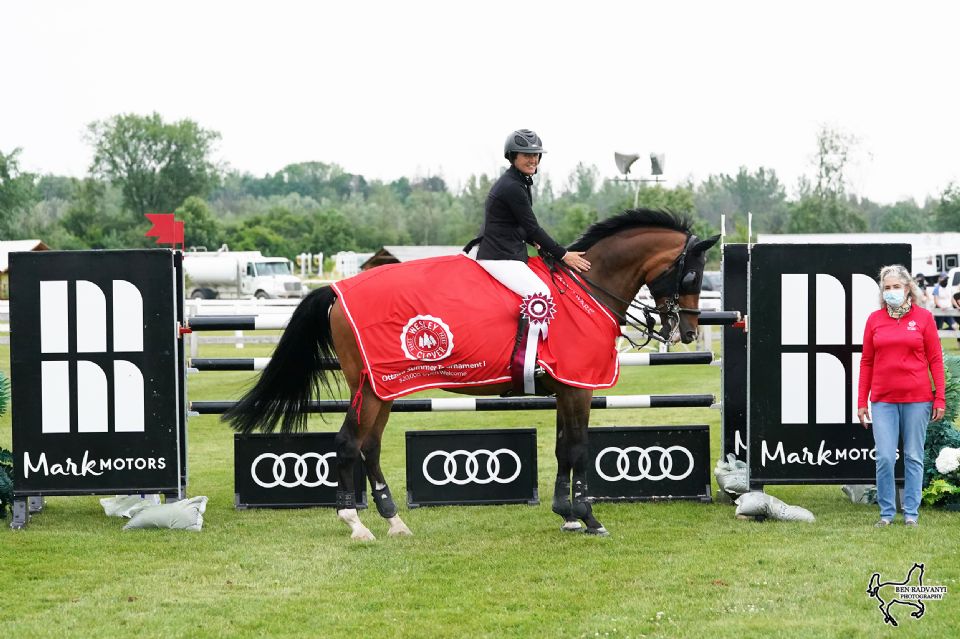 Kelley Robinson aboard Blue's Yer Daddy is presented as the winner of the $20,000 Open Welcome by Tracy Howard, Ottawa Summer Tournaments Organizer.
Photo by Ben Radvanyi Photography
Show Jumping Competition Returns to Ottawa's Wesley Clover Parks
It was a hometown win as Kelley Robinson of Russell, ON, claimed victory in the $20,000 Open Welcome held Thursday, July 15, at Wesley Clover Parks in the nation's capital.
The first of two weeks of back-to-back show jumping competition comprising the Ottawa Summer Tournaments attracted a starting field of 20 entries for the $20,000 Open Welcome. Competing over a track set by course designer Mike Pegg of Uxbridge, ON, six horse-rider combinations produced clear rounds to advance to the jump-off. Three other competitors – Paul Halpern, Canadian Olympic team silver medalist Jill Henselwood, and Susan Horn – left all the jumps in place but incurred time faults for exceeding the 89-second time allowed.
As the fourth of six riders to return for the tie-breaking jump-off, Robinson moved into the lead with a clear round in a time of 40.92 seconds riding Blue's Yer Daddy. Francois Lamontagne of Saint-Eustache, QC, was next to challenge with Chanel du Calvaire but one rail down meant that Robinson remained at the top of the leaderboard. It was all up to Hyde Moffatt of Brantford, ON, as the last to go riding Grafton for owner Ariel Grange. When the first fence of the jump-off course came down, the victory went to Robinson.
"I was a little worried because there were some faster horses in the jump-off but he got the job done," said Robinson in praise of Blue's Yer Daddy, her 14-year-old Belgian Warmblood gelding (Mr. Blue x Lys de Darmen) that stands 17.3hh. "He has a big stride, and he is the king of the leave-out. He's a big horse and he loves this big ring. He was wonderful!"
Finishing in second behind Robinson was Moffatt with his first jump-off entry, Donjo. Moffatt and the 13-year-old Dutch Warmblood gelding (Zirocco Blue VDL x Ahorn) were clear in a time of 42.38 seconds. Adrien Lemieux of Granby, QC, produced the only other double clear round performance to place third riding Elle PS, a nine-year-old grey Oldenburg mare (Eldorado vd Zeshoek x Canabis Z) for owner Mark Samuel's Chadburn Holdings Inc.
One of the main draws for competitors is the opportunity to compete on Wesley Clover Parks' grass grand prix field, the only one of its kind in eastern Canada.
"The course was nicely built, pretty friendly, but still difficult enough that the course designer didn't get too many clears," said Robinson of the track for the $20,000 Open Welcome. "We really thank this horse show for having this beautiful ring; it's so nice to be on grass. Competing in front of my friends and family in this beautiful grass ring are my favourite things. I love coming to this show."
Robinson and the students from her Cimarron Show Stables have a total of 16 horses showing at this week's Ottawa Summer Tournaments, plus she helps train several other competitors from the Ottawa area. Her fans will have lots to cheer for when she and Blue's Yer Daddy take to the field for Saturday's $50,000 Steel-Craft Grand Prix beginning at 4 p.m.
As access to the competition site is limited to essential persons only, spectators are not permitted at this year's Ottawa Summer Tournaments. Fans can follow the action on-line as Saturday's $50,000 Steel-Craft Grand Prix will be live-streamed by CBC Sports, and viewers can catch all the action from the grand prix field via Facebook Live. Live streaming is presented by Mark Motors Group.
The two-week Ottawa Summer Tournaments runs from July 14 to 18 and July 21 to 25, 2021. Remaining highlights for week one include:
$10,000 Pommies Hunter Derby – Friday, July 16 at 4 p.m.
$50,000 Steel-Craft Grand Prix – Saturday, July 17 at 4 p.m.
$10,000 Soltek Modified Grand Prix – Sunday, July 18 at 1 p.m.
For more information on the Ottawa Equestrian Tournaments, visit www.OttawaEquestrianTournaments.com. Full results are available at www.ottawaequestriantournaments.com/results. Get the latest updates, news, and photos by following Ottawa Equestrian Tournaments on Facebook here.

$20,000 Open Welcome - Thursday, July 15, 2021
Rider Hometown Horse Faults Time
1. Kelley Robinson Russell, ON Blue's Yer Daddy 0:0 40.92
2. Hyde Moffatt Brantford, ON Donjo 0:0 42.38
3. Adrien Lemieux Granby, QC Elle PS 0:0 45.33
4. Chloe Parker Ashton, ON G. Balou 0:4 41.77
5. Francois Lamontagne Saint-Eustache, QC Chanel du Calvaire 0:4 41.96
6. Hyde Moffatt Brantford, ON Grafton 0:4 43.39
7. Susan Horn Bolton, ON Dominka vd Lucashoeve 1
8. Paul Halpern Sainte Anne des Plaines, QC Esra 1
9. Jill Henselwood Oxford Mills, ON Eblesse 1
10. Mac Cone King City, ON Con Coleur 4