Harold Chopping and Basje Win Equis Boutique Best Presented Horse Award at Tryon Fall VI CSI 3*
October 31, 2016 - Mill Spring, NC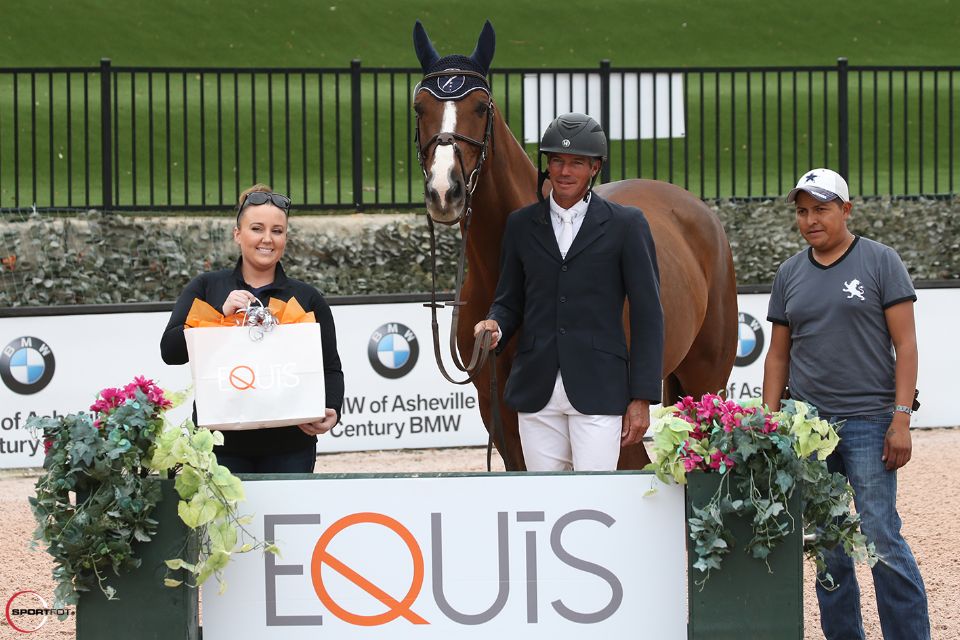 Harold Chopping, Salvador Navor, and Basje are presented with the Equis Boutique Best Presented Horse Award by Alex West of Equis Boutique after competing in CSI 3* competition at TIEC.
Photo by Sportfot
Harold Chopping (CAN) and Basje won the Equis Boutique Best Presented Horse Award during CSI 3* competition at Tryon International Equestrian Center (TIEC) Fall VI, held October 26 – 30 in Mill Spring, NC. International competition at TIEC concluded on Sunday. Equis Boutique sponsored the Best Presented Horse Award at the International Equestrian Federation (FEI) Horse Inspection during all weeks of FEI-sanctioned competition throughout the 2016 season.
Basje, a 10-year-old Dutch Warmblood gelding (Larino x Lando) owned by Kendra Bullington, was selected as the Equis Best Presented Award winner by the TIEC ground jury during the FEI Horse Inspection, which took place earlier in the week. Chopping presented Basje himself alongside the 51 horses that jogged for CSI 3* competition during Tryon Fall VI.
"It is really great that [Equis] recognizes something as simple as the presentation of the horses at the jog because a lot of attention is paid to every bit of preparing them," said Chopping who has been regularly competing in Tryon this year thanks to its proximity to his own Solo Show Stables based in Southern Pines, NC. "It is about so much more than just training the horses; it is important to look sharp for classes and the jog, and it is fun to see recognition for the effort."
While Chopping presented Basje at the FEI Horse Inspection, his groom Salvador Navor prepared the horse for competition while at TIEC with a large group of Solo Show Stables riders and horses.
"This is our second year doing FEI classes with Basje so our program was a little more extensive this year, but Salvador is his regular groom and travels with him," said Chopping. "After this show Basje will have time off while we wait to start him up again in Florida."
Navor has been with Chopping for five years and was also recognized for the hard work he puts forth to care for the horses under his supervision. For the Equis Best Presented Horse Award, Chopping, Navor and Basje were presented with a set of Kentucky Horsewear tendon boots by Alex West of Equis Boutique.
Equis Boutique is a shopping experience for the discerning equestrian and offers the most convenient and luxurious choice for top equine brands to dress the horse and rider. Featured brands include Parlanti, Manfredi Equestrian, KASK Helmets, Cristina Sport, Kingsland Equestrian, Kentucky Horsewear, Animo, and Dy'on, as well as a variety of imported specialty bits and Official FEI and Just World International merchandise.
For more information on Equis, LLC boutiques, please visit EquisBoutique.com, or look for Equis Boutique on Facebook and Instagram! Email info@equisboutique.com for questions on the stores and their products.
About Equis, LLC
Equis LLC delivers superior service in order to educate their consumers on the brands and products they offer and show the variety and quality of their made-to-order, customized products. By providing a unique shopping experience, Equis rises above your normal tack shop to offer only the best. "Live the Experience – A Boutique for the Discerning Equestrian."