Freddie Vazquez and Esprit de Vie Score Second "Best Presented Horse" Award from Equis Boutique at Winter Equestrian Festival
February 27, 2016 - Wellington, Florida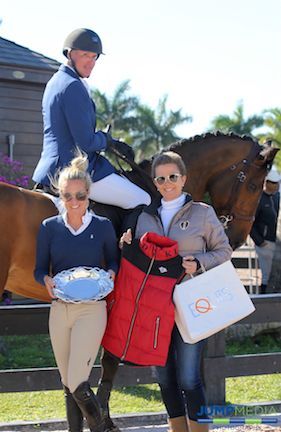 Freddie Vazquez and Esprit de Vie, along with Jodi Vazquez, are presented with the "Best Presented Horse" Award and prizes from Kingsland Equestrian by Elena Couttenye of Equis Boutique during Week 7 at the Winter Equestrian Festival.
Photo by Jump Media
Puerto Rico's Freddie Vazquez and his FEI mount Esprit de Vie were honored with their second Equis Boutique "Best Presented Horse" Award during the 2016 Winter Equestrian Festival this week. Equis Boutique will present the award during the 11 weeks of International Equestrian Federation (FEI) sanctioned competition at the 12-week Winter Equestrian Festival in Wellington, FL.
After catching the eye of the ground jury during Week 2, Vazquez and Esprit de Vie, an 11-year-old Belgian Warmblood mare owned by Messenger Hill, again stood out in the FEI Horse Inspection this week. The jury, led by President John Taylor of Mono, ON, made a unanimous decision to honor the pair again.
It was a team effort to prepare Esprit de Vie for the FEI Horse Inspection with Vazquez's head groom Arturo Novoa overseeing both Arnulfo Novoa and Nelson Arismindi. The honor is all their's, according to Vazquez.
"It is special to win anything, especially at WEF," said Vasquez. "There are so many incredible horses and wonderful grooms here, so when I heard [that we had won again] it was definitely a surprise. But, I am always striving to win – if you don't aim high, you will never get there."
Vasquez has had the ride on Esprit de Vie for less than a year after adding the mare to his string for the 2015 Pan American Games in Toronto, Canada last summer.
"She's a wonderful horse; she wants to please and be competitive on her own," he said. "It's nice when you have a horse that wants to win."
While still a new mount for Vazquez, he made a few adjustments to Esprit de Vie's tack since the beginning of WEF and his efforts paid off on Thursday with top-20 finish out of 71 contenders in the $130,000 Ruby et Violette WEF Challenge Cup Round VII.
"She was impeccable and I couldn't ask for much more," said Vazquez after finishing a 27-horse jump-off with one rail down.
Vazquez and Esprit de Vie will next contest the $380,000 Suncast CSI 5* Grand Prix on Saturday.
Vazquez was presented with a commemorative plaque by Elena Couttenye of Equis Boutique in recognition of the "Best Presented Horse" honor, as well as product from Equis Boutique partner brand Kingsland Equestrian, including one of their signature vests.
Equis Boutique will honor one horse and rider with the "Best Presented Horse Award" each week of the 2016 Winter Equestrian Festival, running through April 3. At the weekly FEI Horse Inspection, the ground jury will evaluate overall turn-out of horse and rider to determine the award winner.
Equis Boutique is a shopping experience for the discerning equestrian and offers the most convenient and luxurious choice for top equine brands to dress the horse and rider. Featured brands include Parlanti, Manfredi Equestrian, KASK Helmets, Anna Scarpati, Kingsland Equestrian, Kentucky Horsewear, Dy'on, specialty imported bits, as well as Official FEI and Just World International merchandise.
For more information on Equis LLC boutiques, please visit EquisBoutique.com, or find Equis Boutique on Facebook and Instagram! Email info@equisboutique.com for questions on the stores and their products.
About Equis, LLC
Equis LLC delivers superior service in order to educate their consumers on the brands and products they offer and show the variety and quality of their made-to-order, customized products. By providing a unique shopping experience, Equis rises above your normal tack shop to offer only the best. "Live the Experience – A Boutique for the Discerning Equestrian."