Family Fun at the Vermont Summer Festival for Country Lane Farm
July 29, 2015 - East Dorset, Vermont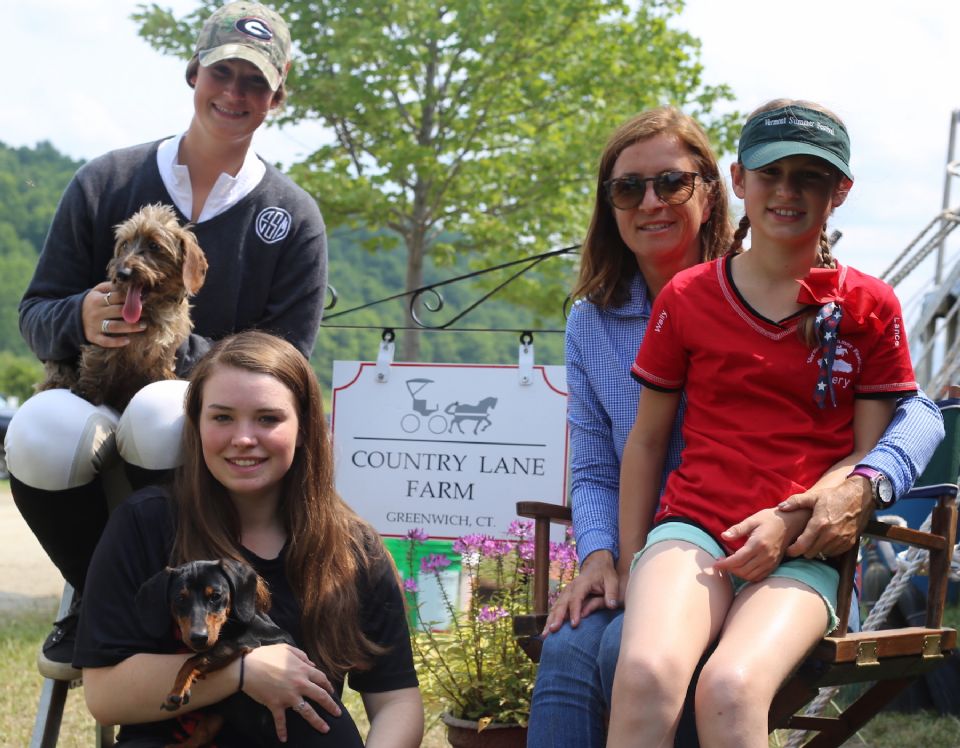 Emma, Lindsay and Avery Schauder with their mother and trainer Christina at the Country Lane Farm setup at the Vermont Summer Festival in East Dorset, VT.
Photo by Jump Media
A warm-weather schedule dictated by horse shows doesn't mean the Schauder family of Country Lane Farm in Greenwich, CT, has to miss out on summer vacation as a family. Making a home at the Vermont Summer Festival for two weeks, which runs June 30 through August 9 in East Dorset, VT, Fred and Christina Schauder, together with their daughters Emma, Lindsay and Avery have made horse sport their lives.
A stroll down the Country Lane aisle at Harold Beebe Farm – home of the Vermont Summer Festival – will reveal a group of excited young riders ready to horse show. But, Christina maintains that while her daughters are similar to other horse-loving girls she trains, their upbringing has turned them into seasoned horsewomen faster than most.
"I really enjoy working with them," said Christina, who has seemingly bucked the stereotype that a mother doubling as trainer is a faulty plan. "I know it doesn't always work for everyone, but while I do train them I also teach them to be very independent. They know what they are doing and know how to go into a ring, walk a course and almost put themselves in the ring. All that training in the beginning has really paid off. They could run a barn all on their own right now and I'm proud of that."
With parents boasting experience steeped deep in the equestrian industry, the Schauder sisters are eager to follow in their footsteps. Owners at their own Country Lane Farm since 1989, Christina is a USEF "r" licensed judge with years of experience teaching and training, while Fred is former head coach of the Yale University polo teams and winner of the 2012 Frank J Flynn Award for outstanding sportsmanship and contribution to the equestrian community.
"Working with your parents is an interesting relationship, but my parents have given up a lot over the years to give me as many opportunities as possible," said the Schauder's oldest daughter Emma, who is a junior english major at the University of Georgia where she also competes on their hunt seat equestrian team. "I'm very grateful for them and what they have done for all of us."
While maintaining a working and familial relationship with their parents, Emma (20), Lindsay (15) and Avery (10) have also perfected productive competition between sisters. Their support system proved to work during Week 1 and 4 of the Vermont Summer Festival.
Emma and her sister Lindsay – a high school junior – went head-to-head in the $5,000 NEHJA Performance Stake Hunter Derby, presented by Eastern Hay, during Week 1. Lindsay led by a single point in the first round, but the roles reversed over the handy course giving Emma a fourth-place finish aboard In The Loop, owned by Tracy Hart. Lindsay ended in tenth with her own Cassandro 4.
"I think it's really fun to get to ride against my sisters because I get to watch and learn from them," said Lindsay." During the derby I got to watch Emma and then follow and use her experience."
Emma, who hopes to become a professional after graduating from college, enjoys watching her younger sisters grow up in the equine industry like she did. "I think it's great to see how far they've come at such a young age," she said. "I see aspects of myself in their riding so it's nice to know that I've had an influence on them."
Lindsay was also Champion in the 3'3" Junior Hunter division during Week 1 at the Vermont Summer Festival, before guiding several mounts to jumper ribbons last week. Youngest sister Avery is following in her sisters' footsteps with two Championships – one during Week 1 in the Small/Medium Ponies on I Pink I Can and the other in the Week 4 Modified Children's Hunters with Glenmore Cloud Nine.
Competition at the 2015 Vermont Summer Festival runs weekly Wednesday through Harold Beebe Farm beginning each day at 8 a.m. Admission is $6 for adults and $3 for children from Wednesday through Friday. On Saturday and Sunday, admission is $9 for adults, $5 for children. 100% of the gate proceeds benefit the Manchester Community Library and Dorset Equine Rescue.
The Vermont Summer Festival is New England's largest hunter/jumper competition, and the richest sporting event based on purse in the state of Vermont. It is a proud member event of the Show Jumping Hall of Fame, the Marshall & Sterling League, and the North American League (NAL). For over 20 years, the event has attracted exhibitors and their families to the Manchester region in southern Vermont for great competition in an ideal summer setting.
Please e-mail or visit the website for more information about the Vermont Summer Festival.