Equis Boutique Introduces New 2016 Location at Lamplight Equestrian Center
June 16, 2016 - Wayne, Illinois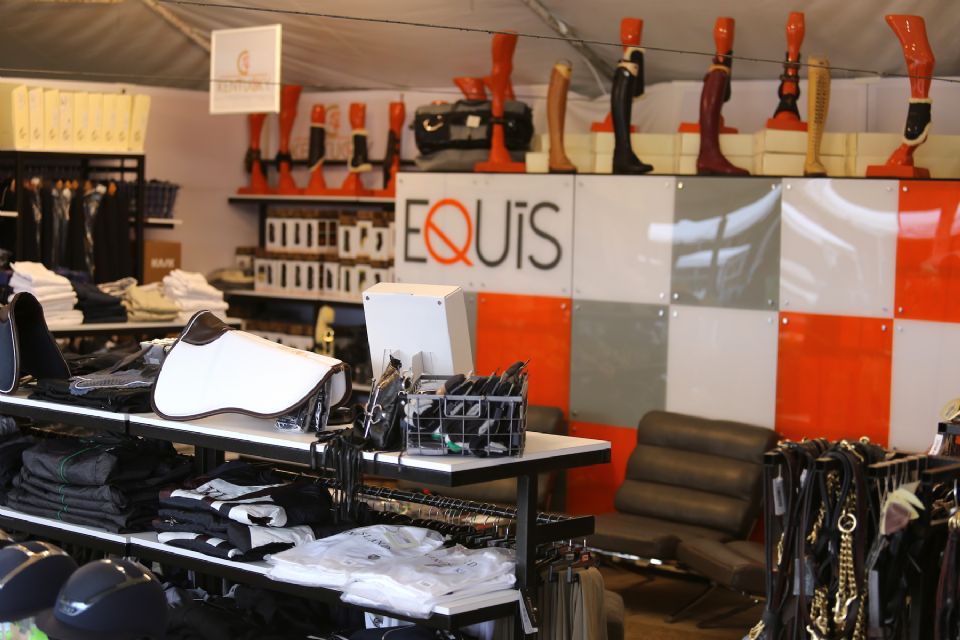 Equis Boutique will showcase a vendor location at the Showplace Spring Spectacular, running through June 26 at Lamplight Equestrian Center in Wayne, IL.
Photo by Jump Media
In Celebration of New Location, Parlanti Boots Marked Down 20%
Equis Boutique will unveil a new pop-up shopping experience this spring with a vendor location at the Showplace Spring Spectacular, running through June 26 at Lamplight Equestrian Center in Wayne, IL.
Equis Boutique's luxury tack, riding apparel, and accessories were popular among midwest consumers at the 2015 Great Lakes Equestrian Festival in Williamsburg, MI, prompting Equis founder Cesar Hirsch to add Lamplight Equestrian Center to their spring schedule.
"We are constantly evaluating the horse shows we attend, and Lamplight Equestrian Center is sure to be a perfect fit," said Hirsch. "It is our goal to align Equis Boutique with the best horse shows in North America, and the Showplace Spring Spectacular is a very exciting addition to our schedule."
In honor of their new location at Lamplight Equestrian Center and an expanded presence at North American horse shows, Equis Boutique is introducing a sale in cooperation with partner brand, Parlanti. All in-stock Parlanti tall boots will be reduced by 20% with Passion lines priced at $800 and Essentials marked down to only $480. This sale can be found at all Equis Boutique locations, including Lamplight Equestrian Center.
"After our launch in 2014, Equis Boutique has experienced great success," continued Hirsch. "As a 'thank you' to our loyal customers and the new customers we meet at every horse show we attend, we are pleased to offer this sale. Parlanti is one of our most popular brands, and we would like everyone to experience these spectacular boots."
In addition to Lamplight Equestrian Center, Equis Boutique will continue to have a presence at popular East Coast horse shows throughout the spring and summer show season.
Upcoming locations include:
Lake Placid Horse Shows
Lake Placid, NY
June 28 – July 10
Tryon International Equestrian Center
Mill Spring, NC
June 29 – July 24
Great Lakes Equestrian Festival
Williamsburg, MI
July 6-31 and August 10-28
HITS Saugerties
Saugerties, NY
July 20 – August 7 and August 31 – September 11
Kentucky Horse Show
Lexington, KY
July 27 – August 14
The Hampton Classic Horse Show
Bridgehampton, NY
August 28 – September 4
The American Gold Cup
North Salem, NY
September 14-18
Capital Challenge Horse Show
Upper Marlboro, MD
October 1-9
Split Rock Jumping Tour
Lexington, KY
October 5-9
While offering some of the most in-demand brands in horse sport, Equis Boutique has also become known for raising the bar of FEI competition through their Best Presented Horse Award. At participating horse shows, the ground jury evaluates the appearance of each horse and rider pair, including grooming, tack, behavior, jog attire, and interaction with the judges at the FEI Horse inspection. One winner and their groom receive commemorative prizes and products from Equis Boutique partner brands.
During the 2016 spring and summer season, Equis Boutique will award Best Presented honors at Tryon International Equestrian Center, HITS Saugerties, The Hampton Classic Horse Show, Capital Challenge Horse Show, and Split Rock Jumping Tour.
Equis Boutique is a shopping experience for the discerning equestrian and offers the most convenient and luxurious choice for top equine brands to dress the horse and rider. Featured brands include Parlanti, Manfredi Equestrian, KASK Helmets, Anna Scarpati, Kingsland Equestrian, Kentucky Horsewear, and Dy'on, as well as a variety of imported specialty bits and Official FEI and Just World International merchandise.
For more information on Equis, LLC boutiques, please visit EquisBoutique.com, or look for Equis Boutique on Facebook and Instagram! Email info@equisboutique.com for questions on the stores and their products.
About Equis, LLC
Equis LLC delivers superior service in order to educate their consumers on the brands and products they offer and show the variety and quality of their made-to-order, customized products. By providing a unique shopping experience, Equis rises above your normal tack shop to offer only the best. "Live the Experience – A Boutique for the Discerning Equestrian."