Darcy Hayes Wins $15,000 Braeburn Farms Hunter Derby
November 7, 2016 - Toronto, Ontario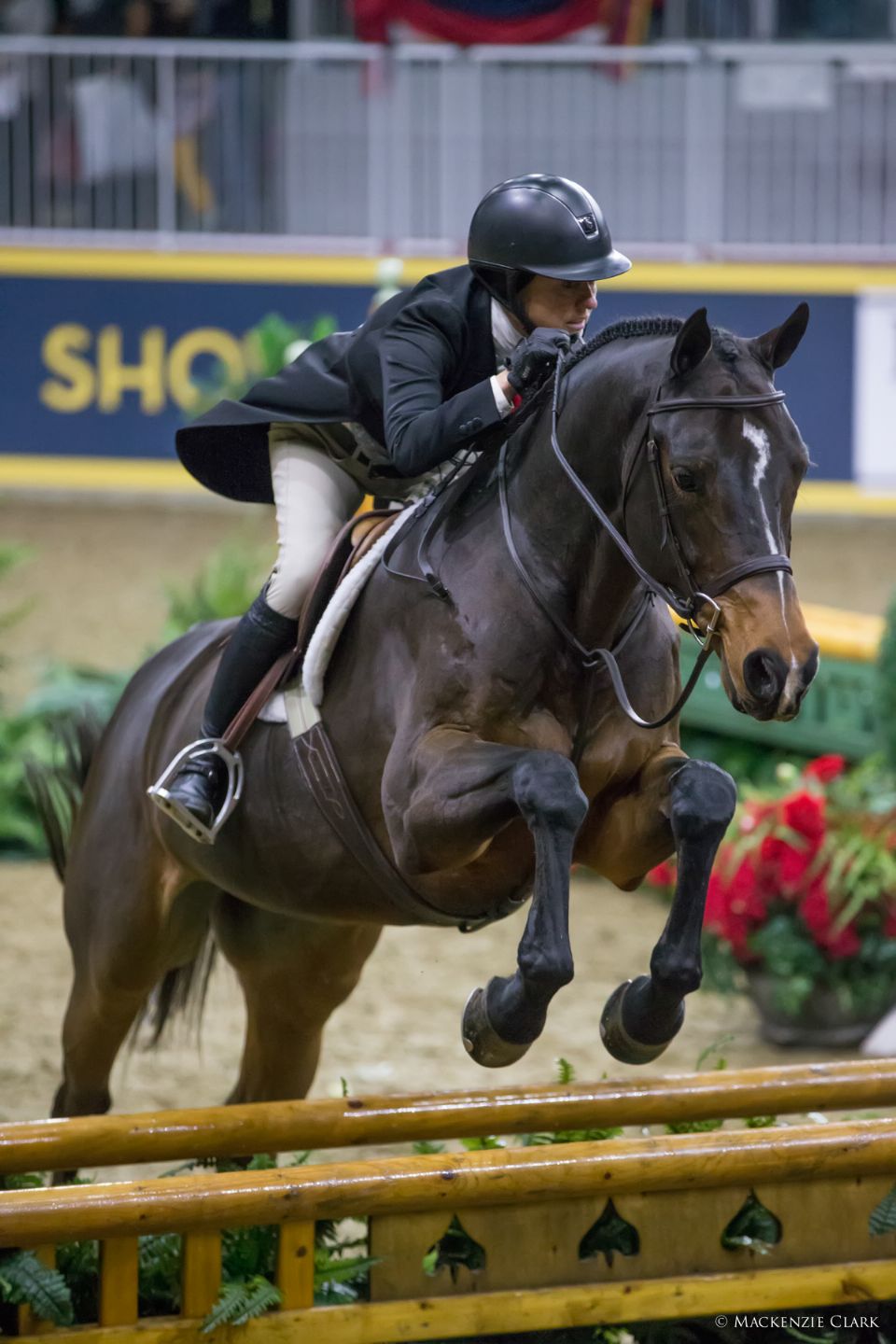 Darcy Hayes and Say When won the $15,000 Braeburn Farms Hunter Derby on Sunday, November 6, at the Royal Horse Show in Toronto, ON.
Photo by Mackenzie Clark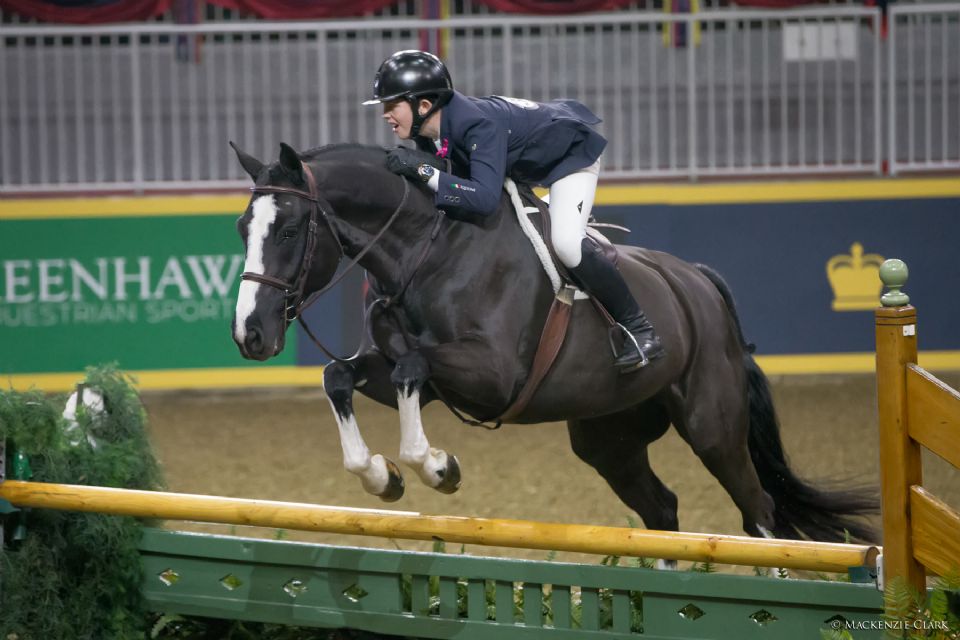 Sam Walker, 14, of Nobleton, ON, finished second in the $15,000 Braeburn Farms Hunter Derby riding Heavenly.
Photo by Mackenzie Clark
Darcy Hayes of Aurora, ON, and Say When won the $15,000 Braeburn Farms Hunter Derby on Sunday, November 6, at the Royal Horse Show, held as part of The Royal Agricultural Winter Fair in Toronto, ON.
The top 12 horses in the Canadian Hunter Derby Series, held throughout the season at competitions across the country, as well as four wild card entries contested Sunday afternoon's class in the Ricoh Coliseum. Hayes and Say When entered The Royal as the leader in the points standings, giving them the advantage of going last in Sunday's competition.
Riding over a course of natural obstacles designed by J.P. Godard of Aiken, SC, Hayes and Say When, owned by Danielle Trudell-Baran, earned a score of 90. Judges Brian Lenehan of Palm Beach Gardens, FL, and Steve Wall of Pinehurst, NC, also awarded ten bonus points to Hayes for utilizing all five of the high options as well as eight handy bonus points, giving her the win with an overall score of 108.
"It's always great to win at The Royal," said Hayes. "Everybody's here and it's the crème de la crème of Canada. It's always nice to put ribbons on the banner here at The Royal. Everybody's goal is to get here all year long, and to be successful when we get here."
Junior competitor Sam Walker, 14, of Nobleton, ON, riding Heavenly, owned by Marion Cunningham, placed second with an overall score of 100, while Hayes also took third with a final score of 99 points riding Crush for owner Cawthra Burns.
Hayes's daughter, Quincy Hayes, took fourth place riding Posh, also owned by Burns. Walker also placed fifth, this time aboard Miracle, owned by Cunningham.
Hayes has been riding Say When for four years, with 2016 marking her third win at The Royal with the eight-year-old Dutch Warmblood gelding.
"He's an amazing horse," said Hayes, who guided Say When to a second place finish in the $50,000 International Hunter Derby at the 2015 Winter Equestrian Festival in Wellington, FL. "He's probably the nicest horse I've ever ridden. This is the only class he's done here, and he walks right in the ring like it's nothing. He shows up to work, and he always does his best."
Hunter Derby competition continues Tuesday, November 8, at 7 p.m. with the $25,000 Knightwood Hunter Derby. Following Tuesday's night's competition, the winner will be presented with the Lorna Jean Guthrie Challenge Trophy for the Canadian Hunter Derby Champion.
Limited tickets can still be purchased by visiting royalfair.org or ticketmaster.ca.
For more information on the Royal Horse Show, the marquee event of The Royal Agricultural Winter Fair, visit royalfair.org/horse-show. A complete horse show schedule can be accessed here.
Funding support for The Royal has been provided by the City of Toronto and the Government of Ontario.
$15,000 Braeburn Farms Hunter Derby Results
Sunday, November 6
Rider Hometown Horse Score
1. Darcy Hayes Aurora, ON Say When 108
2. Sam Walker Nobleton, ON Heavenly 100
3. Darcy Hayes Aurora, ON Crush 99
4. Quincy Hayes Aurora, ON Posh 98
5. Sam Walker Nobleton, ON Miracle 97
6. Maude Boulanger Bouchard Mirabel, QC Viva's Highlight 95
7. Sam Pegg Cannington, ON Corby 92
8. Isabelle Lapierre Levis, QC Excellent Balou 92
About The Royal
The Royal Agricultural Winter Fair is the world's largest combined indoor agricultural and equestrian show. This year, the 94th Royal Agricultural Winter Fair runs from November 4-13, 2016, at Exhibition Place in downtown Toronto. For competition schedules, live webcasting, results, and to purchase tickets, visit www.royalfair.org.