Danielle Torano and Callas 2 Claim $30,000 Otter Creek Grand Prix
July 18, 2015 - East Dorset, Vermont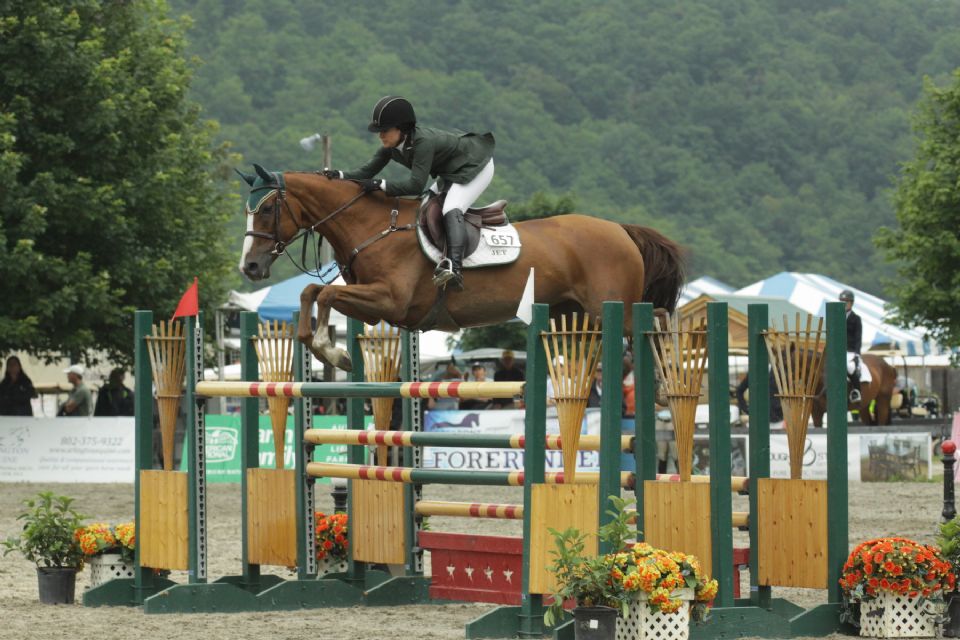 Danielle Torano and Callas 2 on their way to victory in the $30,000 Otter Creek Grand Prix on July 18 at the Vermont Summer Festival in East Dorset, VT.
Photo by David Mullinix Photography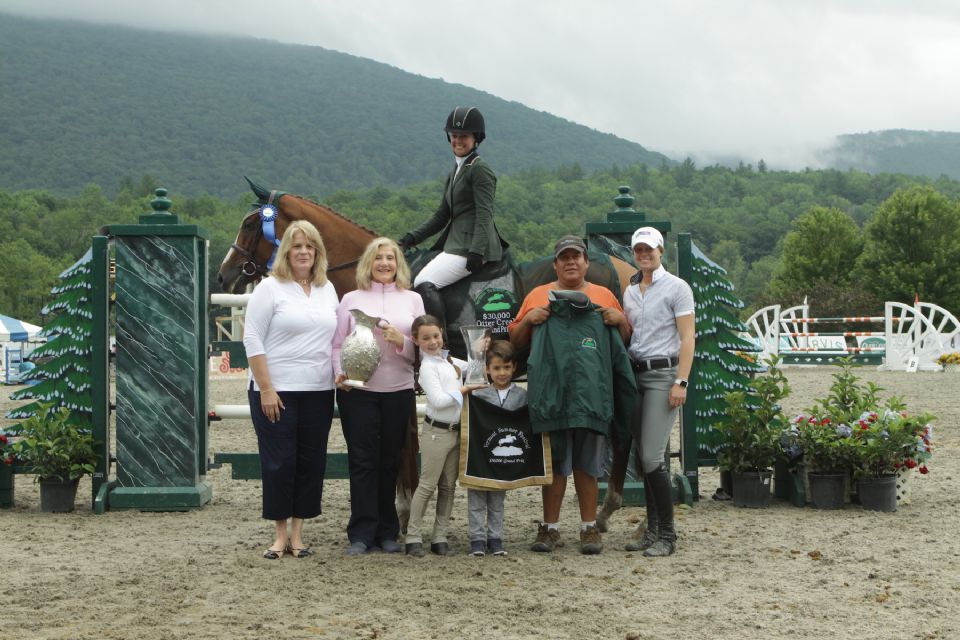 Following their win in the $30,000 Otter Creek Grand Prix at the Vermont Summer Festival, Danielle Torano and Callas 2 are joined by members of the JET Show Stables Team, including groom Gerardo Briseno.
Photo by David Mullinix Photography
Danielle Torano of Wellington, FL, and Callas 2 bested a three-horse jump-off to win the $30,000 Otter Creek Grand Prix on Saturday, July 18 at the 2015 Vermont Summer Festival in East Dorset, VT. The Vermont Summer Festival runs for six consecutive weeks, from June 30 through August 9, at Harold Beebe Farm.
The first-round track, built by Ken Krome (USA), featured 13 jumping efforts, including a double and triple combination. Three pairs finished clean to advance to the jump-off, which in turn produced only two double-clear efforts by husband-wife duo Danielle and Jimmy Torano.
Torano and her own Callas 2, were the first to jump clear from the second spot in the original order. She was later joined by Jimmy in the irons of his own Daydream, as well as Wendy Ritter Peralta of Geneva, FL, with her own Cruz Z.
Returning first, Torano and Callas 2, an eight-year-old Warmblood mare, stopped the clock fault-free in 54.79 seconds with two challengers behind her. Jimmy Torano entered the ring next and left the jumps in their cups, but broke the timers only fractions slower than his wife in 55.01 seconds for second place. Peralta returned last in the jump-off and had Torano beat on the clock. But, a single rail gave her four faults in 52.65 seconds for third.
Kimberly Mulligan-Mangione of Milford, CT, produced the fastest four-fault ride over the first-round course with her own Psalms 23 to finish fourth on a time of 94.22 seconds. In addition to the win, Torano and her own Herault rounded out the top five with four faults in 95.51 seconds.
Torano's win was the first grand prix start for Callas 2, a mare she and Jimmy imported from Belgium last summer with high hopes. "She was a superstar from the first day I rode her," said Torano.
An injury in 2014 sidelined the pair for the entire winter circuit in Florida and Torano just got her back into work this spring.
"Honestly, I wasn't going to show her today," laughed Torano. "Jimmy said I should jump her in the grand prix and I told him he was crazy."
Up until Thursday morning, Torano still had no intention of stepping her young mare out of the High Amateur Divisions just yet, but after walking the course decided the track was just right to move her up.
"We only have young horses right now and this show is the perfect stepping stone for them. I thought the course was right on – just hard enough, and not too hard for the young horses," she said. "Callas is a difficult ride, but she's really special. I think she can do all of it, so this is just our beginning."
The win kicked off a busy weekend for Torano with her daughter competing in the short stirrup and son in walk/trot division in Vermont. With a smile, Torano admitted to having one regret after Thursday's class. "Now I'm going to have to hear 'I told you so', because Jimmy did tell me that if I showed her, she would win," she laughed.
While Torano was honored with prizes for her win, including a scrim from Mona's Monograms, the Vermont Summer Festival also recognized her groom with the weekly Grand Prix Groom Award. In recognition of his hard work to prepare Callas 2 for grand prix competition, Gerardo Briseno was presented with a monogrammed jacket and coolerette from sponsor Glenn Geary of Horsewatch.
"Our grooms look forward to this award every year and Gerardo hasn't won a jacket in a couple years, so he was especially happy today," said Torano. "They work so hard behind the scenes, and we couldn't do any of this without them. Most people think it's just a jacket, but it means the world to them."
Competition at the 2015 Vermont Summer Festival runs weekly from Wednesday through Sunday, beginning each day at 8 a.m. Grand prix action continues on Saturday, July 18 with the $30,000 Otter Creek Grand Prix at 1 p.m. Admission is $6 for adults and $3 for children from Wednesday through Friday. On Saturday and Sunday, admission is $9 for adults, $5 for children. 100% of the gate proceeds benefit the Manchester Community Library and Dorset Equine Rescue.
The Vermont Summer Festival is New England's largest hunter/jumper competition, and the richest sporting event based on purse in the state of Vermont. It is a proud member event of the Show Jumping Hall of Fame, the Marshall & Sterling League, and the North American League (NAL). For over 20 years, the event has attracted exhibitors and their families to the Manchester region in southern Vermont for great competition in an ideal summer setting.
Please e-mail or visit the website for more information about the Vermont Summer Festival.
$30,000 Otter Creek Grand Prix
Saturday, July 18, 2015
Rider Hometown Horse Faults Time
1. Danielle Torano Wellington, FL Callas 2 0:0 54.79
2. Jimmy Torano Wellington, FL Daydream 0:0 55.01
3. Wendy Ritter Peralta Geneva, FL Cruz Z 0:4 52.65
4. Kimberly Mulligan-Mangione Milford, CT Psalms 23 4 94.22
5. Danielle Torano Wellington, FL Herault 4 95.51
6. Tommy Feigel Pompano Beach, FL Analyze This 4 96.73
7. Cassandra Orpen Weston, CT Casis 4 97.78
8. Elizabeth Mahoney Bedford, NY Mimosa 6 102.60
9. Theodore Demetriou Huntington, NY Conntador 8 98.12
10. Amanda Flint Long Valley, NJ Child Z 8 99.02
11. Amanda Starbuck Ridgefield, CT Carte Blanche 8 100.96
12. Christian Coyle Milton, CT KEC Kris Kringle 11 103.28