Catherine Tyree Claims Martha Jolicoeur Leading Lady Rider Award
December 6, 2021 - Wellington, FL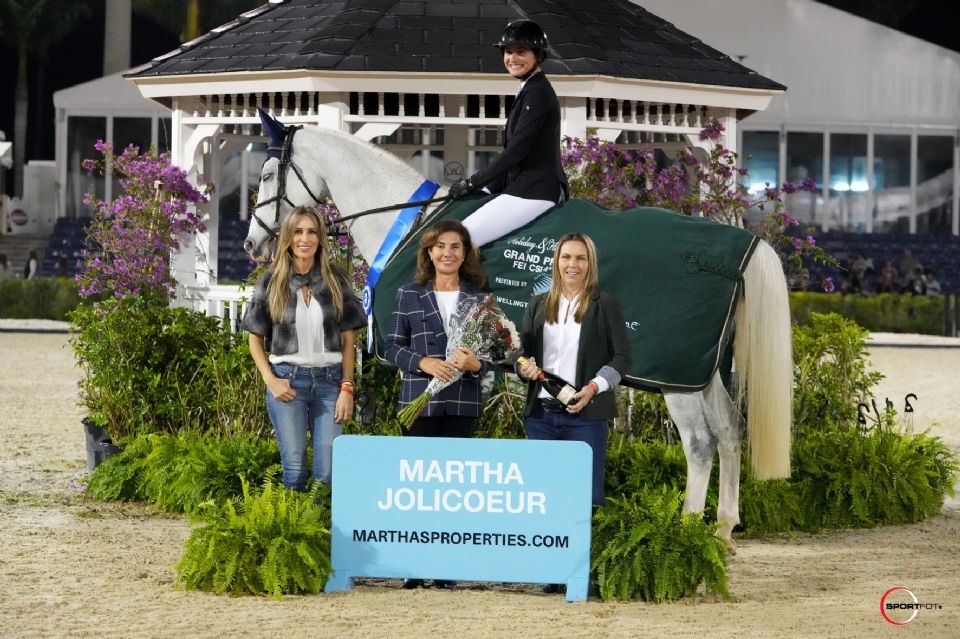 Catherine Tyree, pictured aboard BEC Lorenzo, is presented with the Martha W. Jolicoeur Leading Lady Rider Award during the CSI4* Holiday & Horses tournament in Wellington, FL. From left to right: Sharon Loayza, Martha Jolicoeur, and Waverly Ernst.
Photo by Sportfot
Catherine Tyree claimed the Martha W. Jolicoeur Leading Lady Rider Award during the CSI4* Holiday & Horses tournament held December 1 to 5, 2021, at the Palm Beach International Equestrian Center in Wellington, FL.
Tyree of Wellington, FL, placed eighth in $50,000 Premier Equestrian Grand Prix held on Thursday, December 2, before returning to the International Arena on Saturday night, December 4, to win the $214,000 Grand Prix following a six-horse jump-off. Her partner on both occasions was BEC Lorenzo, an 11-year-old Irish Sport Horse gelding (Livello x Guidam) owned by Catherine Tyree LLC.
"I would like to thank Martha for putting up this award for women in a sport where we go head-to-head with our male counterparts," said Tyree, 27. "It's nice to be recognized for the hard work we put in and the consistency throughout the week. It's great to have good results in one class, but to have consistency throughout the week is rare and makes this award even more special."
In recognition of winning the Leading Lady Rider Award, Tyree was presented with a bottle of champagne, a bouquet of flowers, and a gift certificate for a shopping spree at Hunt Ltd. by Martha W. Jolicoeur and her fellow Douglas Elliman realtors, Waverly Ernst and Sharon Loayza.
"It's so generous of Martha to give this award for us each week during this holiday circuit and then through the entire winter season of the Winter Equestrian Festival," said Tyree. "I couldn't be more thrilled to receive this award, and to win a gift certificate to Hunt Ltd. because I need new clothing!"
A former competitor herself, Jolicoeur enjoyed a successful international show jumping career before becoming Florida's number one Douglas Elliman real estate broker. A sponsor and dedicated supporter of horse sport at the Winter Equestrian Festival for many years, this year Jolicoeur expanded her Leading Lady Rider Award to include the Holiday circuit. Given in memory of fellow realtor and horseman Dale Lawler, a Leading Lady will be named each week, with the overall Holiday Series winner being presented during the Holiday Circuit Finale from December 29, 2021, to January 2, 2022, to the female rider who accumulates the most points. The full Holiday Series schedule is as follows:
HOLIDAY & HORSES CSI4*
December 1-5, 2021
YEAR END AWARDS
December 9-12, 2021
HOLIDAY FESTIVAL
December 15-19, 2021
HOLIDAY FESTIVAL III
December 21-23, 2021
HOLIDAY CIRCUIT FINALE
December 29, 2021- January 2, 2022
Based in Wellington, Jolicoeur has been serving the Wellington equestrian community full-time since 2005 and specializes in both residential and farm properties. As part of the elite Douglas Elliman Real Estate Sports and Entertainment division, she offers a wide range of property listings that fit the equestrian lifestyle and beyond. To learn more about Martha W. Jolicoeur, visit www.marthasproperties.com. Follow her on Facebook and Instagram for a behind-the-scenes look at her available Wellington properties.
About Martha W. Jolicoeur
Buying or selling a property with Martha Jolicoeur assures the highest level of professional real estate consultation in the Wellington, Florida, equestrian community. Jolicoeur understands the importance of customer excellence and prides herself on dealing honestly and fairly while creating relationships with her customers that continue far beyond a business transaction. For more information on Martha Jolicoeur and her listings, visit www.marthasproperties.com or find her on Facebook and Instagram.