Caitlyn Shiels Signs with O3 Animal Health as the Official Supplement for Her Competition Horses
Canterbury Farm Thanks Its Many Generous Sponsors
May 5, 2016 - Hampshire, Illinois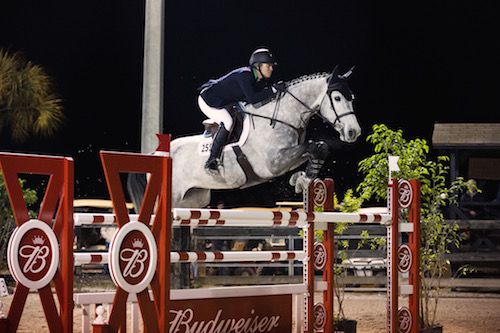 Canterbury Farm, of Hampshire, IL, would like to extend its thanks to the many generous sponsors that support its team of horses and riders. Led by trainers Greg Franklin and Caitlyn Shiels, Canterbury Farm is a full-service hunter/jumper training and show facility owned and operated by the Franklin family. For more than 30 years, they have dedicated themselves to providing exceptional service to their clients by offering personalized training and care for both horse and rider.
Canterbury Farm co-trainer and professional rider, Caitlyn Shiels, recently signed with O3 Animal Health as the official supplement for her competition horses. In 2015, Shiels stepped into the grand prix ring with her young horse Cavalier II and won championships with client's horses, including a win in the USHJA National Hunter Derby at the Showplace Productions' Spring Spectacular Horse Show with King of Hearts, owned by Natalie Alden. Shiels was also eighth overall in the World Championship Hunter Rider Developing Pro Challenge at the Capital Challenge Horse Show in 2015.
O3 Animal Health manufactures Equine Mega Gain, Equine Omega Complete and Equine Mega Sweat. Their main product, Equine Omega Complete, is a complete supplement used by some of the top horse trainers, owners, and veterinarians to provide the perfect fat for proper cell function.
This supplement reduces joint and tissue inflammation, significantly reduces chance of colic, helps grow stronger, healthier hooves, supports a beautiful healthy hair coat, builds a strong immune system, promotes a healthy digestive system, increases oxygen/blood flow aiding in conditioning and stamina, promotes a healthy reproductive system in stallions and mares, assists in proper cell development and function, promotes a healthy respiration system, reduces stress, anxiety, and depression, provides all essential amino acids, builds bone density, helps block lactic acid buildup in muscles, helps regulate insulin production, and has natural Vitamin E and other antioxidants.
"Canterbury Farm absolutely loves the results we have seen in our show horses on the Equine Omega Complete and Equine Mega Gain," Shiels stated. "The product has improved their coats, ability to concentrate, weight gain, and overall health noticeably in a short period of time. We are very excited about this new sponsorship with O3 Animal Health and recommend this product to everyone involved in our sport."
Canterbury Farm Sponsors
Along with the new addition of O3 Animal Health, Shiels and Canterbury Farm are supported by many fantastic brands. The Franklin family, Shiels, and everyone at Canterbury Farm would like to thank the following sponsors for their continued support:
Blueberry Hill
Blueberry Hill is a unique boutique for horse, rider, and dog, where one can get quality items as well as customized products. Blueberry Hill carries "Only the Best." Products include: Tucci, Ogilvy, Samshield, Hayward Jackets, DLC Bonnets, Struck Breeches, Éce shirts, Le Fash, Cheval, and many more.
Butet
Frédéric Butet started creating Butet saddles in 1985, and in 1986, the first saddles were exported. The rule over the years has been to maintain a creative spirit, to constantly invest in technical research, to adapt the product, and at the same time to refuse to change the shape and style of their saddles in the name of modernization. A Butet saddle is and must remain a handsome item.
Éce Equestrian
Éce Equestrian Co. was founded by Emily Thompson, who commissioned top Manhattan pattern maker, Ikuyo Ishitobi, to create innovative, high fashion athletic attire for today's equestrian community. She searched the globe for the perfect technical fabric and in 2010, launched an exclusive shirt line. Éce Equestrian Co. shirts and jackets provide comfort in extreme heat, elasticity without losing form, are machine washable and quick-drying, versatile for any athletic sports, and for everyday life. Éce Equestrian is an athletic apparel company driven to provide clothing designed by professional equestrians for functionality and style.
EquiFit, Inc.
EquiFit, Inc. designs and manufactures technologically advanced products for top riders and horses throughout the world. Founder and President, Alexandra Cherubini, developed a line of products for the equine and equestrian based on a material called T-Foam™, a shock-absorbing material that conforms to each horse's body for a custom fit, every time. The EquiFit product line has grown immensely over the company's 15 years. A solid foundation of material intuition and product design is the heart of EquiFit's success. From the T-Boot Series to the D-Teq Boot line, the T-Sport Wraps to the GelCompression Therapy line, EquiFit continues to raise expectations by pairing innovative designs with highly advanced materials.
Hayward Sportswear
Hayward Sportswear Ltd, designs fashionable riding apparel with classic and contemporary lines giving riders a choice of fabrics to create their own jackets or shirts for both in and out of the show ring. Hayward is committed to design, details, quality and style for all disciplines: hunter, jumper, eventing, or dressage. The materials are carefully chosen to be machine washable, light and breathable for the rider. There is a wide range of styles, fabrics and lining options that are consistently changing, where clients are able to choose from existing inventory or design their own. Hayward's collection consists of jackets, shadbellies, show shirts, stock ties, polo tops, jeans, scarves and the pink ribbon collection.
ReitenRight
ReitenRight makes horse arena footing for every environment. Through research, development, and testing, ReitenRight creates the world's most innovative equestrian products, enabling both horse and rider to reach their full potential. Their Frosting footing is comprised of the very same materials found in natural rubber athletic mats. These materials were sought out and selected by ReitenRight's development team because of the extremely high performance, durability, and health specifications inherent in these products. Only very select styles and makes of mats are incorporated into Frosting. This ensures that toxins and contaminants that may pose a threat to riders, horses and the environment have no place in your arena.
Samshield
Samshield's philosophy is to always propose advanced products in terms of active and passive security, comfort, hygiene, material and finish quality, as well as customization. Samshield has been able to create helmets that are specifically adapted to show jumping, dressage, racing, polo and eventing activities in terms of protection and comfort. Samshield helmets feature incredible airflow by air canalization under the visor (therefore no big unstylish air intakes on the shell), no front contact, reducing or even avoiding the pressure on the front head, and the use of memory foam for the side and top padding, providing an amazing and surprising comfort. The helmet is also designed with an external shell made in polycarbonate, a very strong material, and the internal shell made in polyester that will absorb any impact.
Tucci
The Tucci brand of riding boots combines its know-how, which has been handed down from generations, to a team of experts in design, fashion, manufacturing, and communications, with the aim of being the world's number one producer of a handmade and highly technical product for a sport that, thanks to new techniques and technologies, has evolved considerably over time. Tucci ensures that all the materials used in the creation of its products are of the highest quality. Each step, from the assembly of the upper, the finishing's and final touches, to the application of crystal inserts, is made by hand.
Thank you from Canterbury Farm!
With the continued support of these fantastic companies, the team at Canterbury Farm will compete next at the Maffitt Lake Spring Gathering Horse Shows the weeks of May 11-15 and May 18-22, 2016.
The summer schedule then includes Showplace Productions' Spring Spectacular II and III in June, Great Lakes Equestrian Festival II, III, and IV in July, and Equifest II and III in August.
Canterbury Farm is now accepting clients for the 2016 show season with a wide variety of sale horses available for lease or sale.
For more information, check out the brand new Canterbury Farm website at www.canterburyfarmchicago.com.
About Canterbury Farm
Canterbury Farm maintains a horse show schedule on a local, regional and national level that is created with their customer's competitive goals in mind. For over 35 years, Greg Franklin has ridden hunters and jumpers to numerous championships nationally and has brought home numerous Zone 5 'Horse of the Year' awards. Franklin has qualified horses and riders for the Pennsylvania National, Washington International and the National Horse Shows including the Medal and Maclay Finals. He has also shown internationally at Canada's Spruce Meadows in the 1.40m and 1.45m divisions and is a certified trainer with USHJA. Additionally, Franklin holds his 'R' card in Hunters, Hunter Seat Equitation, and Jumpers, and judges throughout the country.
Born and raised in Sheffield, Massachusetts, Caitlyn Shiels began riding at the age of eight. A highlight of Shiels' early career was being a team and individual gold medalist at the 2004 North American Young Riders' Championship. Shiels went on to apprentice under such professionals as Andre Dignelli, Mclain Ward, Ken Smith and Kate Stoffel-Oliver. Almost immediately after she joined the Canterbury team in 2013, Sheils and Franklin both began earning multiple championships at major shows including Spring Spectacular, Horse Shows by the Bay, Traders Point Charity Horse Show, and Kentucky. Their partnership is an excellent balance of training both on the horse and from the ground.
With qualified trainers, attention to detail, and a caring staff, Canterbury Farm is committed to excellence in horsemanship, and to giving all of their riders a great experience in the show ring.
For more information, visit www.canterburyfarmchicago.com or email info@canterburyfarmchicago.com.