Ashley Williams and Little Lion Man Shine in TAKE2 Divisions at Vermont Summer Festival
July 8, 2015 - East Dorset, Vermont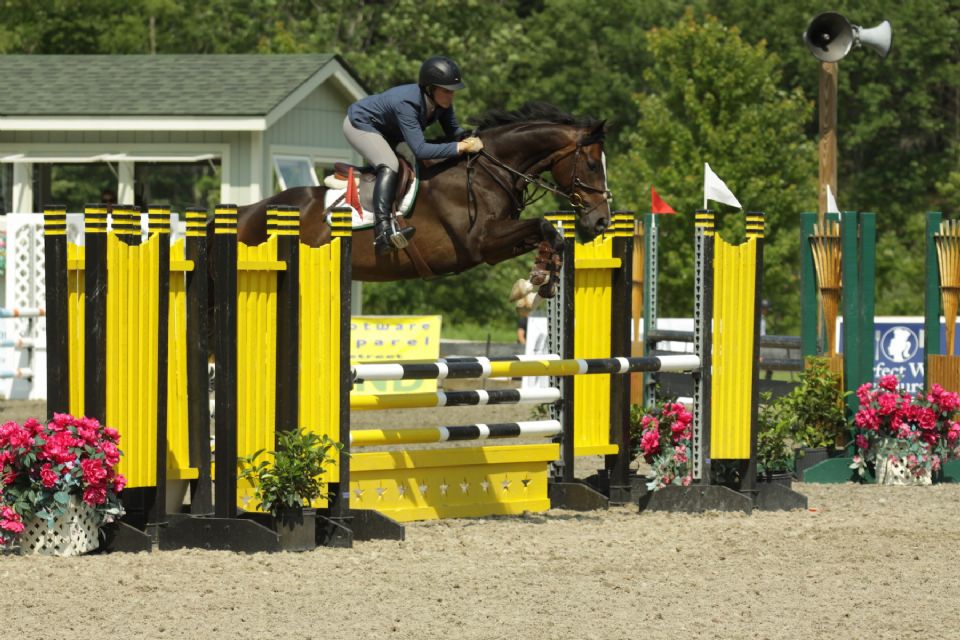 Ashley Williams and Little Lion Man competing in the TAKE2 Thoroughbred Jumper Division at the Vermont Summer Festival in East Dorset, VT.
Photo by David Mullinix Photography
In a dominating performance, Ashley Williams of Colts Neck, NJ, and Little Lion Man were Champion in the TAKE2 Thoroughbred Jumper Division, as well as Reserve Champion in the TAKE2 Thoroughbred Hunter Division during week 1 at the Vermont Summer Festival in East Dorset, VT.
Nine months ago, Williams laid eyes on a young racehorse looking for a chance after the track. Williams saw potential, talent and raw heart, and was immediately sold on Little Lion Man (Lion Heart x Sammy Ammy).
"I am assistant to Helen Goddard and we get calls about Thoroughbreds a lot. That's how we found Little Lion Man – someone gave her a call and thought they had something special," said Williams. "His scope is what struck me. He didn't know much, but he was a trier – he jumped everything we pointed him at."
Four starts on the track proved that Little Lion Man was not destined for racing success. Now five years old, Williams finalized the purchase of her bay gelding in October and is already winning ribbons in the show ring.
Williams and Little Lion Man jumped to a win and two second-place ribbons to finish on top in the TAKE2 Jumper Division. They earned two firsts, a second and third over fences, as well as fourth under saddle in the TAKE2 Hunter Division for Reserve Champion.
"He has come a long way, and I can't wait to see where he's going to be in a year," said Williams. "Coming up with one word to describe him is a challenge because he has so much personality. He's very much a five-year-old and acts like it – he's got spunk and is very quirky. But when he's on, he's really on, and if you can handle the quirk, he's so much fun."
Currently, Williams is giving Little Lion Man as much experience as she can in the 1.0m jumper ring, but was encouraged by Goddard to dabble in the hunters at Vermont. "He's handy, versatile and has a ten jump, which is what they look for in the hunters. But, that jump gives him the scope to go in the jumpers," said Williams. "He's still green and we are figuring things out, but he's so willing."
No stranger to repurposing race horses after their racing careers come to an end, Goddard and Williams have nine off-the-track Thoroughbreds in their barn. According to Williams, there's no denying the heart of a Thoroughbred. That belief is what led her to appreciate the TAKE2 program at the Vermont Summer Festival.
The TAKE2 Second Career Thoroughbred Program, Inc. is committed to promoting and developing second careers for racehorses when they have retired from the track. Launched in 2012 by the New York Thoroughbred Horsemen's Association (NYTHA), in collaboration with the New York Racing Association (NYRA) and the New York Thoroughbred Breeders Inc. (NYTB), TAKE2 funds prize money and awards in hunter and jumper classes restricted to Thoroughbreds that are eligible to be registered with The Jockey Club. In addition to the Vermont Summer Festival, TAKE2 events are offered at more than 50 horse shows in 10 of the 12 USEF zones across 18 states.
"For me, this program is a great way to give my young horses experience," said Williams. "As a five-year-old, all Little Lion Man needs is to get in the ring and jump around. Thanks to TAKE2 paying back prize money, it's now affordable for me to do that with him. This week, he did the job he was supposed to do and we won back all our entry money."
Williams maintains that it's not just Little Lion Man who is making a comeback, but Thoroughbreds in general are becoming more popular in show jumping – a sight that was once common in the history of the sport. "So many Thoroughbreds get lost after racing and I love to see them get a second chance," she said. "People are looking at Thoroughbreds again and they are picking up steam in the show ring, which is a great sign for the breed and the sport."
Williams has yet to decide where Little Lion Man will find the most success, but for now they will continue in both the hunter and jumper rings.
Competition at the 2015 Vermont Summer Festival runs weekly Wednesday through Sunday, from June 30 through August 9, at Harold Beebe Farm beginning each day at 8 a.m. Admission is $6 for adults and $3 for children from Wednesday through Friday. On Saturday and Sunday, admission is $9 for adults, $5 for children. 100% of the gate proceeds benefit the Manchester Community Library and Dorset Equine Rescue.
The Vermont Summer Festival is New England's largest hunter/jumper competition, and the richest sporting event based on purse in the state of Vermont. It is a proud member event of the Show Jumping Hall of Fame, the Marshall & Sterling League, and the North American League (NAL). For over 20 years, the event has attracted exhibitors and their families to the Manchester region in southern Vermont for great competition in an ideal summer setting.
Please e-mail or visit the website for more information about the Vermont Summer Festival.