Amy Millar and Heros Win $10,000 Karson Open Welcome at Ottawa International
June 18, 2015 - Ottawa, Ontario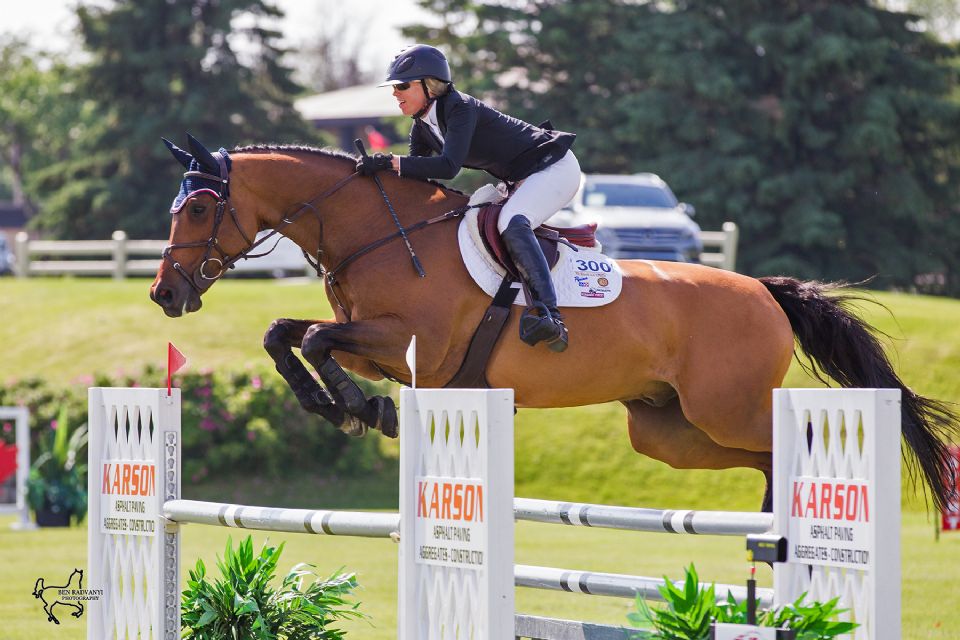 Amy Millar and Heros won the $10,000 Karson Open Welcome on Thursday, June 18, at the Ottawa International Horse Show at Wesley Clover Parks in Ottawa, ON.
Photo by Ben Radvanyi Photography.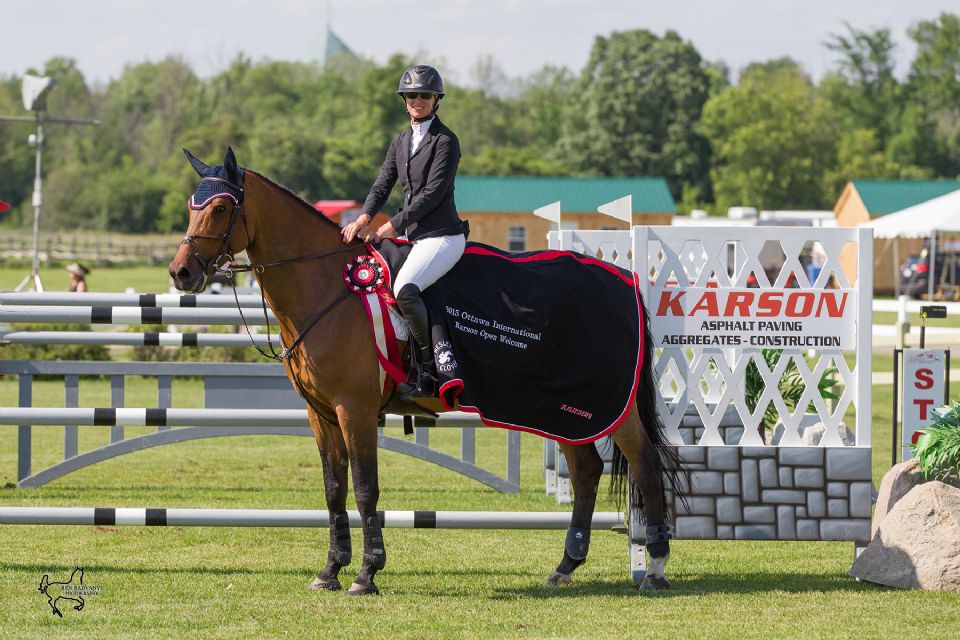 Amy Millar and Heros, owned by AMMO Investments, are presented as the winners of the $10,000 Karson Open Welcome.
Photo by Ben Radvanyi Photography.
Show jumping made its official return to the nation's capital this week with local competitor Amy Millar of Perth, ON, leading the charge. With top-level jumper competition at the Ottawa International Horse Show underway, Millar piloted Heros, owned by AMMO Investments, to the top of a 33-horse starting field to win the $10,000 Karson Open Welcome on Thursday, June 18, at Wesley Clover Parks in Ottawa, ON.
The Ottawa International, which runs June 17 to 21, is the first major show jumping tournament to be held at Wesley Clover Parks, formerly the Nepean National Equestrian Center, since 2011. Now under the management of the Wesley Clover Foundation, Wesley Clover Parks has undergone an extensive multi-million dollar transformation to bring the competition venue back up to international standards.
Ten horses jumped clean in the first round to advance to the jump-off. Elizabeth Bates of Toronto, ON, returned second in the order with her own Wildfire to hold the lead until the final trip. Millar was originally seventh in the jump-off order, but returned last after Heros lost a shoe in the warm-up.
"We were two jumps from being finished when he pulled a shoe, so we tacked it back on, finished our warm-up, and away we went," said Millar of the minor setback that was quickly redeemed. "I took some risks and he stayed with me. It was so fun!"
Millar's fault-free effort in 39.90 seconds bumped Bates and Wildfire to second with their time of 41.39 seconds. Melissa Orlick-Zbierski of Wellington, FL, who trains with the Millar family, rode Bonzay to a third place finish in 41.62 seconds.
Canadian Olympian Beth Underhill of Schomberg, ON, clinched fourth in 43.63 seconds aboard her own Viggo. American competitor Kelly Soleau, who also trains with the Millar family in Perth, ON, claimed fifth after riding Centre Ice to a double-clear performance in 43.84 seconds.
With family members from Ottawa cheering her on from the stands, Millar admitted that jumping at Wesley Clover Parks is a special experience made even more special by an amazing animal.
"I got Heros last year and the whole time I've had him, it just gets better and better," said Millar of the eight-year-old Belgian Warmblood gelding (Canadian River x Clinton). "I really believe in him and it's pretty exciting that I think he's this good at this age. Finding a horse this special is really difficult.
"And, I think it's awesome that he's by Canadian River, because now he is Canadian," she added with a smile.
Purchased last year, Millar rides Heros for AMMO Investments. Despite a short-term partnership with Heros, she has already experienced great success with the young mount, winning the $50,000 CSI2* Zucarlos Grand Prix at the Orangeville Show Jumping Tournament in Orangeville, ON, last summer. Millar and Heros will be looking for their next big victory in the $35,000 Brookstreet Grand Prix on Saturday, June 20, at the Ottawa International.
While shaving more than a full second off the leading time, Millar put her young horse to the test and it paid off.
"I trust him, he trusts me, and he's really brave for his age," she said. "He's almost like a cocky teenage punk – whatever you put in front of him he thinks is fun and he loves to jump. If you turned him loose and there were jumps in a ring, he would probably jump them."
While usually showing at Spruce Meadows in Calgary, AB, at this time of the year, Millar stayed home to jump on the grass Grand Prix field at Wesley Clover Parks.
"I am having such a great time here and I'm so happy to be back on grass," she said. "I spend most of my time jumping on all-weather footing. The horses jumped so well off this and they feel better the next day than they would anywhere else. All the improvements at Wesley Clover Parks are truly amazing."
Course designer Guilherme Jorge of Brazil set the tracks for the $10,000 Karson Open Welcome and will continue to build at the Ottawa International as one of his stops before course designing at the 2016 Rio Olympic Games.
Earlier in the day on the Grand Prix field, Millar rode Darino for owner Charles Schneider in the 1.20m Open Jumper, while Underhill and her own Kodaline won the 1.30m Open Jumper.
Friday's highlights at the Ottawa International include the $5,000 Jump Canada Talent Squad and the $7,500 Lynn Millar Memorial 1.20m Speed Derby, set for 4 p.m. Coming up on the weekend, the $35,000 Brookstreet Grand Prix will take center stage on Saturday at 2 p.m. The $10,000 Canadian Hunter Derby will cap off the week on Sunday.
To celebrate the inaugural Ottawa International Horse Show, the famed Royal Canadian Mounted Police (RCMP) Musical Ride will take a break from their national tour for a special performance at Wesley Clover Parks on Friday, June 19, at 6:30 p.m. Tickets for the RCMP Musical Ride are $5 per person, with children ten and under admitted free. Tickets are available through advance purchase ONLY, and can be purchased at the main office at Wesley Clover Parks, by calling (613) 271-5452, or by visiting www.snapuptickets.com/events/detail/rcmp-musical-ride.
Conveniently located at the Moodie Drive exit off the 417 highway, Wesley Clover Parks brings equestrian sport to the heart of Ottawa. For more information on the Ottawa International Horse Show, please visit www.ottawahorseshow.ca or www.wesleycloverparks.com.
$10,000 Karson Open Welcome - Thursday, June 18
Rider Hometown Horse Faults Time
1. Amy Millar Perth, ON Heros 0:0 39.90
2. Elizabeth Bates Toronto, ON Wildfire 0:0 41.39
3. Melissa Orlick-Zbierski Wellington, FL Bonzay 0:0 41.62
4. Beth Underhill Schomberg, ON Viggo 0:0 43.63
5. Kelly Soleau Perth, ON Centre Ice 0:0 43.84
6. Ian Millar Perth, ON Star Power 0:4 41.81
7. Ainsley Vince Burlington, ON Frieda 0:4 43.55
8. Darrin Dlin Calgary, AB Ridley 0:4 45.38
9. Kelly Soleau Perth, ON Itty Bitty 0:8 43.08
10. Laurie Bucci Carignan, QC Black Berry 0:8 57.86