Amanda Flint and VDL Wittinger Jump to Victory in Vermont
July 2, 2015 - East Dorset, Vermont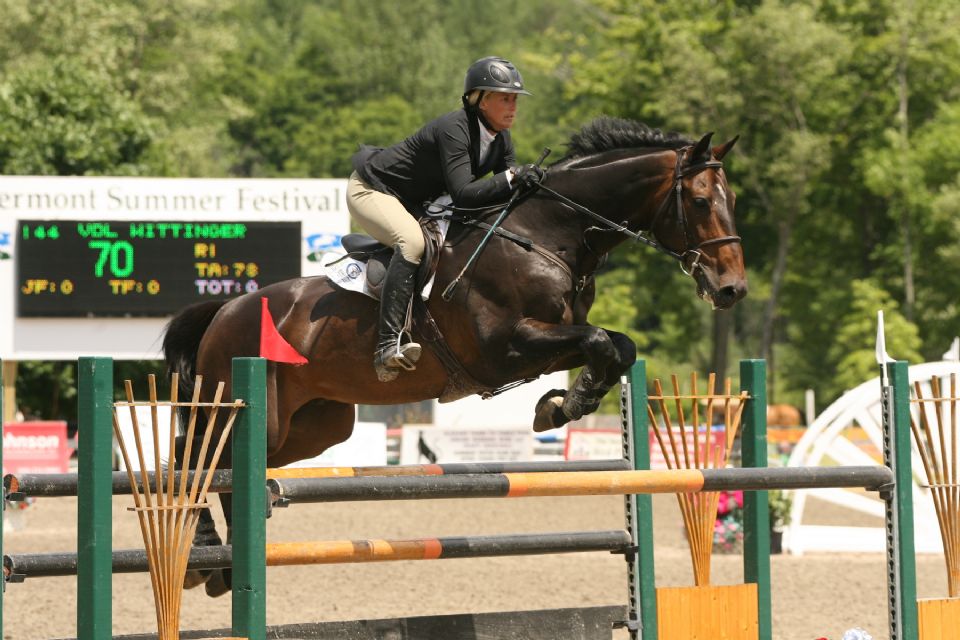 Amanda Flint and VDL Wittinger on their way to victory in the $10,000 New Balance Welcome Stake, presented by Manchester Designer Outlets, on July 2 at the Vermont Summer Festival in East Dorset, VT.
Photo by David Mullinix Photography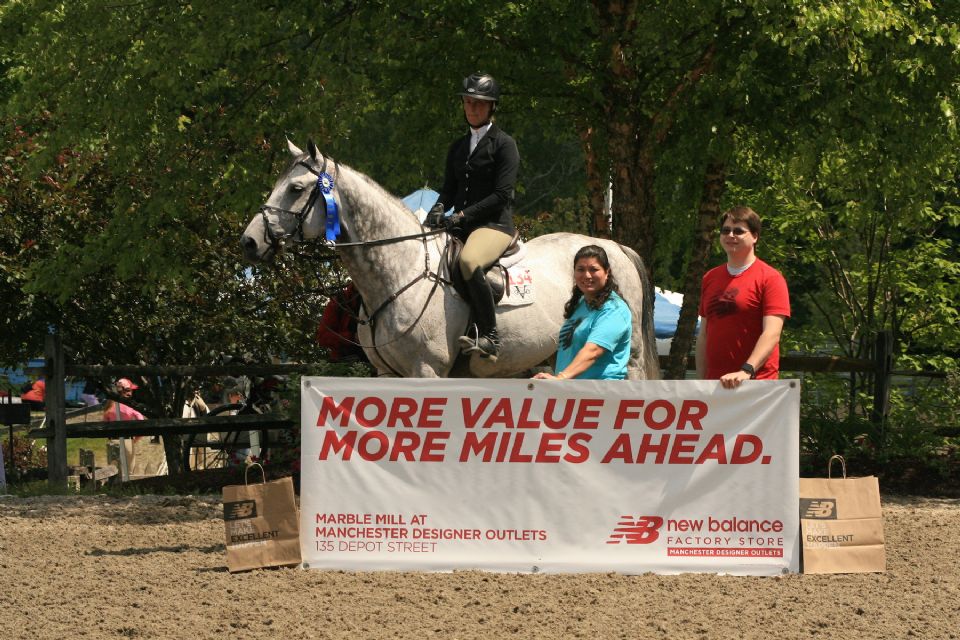 Amanda Flint (pictured on Balotan) is presented with winner's awards from Eva Reed and Justin Sargood of New Balance following the $10,000 New Balance Welcome Stake, presented by Manchester Designer Outlets, at the Vermont Summer Festival.
Photo by David Mullinix Photography
Amanda Flint of Long Valley, NJ, won the $10,000 New Balance Welcome Stake, presented by Manchester Designer Outlets, aboard VDL Wittinger on Thursday, July 2 during the first week of competition at the Vermont Summer Festival in East Dorset, VT. The Vermont Summer Festival runs for six consecutive weeks at Harold Beebe Farm from June 30 through August 9.
Flint and her own 12-year-old Dutch Warmblood gelding by Indoctro x Irusa contested a field of 24 starters before besting the seven clear efforts that remained in the ring for an immediate jump-off. The third pair to face tracks set by Irish course designer Alan Wade, Tommy Feigel of Pompano Beach, FL, and Analyze This, owned by Equestrian Concepts, Ltd., produced the first clear of the day.
Feigel was clear over the short course and crossed the timers in 36.45 seconds to set the time to beat. Flint quickly answered the call, guiding VDL Wittinger to a flawless finish in 31.41 seconds.
Jonathan Corrigan of Southampton, NY, and Noel Gross' Aries were next to go double clear and their jump-off time of 34.75 seconds would prove good enough for second place. Ten horses later, Cassandra Orpen of Weston, CT, and SCCA Ventures' Casis delivered a clear jump-off round in 35.35 seconds to round out the top three placings. Feigel and Analyze This dropped to fourth overall while Flint capped the top five with the fastest four-fault jump-off ride in 34.51 seconds on Child Z, owned by The Party Girl Group, LLC.
Thursday's win was one high point in a string of recent successes for Flint and VDL Wittinger. After a year off from competition due to injury, VDL Wittinger returned to the show ring in January before winning the $25,000 Grand Prix of Tryon Spring 1 in April, and claiming second place in the $35,000 Grand Prix at Princeton's Show Jumping Week 1 this Sunday.
"We got him as an approved stallion from VDL Stud, gelded him in the fall and, since he has come back, he has been great," said Flint. "As long as I don't mess it up, he usually wins every class I let him win."
Considering his extended hiatus from competition, Flint is pleased with her mount's recent results and is hopeful for their future together.
"He delivers," she said simply. "We actually got lucky at the last jump [a vertical towards the in-gate] – I held him a little too much, but he is a great horse and got us through it."
VDL Wittinger will attempt to repeat Thursday's victory on Saturday, July 4, in the $30,000 Vermont Summer Special Grand Prix, the first of six grand prix events during the 2015 Vermont Summer Festival.
Flint has been showing in Vermont for 15 years and was pleased to see the significant attention that was paid to the facility this year. Every competition and training surface, including the Grand Prix Arena, at Harold Beebe Farm now boasts Kruse Cushion Ride (KCR) footing.
"If we had seen rain like we did this week in past years, we wouldn't have been able to ride," stated Flint. "But it was great yesterday and again today. They have done a really great job."
In addition to their share of the prize money, the top three finishers were presented with awards from Manchester Designer Outlets in Manchester, VT. Flint earned a $1,000 gift card from New Balance, Corrigan a $500 gift card to Theory for second, and Orpen was awarded $100 to Polo Ralph Lauren for third place.
Competition at the 2015 Vermont Summer Festival runs weekly from Wednesday through Sunday, beginning at 8 a.m. Admission prices are $6 for adults, $3 for children from Wednesday through Friday. On Saturday and Sunday, admission is $9 for adults, $5 for children. 100% of the gate proceeds benefit area libraries, including Manchester Community Library.
The Vermont Summer Festival is New England's largest hunter/jumper competition, and the richest sporting event based on purse in the state of Vermont, and a proud member event of the Show Jumping Hall Of Fame, the Marshall & Sterling League, and the North American League (NAL). For over 20 years, the event has attracted exhibitors and their families to the Manchester region in southern Vermont for great competition in an ideal summer setting. Please e-mail or visit the website for more information about the Vermont Summer Festival.
$10,000 New Balance Welcome Stake, presented by Manchester Designer Outlets
Thursday, July 2, 2015
Rider Hometown Horse Faults Time
1. Amanda Flint Long Valley, NJ VDL Wittinger 0:0 31.41
2. Jonathan Corrigan Southampton, NY Aries 0:0 34.75
3. Cassandra Orpen Weston, CT Casis 0:0 35.35
4. Tommy Feigel Pompano Beach, FL Analyze This 0:0 36.45
5. Amanda Flint Long Valley, NJ Child Z 0:4 34.51
6. Michael Kirby Madison, CT KT Fre Luche 0:4 34.87
7. Agatha D'Ambra Rexford, NY Ca Va Bien 0:4 42.73
8. Jackie Mc Quade North Salem, NY Copilot 4