Ali Wolff Scores Second Equis Boutique "Best Presented Horse" Award at Winter Equestrian Festival
February 13, 2016 - Wellington, Florida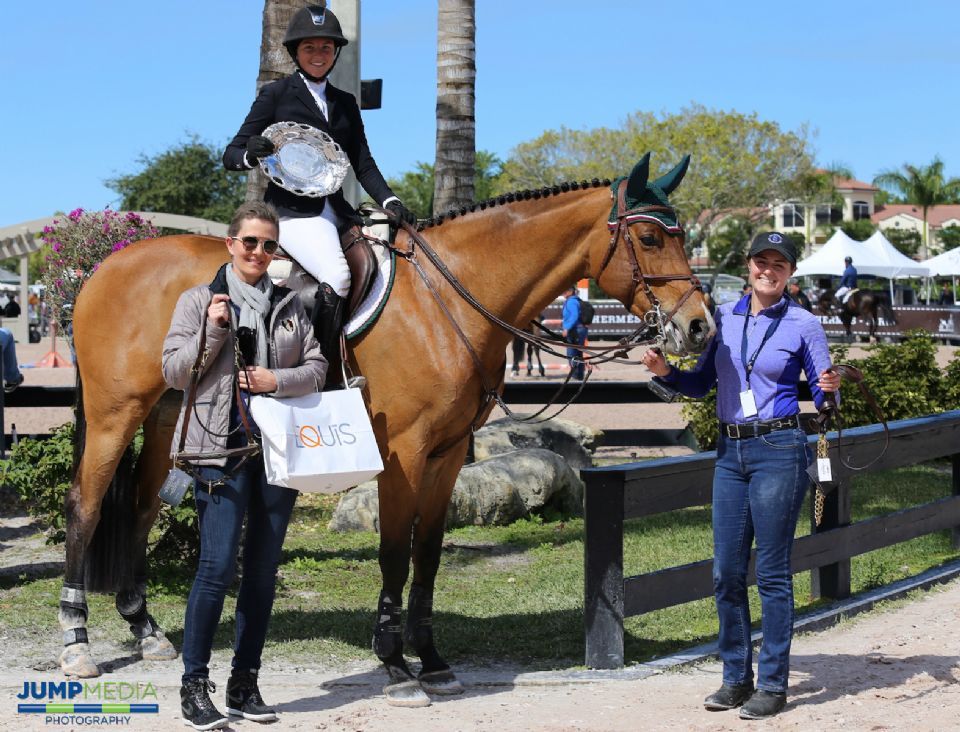 Ali Wolff, Artemis and groom Stacy Lawless are presented with the "Best Presented Horse" Award and a Dy'on halter and lead shank by Elena Couttenye of Equis Boutique during Week 5 at the Winter Equestrian Festival.
Photo by Jump Media
Ali Wolff earned her second Equis Boutique "Best Presented Horse" Award of the 2016 Winter Equestrian Festival (WEF), this time with mount Artemis during Week 5. Equis Boutique will present the award during all 11 weeks of International Equestrian Federation (FEI) sanctioned competition at the 12-week WEF in Wellington, FL.
After being named "Best Presented" during WEF 3 with her other FEI horse Caya, Wolff, (26) of New Albany, OH, went deeper into her string of pristinely presented horses to claim the Week 5 prize with Artemis, owned by John Wolff. They impressed the ground jury at the FEI Horse Inspection, earning the "Best Presented" honor from President David Distler.
During WEF 5, designated as a CSI 5* by the FEI and sponsored by Fidelity Investments®, Wolff and Artemis placed 13th out a 55 in the $130,000 Ruby et Violette WEF Challenge Cup Round 5 on Thursday, February 11 and will contest the $86,000 Suncast 1.50m on Sunday, February 14.
Wolff credits a team effort for her third-ever Equis Boutique "Best Presented Horse" Award on three different horses. Grooms Stacy Lawless and Mary Glier helped to prepare Artemis, an 11-year-old bay Zangersheide mare, for the Week 5 FEI Horse Inspection under the watchful eye of manager Diane Landreville.
"We always try to make [our horses] look as presentable as possible," said Wolff. "They jog really well – they are really comfortable with what they are doing and how they are being handled and managed. We do a lot to make sure their coat is great - great coat, healthy horse. I hope that reflects well on our barn and grooms."
Wolff was presented with a commemorative plaque by Elena Couttenye of Equis Boutique in recognition of the "Best Presented Horse" Award, as well as a leather halter and lead shank from Equis Boutique partner brand Dy'on. Each week, Equis Boutique will present a featured product from one of their partner brands as the prize for "Best Presented Horse". The prize for Week 6 will be breeches and a show shirt courtesy of Manfredi Equestrian.
"It's a great incentive and great reward," said Wolff after collecting her Week 5 prize, as well as a KASK helmet during Week 3.
Equis Boutique will honor one horse and rider with the "Best Presented Horse Award" each week of the 2016 Winter Equestrian Festival, running through April 3. At the weekly FEI Horse Inspection, the ground jury will evaluate overall turn-out of horse and rider to determine the award winner.
Equis Boutique is a shopping experience for the discerning equestrian and offers the most convenient and luxurious choice for top equine brands to dress the horse and rider. Featured brands include Parlanti, Manfredi Equestrian, KASK Helmets, Anna Scarpati, Kingsland Equestrian, Kentucky Horsewear, Dy'on, specialty imported bits, as well as Official FEI and Just World International merchandise.
For more information on Equis LLC boutiques, please visit EquisBoutique.com, or find Equis Boutique on Facebook and Instagram! Email info@equisboutique.com for questions on the stores and their products.
About Equis, LLC
Equis LLC delivers superior service in order to educate their consumers on the brands and products they offer and show the variety and quality of their made-to-order, customized products. By providing a unique shopping experience, Equis rises above your normal tack shop to offer only the best. "Live the Experience – A Boutique for the Discerning Equestrian."