Alexa Lowe-Wiseman Takes $50,000 Vermont Summer Celebration Grand Prix at Vermont Summer Festival
August 8, 2015 - East Dorset, Vermont
Alexa Lowe-Wiseman and Ami Du Houssoit on their way to victory in the $50,000 Vermont Summer Celebration Grand Prix on August 8, at the Vermont Summer Festival in East Dorset, VT.
Photo by David Mullinix Photography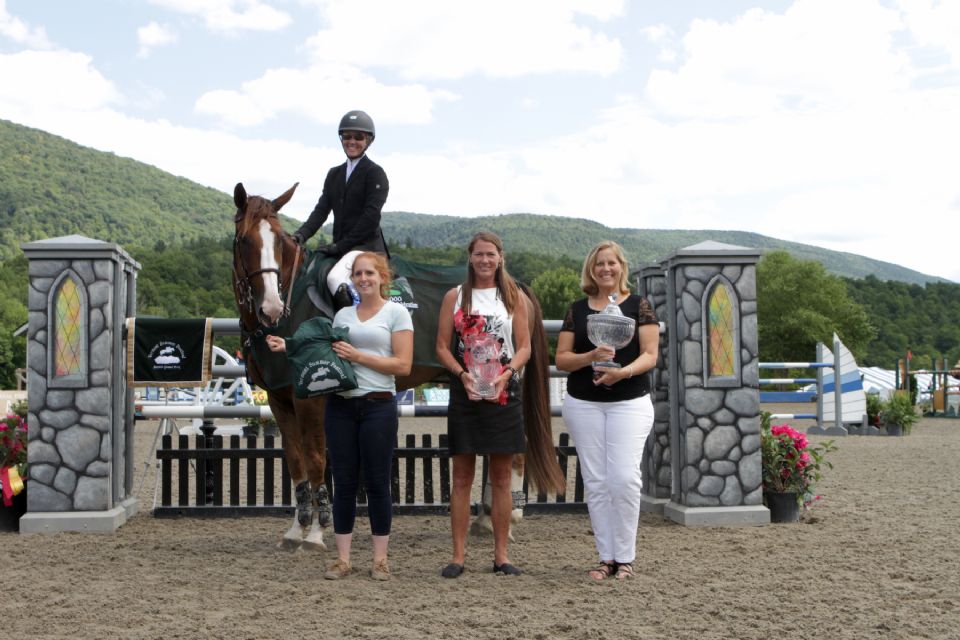 Following their win in the $50,000 Vermont Summer Celebration Grand Prix at the Vermont Summer Festival, Alexa Lowe-Wiseman and Ami Du Houssoit are joined by groom Cherie Shanley, as well as Ruth Lacey and Jennifer Glass of the Vermont Summer Festival.
Photo by David Mullinix Photography
Alexa Lowe-Wiseman of Upperville, VA, boasted the only double-clear performance of the day to win the $50,000 Vermont Summer Celebration Grand Prix aboard Ami Du Houssoit on Saturday, August 8, at the Vermont Summer Festival in East Dorset, VT. The six-week Vermont Summer Festival wraps up Sunday, August 9, at Harold Beebe Farm.
Twenty entries jumped Ken Krome's track in the finale grand prix of the 2015 Vermont Summer Festival with three advancing to the jump-off. Amateur rider Melissa Orlick-Zbierski of Wellington, FL, jumped Bonzay to the first clear over the 13 obstacles in the first round. She was later joined by 21-year-old young professional Elizabeth Mahoney of Bedford, NY, with Mimosa, and finally fellow amateur Lowe-Wiseman on Ami Du Houssoit.
Returning first over the short course, Orlick-Zbierski picked up four faults when the top rail of a vertical fell halfway to the finish line. She crossed the timers in a fast 45.50 seconds with two behind her. Mahoney and Mimosa followed and also pulled a rail at the second fence of the track. They broke the tape in 51.94 seconds to sit second with only Lowe-Wiseman left to return.
The only rider to best both tracks, Lowe-Wiseman and Ami Du Houssoit were clear through the jump-off timers and stopped the clock at 48.03 seconds for the win. Orlick-Zbierski and Bonzay were second for Isotropic Networks, Inc., while Mahoney and her own Mimosa were bumped to third.
"After looking at the lineup, I'm pretty sure everybody was shocked that we were the three in the jump-off," joked Lowe-Wiseman. "I don't know these two girls, but I watched their jump-off rides and they certainly made me work for it, so well done to them."
The fastest four-fault ride from the first round came from Manuel Torres of Leesburg, VA, and Anabella. They picked up fourth for Santa Catalina Farm in 78.48 seconds. Leann Kelly of Valatie, NY, and Leander, owned by Honorway Farm, LLC, rounded out the top five with one rail over the original track in 79.83 seconds.
Lowe-Wiseman imported Ami Du Houssoit, who she calls Ami, as a seven-year-old two years ago. The now nine-year-old Belgian-bred gelding (Rexar Du Houssoit x Quitine Du Houssoit) just stepped up to the grand prix level this year.
After jumping 1.40m tracks as a seven-year-old and carrying Lowe-Wiseman in the High Amateur divisions over the past year, Ami proved to have a bright future this weekend.
"He's been playing in 1.45m classes and was clean with a time fault in his first-ever grand prix at Upperville," said Lowe-Wiseman. "He's going better and better each day. I think the horse has everything and I hope to be able to jump some big tracks with him in the future."
Characterized as a "funny horse" by Lowe-Wiseman, Ami is rather cold outside the show ring, but exhibits a different personality when winning is on the line. "He knows what it's about in the ring and can be quite strong," she said. "But, he wants to jump the jumps clean, so normally if I stay out of his way that's what happens."
Krome's courses featured a double and triple combination, as well as a triple bar that made an appearance in both rounds. Tough enough, by Lowe-Wiseman's observation after her first ride on Gringo, she knew Ami had what it was going to take.
"I over-rode my first one a little and had two rails down. I knew there weren't going to be a lot clear after that, but I also knew I had to keep my head for Ami," she said. "It worked in my favor and I was so lucky to go last. I still went for it because you can always have the last fence down in the jump-off. My strategy was to go as fast as the first two, so if I had a rail I could still win. Fortunately, Ami didn't make that an issue for us."
Lowe-Wiseman hasn't shown in Vermont for many years, but returned this year with her string of young horses. "When I heard they had redone the footing I decided to come back and it has been really good," she said. "It's a nice opportunity to be able to come here and have some reasonable tracks to jump young horses over."
In addition to the winner's purse, Lowe-Wiseman was honored with prizes for her win, including a scrim from Mona's Monograms. The Vermont Summer Festival also recognized her groom with the weekly Grand Prix Groom Award. In recognition of her hard work to prepare Ami for grand prix competition, Cherie Shanley was presented with a monogrammed jacket and coolerette from sponsor Glenn Geary of Horsewatch.
Competition at the 2015 Vermont Summer Festival runs through Sunday, August 9. Gates open at 8 a.m. and weekend admission is $9 for adults, $5 for children. 100% of the gate proceeds benefit the Manchester Community Library and Dorset Equine Rescue.
The Vermont Summer Festival is New England's largest hunter/jumper competition, and the richest sporting event based on purse in the state of Vermont. It is a proud member event of the Show Jumping Hall of Fame, the Marshall & Sterling League, and the North American League (NAL). For over 20 years, the event has attracted exhibitors and their families to the Manchester region in southern Vermont for great competition in an ideal summer setting.
Please e-mail or visit the website for more information about the Vermont Summer Festival.
$50,000 Vermont Summer Celebration Grand Prix
Saturday, August 8, 2015
Rider Hometown Horse Faults Time
1. Alexa Lowe-Wiseman Upperville, VA Ami Du Houssoit 0:0 48.03
2. Melissa Orlick-Zbierski Wellington, FL Bonzay 0:4 45.50
3. Elizabeth Mahoney Bedford, NY Mimosa 0:4 51.94
4. Manuel Torres Leesburg, VA Anabella 4 78.48
5. Leann Kelly Valatie, NY Leander 4 79.83
6. Kelly Soleau Marlborough, CT Itty Bitty 4 79.86
7. Julie Welles Wellington, FL Bazooka De Muze 4 79.99
8. Julie Welles Wellington, FL Virginia W Z 4 80.28
9. Catherine Tyree Chicago, IL FreeStyleVanPolderhoff 4 81.29
10. Marylisa Leffler Brookeville, MD Carlot 4 82.43
11. Jimmy Torano Wellington, FL Daydream 4 83.36
12. Amanda Forte Glenmoore, PA HHS Louis 4 84.05