On The Job with Laura Connaway
October 16, 2020
We recently kicked off a series of looks into the professional side of the equine industry on The Blog. You can read the first posts with Jump Media staffer Lindsay Brock here, and BarnManager founder and CEO Nicole Lakin here. The following is the next edition from Laura Connaway, president of Connaway Associates Equine Insurance Services.
Horses have always been a part of my life. I have a sister that is a bit older than I am and we shared a horse-crazy gene handed down from our Mother, Mormor (Danish for Grandmother), Morfar (Danish for Grandfather), as well as my great grandfather. It seemed very normal to have dogs, cats, rabbits, and horses, and since animals were always part of my day-to-day life, I never considered a stage in life without horses.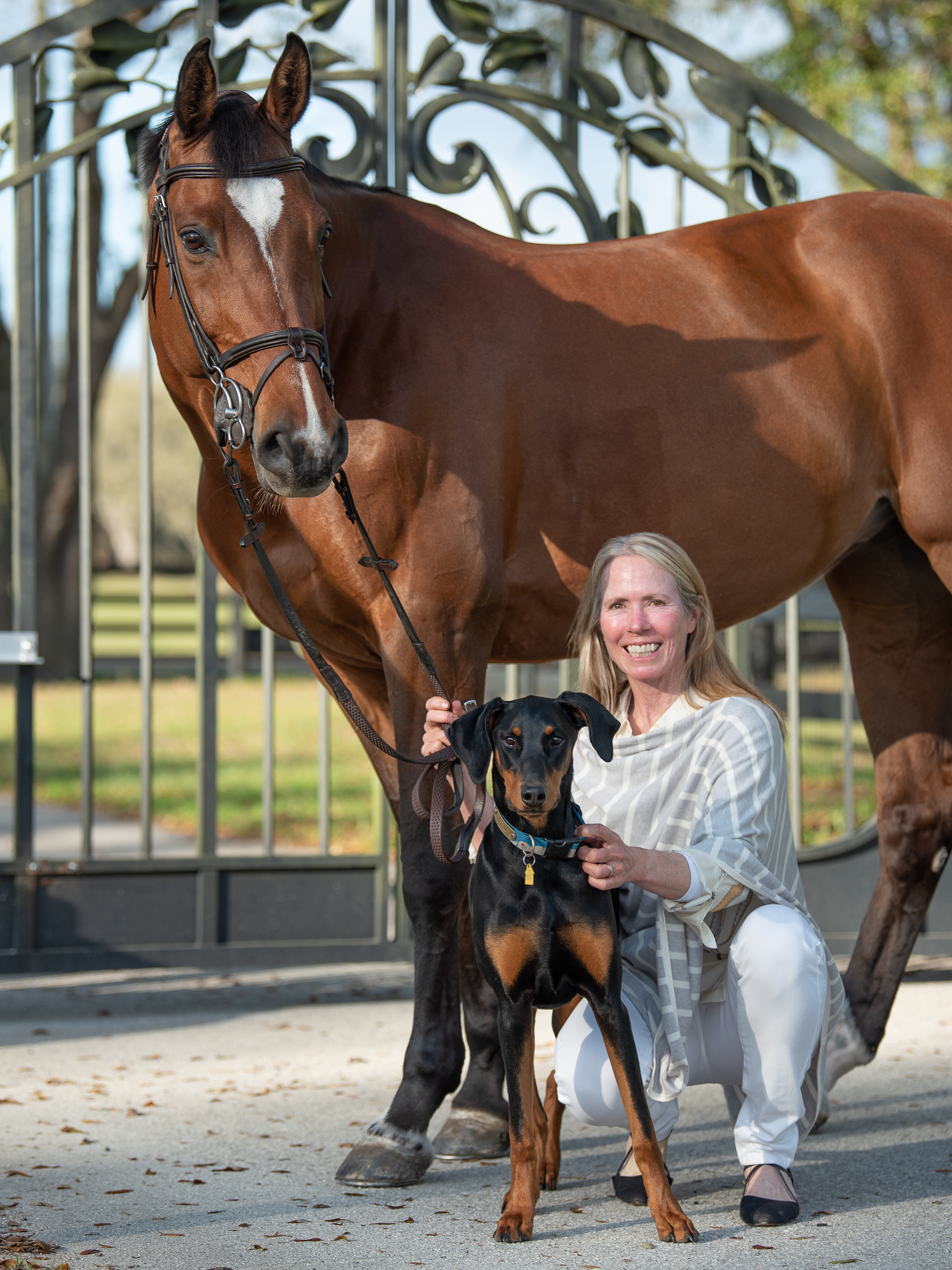 Laura pictured with her hombred, Ceralena, and her pup, Guard Flower.
Photo courtesy of Sandy Gregory
I may not have had the time or funds to show horses at certain times, but I always rode and had plans to work toward showing. Even when I wasn't actively competing, I was constantly fine-tuning skills so I could be successful at shows in the future. I've always considered a horse show to be a "test" to let you know if your work at home was on task. With that in mind, stepping away from showing from time to time never bothered me because I was still preparing to be successful at my next "test."
The role horses have played in my life has varied. Even now, their role is very dependent on the horses I have in my stable. For instance, if a horse is hurt, I step back and focus on the horse's healing, a process that's often dictated by time alone.
The Stages of Horse Sport
I feel that it is important to acknowledge the various stages you go through in this sport; stages where you might be able show extensively and stages where you might be preparing yourself for a solid financial future so that horses can always be in your life.
Many of the stages I went through required a lot of balance and a strict schedule. Having a schedule and business responsibilities is important to me. I am a person that is happiest with a schedule and challenges in multiple areas of my life. Work-related responsibilities keep me focused and looking forward to the time I have set aside to ride and be with my horses and animals. So, balancing my schedule to include things most important to me increases the enjoyment I get from each facet. I look forward to my morning run, knowing that I need to start at 6:30am so I can be grooming my horse by 7:30 a.m. This gives me time to ride and to get to my office at 10:30 a.m. or 11:00 a.m.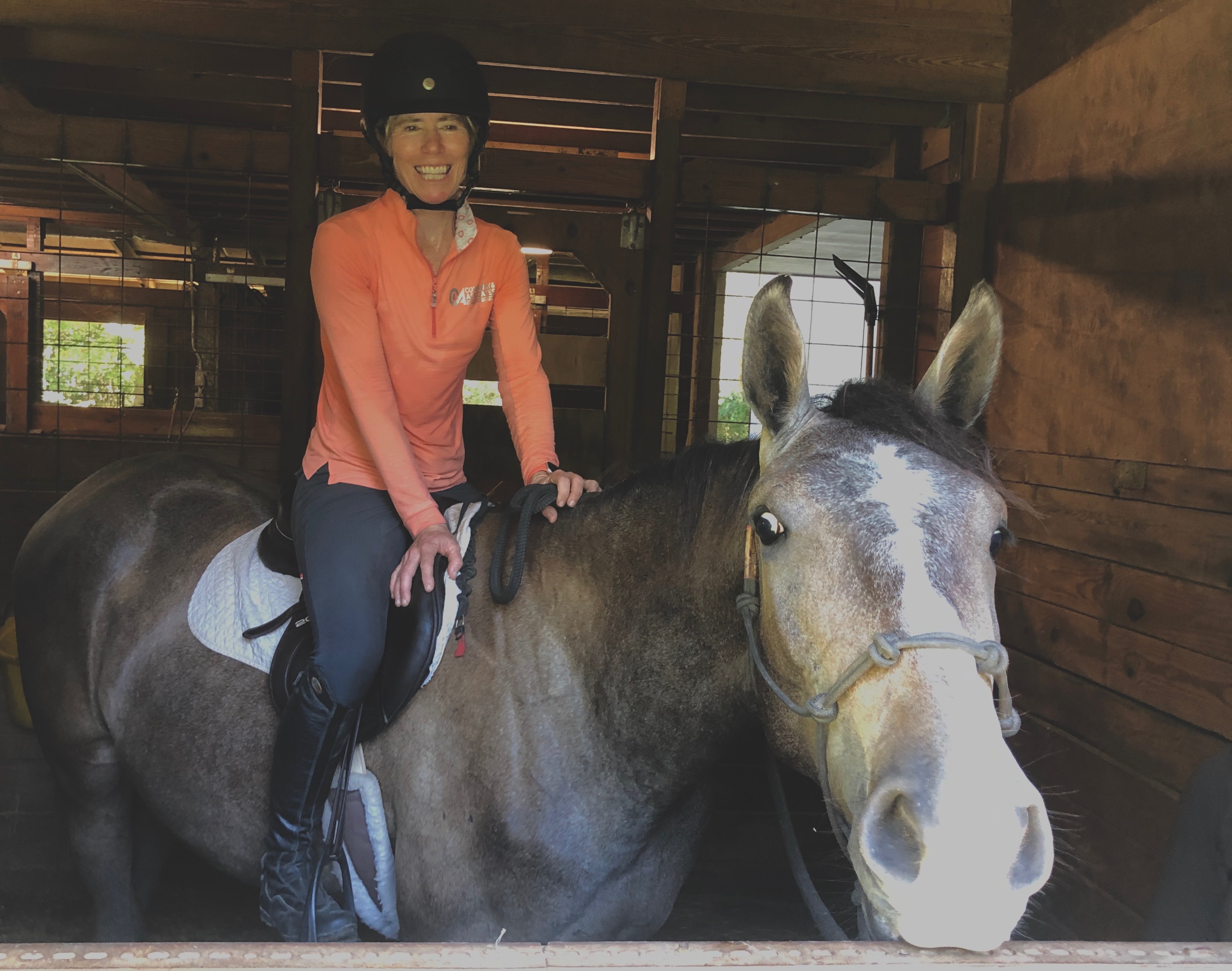 Laura Connaway backs her two-year-old homebred, Desiderata, for the first time.
Photo courtesy of Laura Connaway
I founded Connaway & Associates at a time when the insurance agents for horses were primarily concerned with Thoroughbred racing stock — they didn't necessarily know about our sport.
Years ago, when I would go to insure my own horses, I had no idea who the person was sitting behind the desk. If you had a problem, you could call someone, but they might not be able to answer your question, or they might not even take your call. I thought it would be great if agents were your contemporaries, knew the sport, and answered your questions face-to-face. The transaction would be a lot more personal this way.
To Be or Not To Be…A Professional
I love when people ask me if I have thought about turning professional because I never considered riding or training professionally. Even though I ride my horses at a high level, I do not feel qualified to teach or train and I'm not comfortable teaching. I am, however, the consummate student; I crave learning and expanding my abilities. Additionally, I get so attached to the horses I ride that it would be very hard for me to ride a horse that I didn't own. Knowing that an owner could remove a horse from my care would leave me heartbroken. Owning my horses—just like owning my dogs, cats, and rabbits—has always seemed like the only avenue for me. Knowing this about myself enabled me to seek a profession outside of riding and teaching.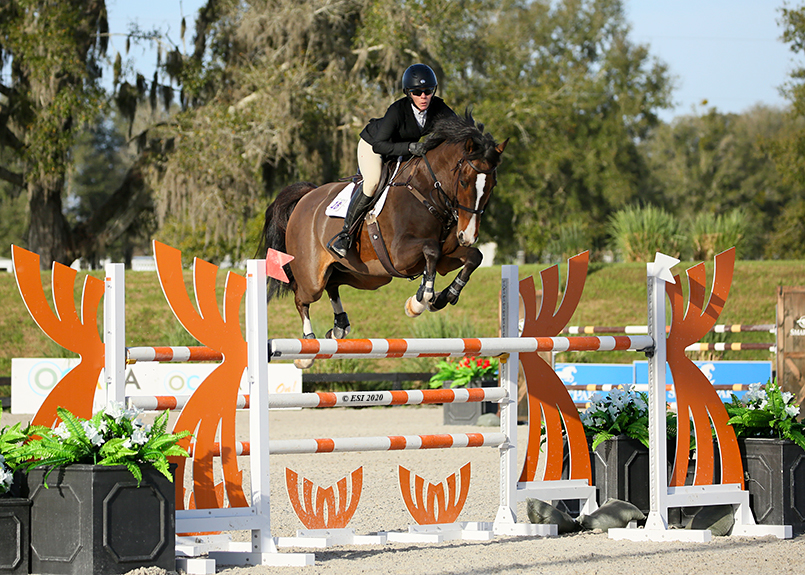 Laura Connaway competing her homebred, Quite Easy, in Ocala, FL.
Photo courtesy of ESI Photography
The horses I own and train merge so well with working in the equine insurance industry because they constantly remind me of the passion our customers have and the importance of each horse and each customer. Our customers love their horses and our sport, which makes talking with each of them a highlight in my day. My interest in breeding stems from many aspects of my personality. My competitive nature and aspirations to compete at the top of the sport sparked the desire to ride the best horse available. Since I am financially responsible for myself and the purchases I make, breeding was much more cost effective than purchasing a clearly talented horse. I also love training and bonding with a young horse—it's one of my favorite activities.
Advice For Those Considering a Career with Horses
New opportunities are presenting themselves every day with specialty products, online training, podcasts, and blogs. There are also many more remote job opportunities.
Horses and all animals are the most amazing beings, and they deserve talented people on their side! My advice is to think about what aspects of our beloved sport make you the happiest then work to keep that aspect in your life. We are not all destined to be professional riders and trainers, but that doesn't mean we cannot enjoy what we love most about our sport and our horses.
I also think it's important to immerse yourself in business. Work hard in an area that interests you and once you have established a good working relationship with your employer and you have demonstrated that you are responsible and valuable, you'll find you are presented with more flexibility for riding and showing. For me, business is a challenge that I adore—it rounds out life so well.
There are so many stories out there of people finding their niche and blazing their own career paths in the horse industry. Over the next several months, we are going to be sharing some of those stories. Stay tuned!