Carlee McCutcheon Clutches Capital Challenge Victory in Palm Beach International North American Junior Equitation Championships
October 2, 2022 - Upper Marlboro, MD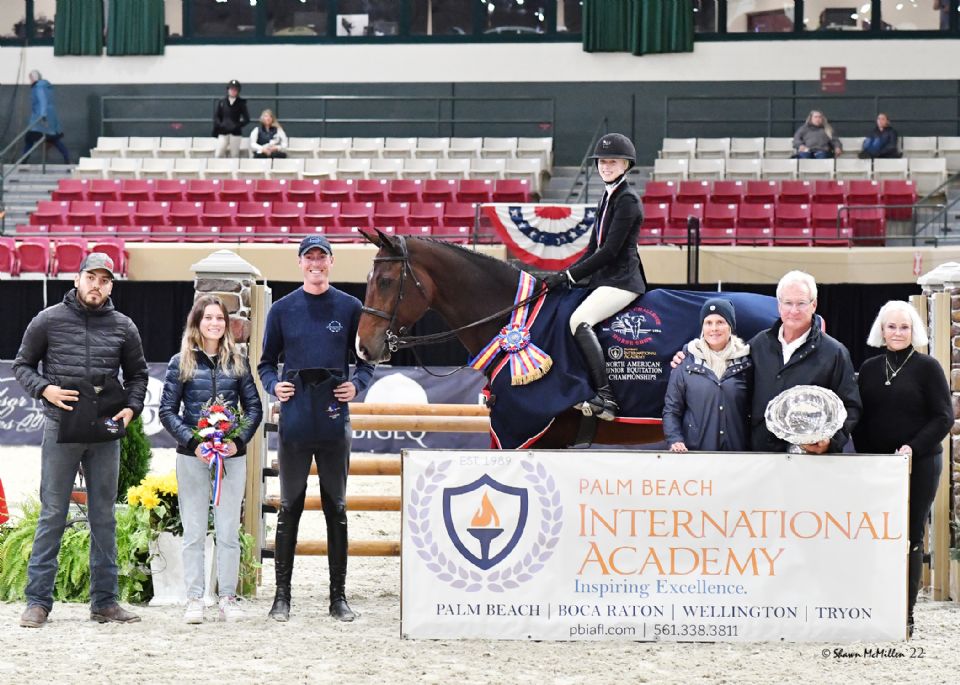 Carlee McCutcheon was joined in her winning presentation of the Palm Beach International Academy North American Junior Equitation Championships by Valdo Rivera, last year's winner Grace Debney, TJ O'Mara, Jennifer Madden, Frank Madden, and Leslie Steele.
Photo by Shawn McMillen Photography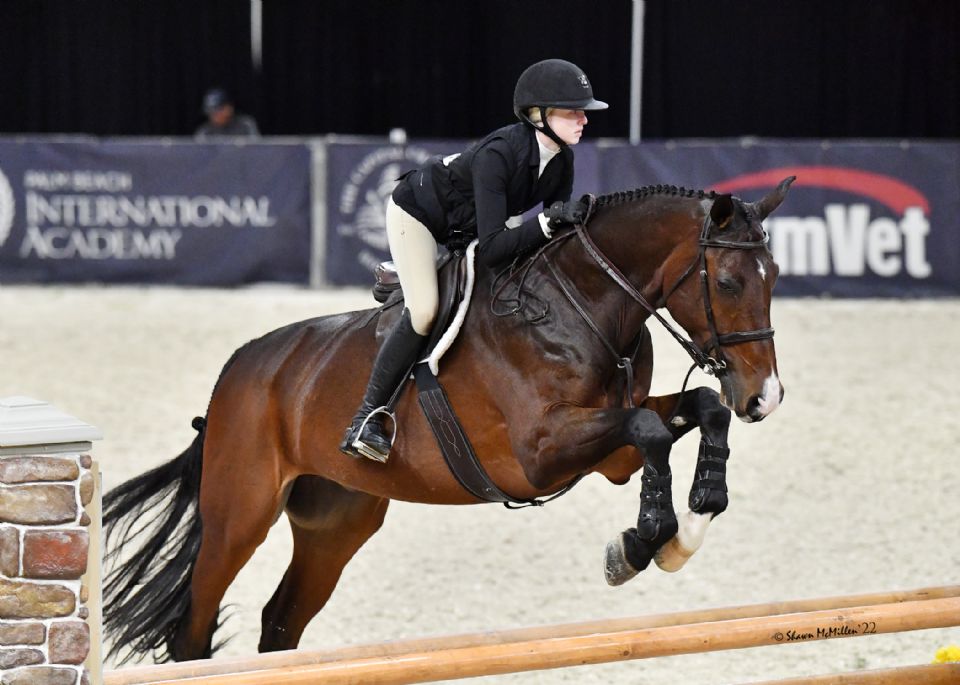 On the final day of the Capital Challenge Horse Show's Equitation Weekend, presented by BIGEQ.com, 148 riders rode into the Show Place Arena at Prince George's Equestrian Center for the Palm Beach International Academy (PBIA) North American Junior Equitation Championships. After a callback for the top 20 and a work-off for the top three, Carlee McCutcheon of Aubrey, Texas, emerged victorious.
"It's an honor to win this class," emphasized McCutcheon. "I've never been to Capital Challenge before, so to win this class and to be here with such an amazing and supportive team is really amazing. It's a great feeling."
Similar to Saturday's Taylor Harris Insurance Services (THIS) National Children's Medal Finals, three panels composed of two judges each awarded scores, and the average of the three resulted in the rider's overall mark. The first panel was made up of Tom Brennan and Bobbi Reber. Shane George and Gavin Moylan sat on the second panel, and the third duo was Dale Pederson and Tammy Provost.
McCutcheon was 25th in the order of go with Kennedy McCaulley's Chacco Star and shot right to the top of the leaderboard with an average score of 89.33. That lasted until Skylar Wireman of Bonsall, California, rode MKT Investments LLC's Famous into first-place with an equal score, but a higher mark from the panel one judges. Eight trips later, Isabella David of Holmdel, New Jersey, broke out of the 80's, notching an average score of 90 aboard Castlefield Spartacus.
"I think the first round was definitely a test," noted McCutcheon of the challenging Ken Krome-designed track. "I thought the lines rode short. My horse has a huge stride, and in a small ring it can be hard to get galloping and have that nice, out-of-stride equitation look."
The top 20 riders then returned in reverse order based on their first-round scores. While the first course featured several bending lines, the callback track had more twists and rollback turns. McCutcheon kept her composure and delivered the high score of the round, 90.83, for an overall score of 180.16, moving her into the lead.
"Going into the second round 'Chacco' felt amazing warming up," said McCutcheon of the 14-year-old Oldenburg gelding (Chacco-Blue x Caretano Z) that she's been paired with since February 2022. "I can be a little bit timid sometimes when I go in the show ring, but he helps make me brave. I know I can trust him.
"I actually preferred the course in the second round, because when you get Chacco going, he has an amazing jump, so I was excited," she continued.
After the second round, Wireman was .67 points behind the lead with an overall score of 179.49 and David was just .16 points behind that, scoring 179.33. Because the scores were so close, the judges tested the top three. McCutcheon, Wireman, and David were called into the arena away from their trainers while the test was read aloud. The test included a hand gallop to an oxer to a trot fence, as well as a counter canter off a short turn to the same bounce combination from round two. No scores were announced, and riders had to wait to hear the results.
When the dust settled, it was McCutcheon who triumphed, with David awarded the reserve championship honors, and Wireman finishing in third. Following her win, and with her parents cheering her on over FaceTime, McCutcheon was elated but was quick to give credit to the appropriately named Chacco Star.
"He definitely knows he's a star," she stated. "He knows that he is amazing, and he's spoiled and wants attention and snacks all the time. He is just the sweetest horse with the best personality. He's the best horse I've ever ridden, so it's so much of a confidence booster knowing that I have such a special partner."
For her win, McCutcheon was given the Best Equitation Rider Award, sponsored by Karen Healey, and trainers Max Amaya and TJ O'Mara of Stonehenge Stables in Colts Neck, New Jersey, were given the Leading Equitation Trainers Award, sponsored by Leslie Steele and Acres West.
Wireman, who trains with her mother Shayne Berridge Wireman in Bonsall, California, as well as with the team at Heritage Farm in Katonah, New York, was awarded with the EMO Equitation Trip of the Show, sponsored by EMO Insurance, for having the highest scoring equitation round in the age group equitation division, a 90.5 in the 17-Year-Old Equitation Section B.
The Glena Wirtanen Sportsmanship Trophy was also awarded on Sunday to Nicolette Perry of Medford, New Jersey. This honor is given to a junior Equitation Weekend competitor, selected by the stewards and schooling supervisors, that exemplifies qualities of a true horseperson, sportsmanship, horsemanship, and turnout of both horse and rider.
While Equitation Weekend, presented by BIGEQ.com, has come to a close, the Capital Challenge Horse Show continues through October 9.

PBIA North American Junior Equitation Championships Results
Place / Rider / Horse / Overall
1 / Carlee McCutcheon / Chacco Star / 180.16
2 / Isabella David / Castlefield Spartacus / 179.33
3 / Skylar Wireman / Famous / 179.49
4 / Nicole McMillion / Vagrant Z / 175.54
5 / Augusta Iwasaki / Attendu De Lannois Z / 175.34
6 / Ariana Marnell / Showcase / 174.27
7 / Madison Nadolenco / Caracas 89 / 174.01
8 / Sterling Malnik / Cornell 22 / 172.41
9 / Grace Shipman / Attendu De Lannois Z / 172.39
10 / Reese Merna / Trouvaille / 171.21
11 / Kyla Sullivan / Kenan / 171.04
12 / Annalise Manoog / Carollo / 169.58