Top Riders Return to Nation's Capital for 2015 Washington International Horse Show
September 19, 2015 - Washington, DC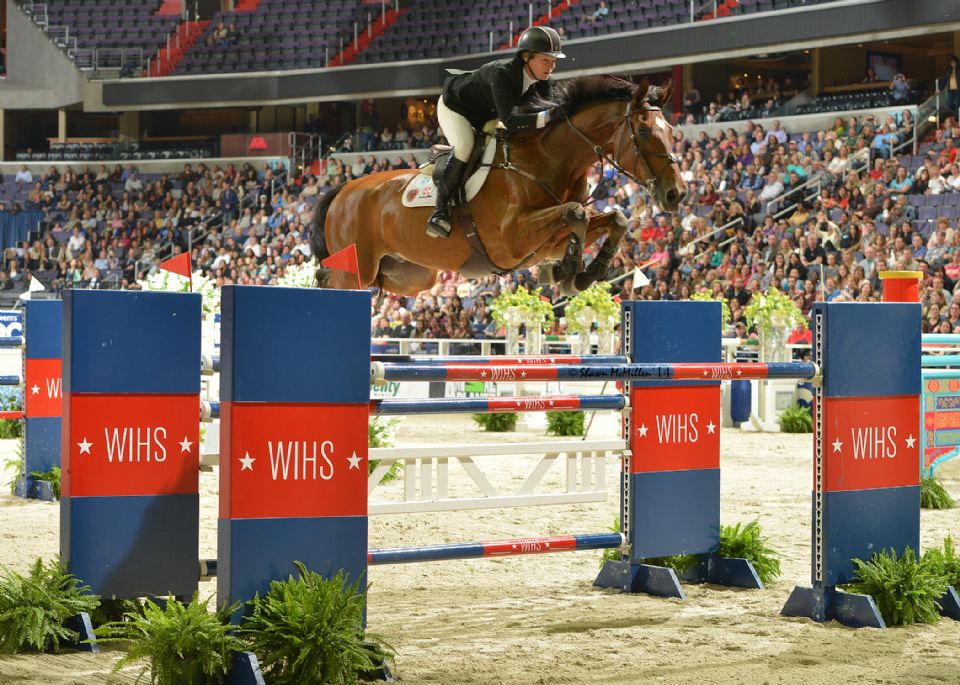 McLain Ward will be back at Washington this year to defend his title as winner of the $125,000 President's Cup Grand Prix World Cup qualifier!
Photo by Shawn McMillen Photography
Qualifying Lists Now Available Online
A lineup of top international show jumpers and many of the nation's best horses and riders are slated to compete at this year's 57th annual Washington International Horse Show (WIHS) on October 20-25 at Verizon Center in downtown Washington, D.C. One of the year's most esteemed equestrian competitions, WIHS draws some of the biggest names in the sport, including Olympians and rising young stars. The qualifying lists for all divisions, including the WIHS Equitation Finals and WIHS Championship Finals are now available online at www.wihs.org/qualifying-lists.
"We anticipate welcoming some of the best international show jumpers to Washington," said WIHS horse show manager David Distler. "With the addition of our show to the new Longines FEI World CupTM North American League, it will be another step up in 2015. And, to make this an even better experience for our competitors, we have upgraded the footing in the show ring and the schooling ring this year."
Top ranked U.S. show jumper and two-time Olympic team gold medalist Beezie Madden is no stranger to WIHS and enjoys the world-class competition and unique venue each year.
"I love that the show is right in the city," said Madden. "The arena at Verizon Center has a fantastic atmosphere and the crowds are so enthusiastic. WIHS is very involved with the local community and the DC community comes out to support the show. The prize money is good, and this year it should be especially exciting with Longines joining them."
"I think WIHS is the only show in the U. S. that is really in the heart of the city to highlight our sport," she added. "The city atmosphere is really what sets it apart."
This year's Pan American Games individual gold medalist and two-time U.S. Olympic team gold medalist McLain Ward will return to WIHS to defend his title as winner of the storied President's Cup Grand Prix. The $125,000 Longines FEI World CupTM Jumping Washington, presented by Events DC, for the President's Cup, will be the featured event on Saturday, October 24.
"I have always enjoyed competing at Washington and love that the show is held downtown at Verizon Center," said Ward. "It's always a very special week. There are more and more spectators every year, and there's always been a great audience for the grand prix. Military Night featuring the Puissance traditionally is very popular, too. Having it downtown is something that you cannot recreate in other venues."
Other big names from the U.S. show jumping ranks coming to WIHS include Ward's Pan American Games teammates Kent Farrington, Todd Minikus, and Georgina Bloomberg. Fan favorites Laura Kraut, Reed Kessler and Margie Engle also plan to compete.
Along with top riders for the United States, a strong contingent of foreign riders are slated to compete including Harrie Smolders from The Netherlands, Irish show jumpers Darragh Kenny, Conor Swail and Shane Sweetnam, Belgians Nicola and Olivier Philippaerts, Jos Verlooy, and Francois Mathy Jr., as well as Colombia's Daniel Bluman.
An exciting addition to the show jumping roster this year is Hardin Towell, who returns to WIHS for the first time in nine years. The last time Towell competed at Verizon Center was in 2006 when he won the WIHS Equitation Finals as a junior. He now competes as an international show jumper and looks forward to a new experience at WIHS.
"It will be nice to be back," said Towell. "I competed at the Longines FEI World CupTM Finals for the first time this year, and I am really striving to qualify for the Finals again in 2016. I am only taking one horse to Washington, so it will be a pretty light week, but it will be nice to get back and show in that ring. It is always a good time."
Hunter and equitation riders have been competing throughout the year for the chance to qualify for Washington, and those with the most points have earned coveted spots in their divisions and in the highly anticipated Finals, including the WIHS Children's Jumper Championship, WIHS Adult Hunter Championship, WIHS Children's Hunter Championship, WIHS Adult Jumper Championship, WIHS Equitation Finals and the WIHS Pony Equitation Finals.
With a star-studded lineup of riders with many of their best horses, international show jumping competition will be intense. Highlights include the $20,000 International Jumper Gambler's Choice Costume Class, presented by Winter Equestrian Festival (Thursday night); the $50,000 International Jumper Speed Final and The Boeing Company $25,000 International Jumper Puissance, an exhilarating high jump competition, on Military Night (Friday); and the featured event of the week, the $125,000 Longines FEI World CupTM Jumping Washington, presented by Events DC, for the President's Cup (Saturday night).
International riders competing at the WIHS in 2015:
U.S. Riders
Beezie Madden
Kent Farrington
McLain Ward
Laura Kraut
Margie Engle
Todd Minikus
Georgina Bloomberg
Reed Kessler
David Beisel
Hardin Towell
Candice King
Schuyler Riley
Charlie Jayne
Aaron Vale
Charlie Jacobs
Kaitlin Campbell
Callan Solem
Kirsten Coe
Andrew Kocher
Leslie Howard
Audrey Coulter
Kim Prince
Alison Robitaille
Katie Dinan
Foreign Riders
Harrie Smolders (NED)
Darragh Kenny (IRE)
Conor Swail (IRE)
Olivier Philippaerts (BEL)
Jos Verlooy (BEL)
Nicola Philippaerts (BEL)
Daniel Bluman (COL)
Shane Sweetnam (IRE)
Francois Mathy (BEL)

About WIHS, www.wihs.org
Established in 1958, the Washington International Horse Show is one of the most prestigious equestrian sporting events in the U.S. More than 26,000 spectators attend the six-day show, which includes Olympic-level competition along with community and charity events. More than 500 top horses and riders come to D.C. from all over the globe to jump for more than a half a million dollars in prize money. Event highlights include the $125,000 President's Cup Longines FEI World CupTM Jumping Washington, presented by Events DC, for the President's Cup (Saturday night), The Boeing Company Puissance high jump competition on Military Night (Friday) and Kids' Day (Saturday), a free, fun and educational community event. The Washington International Horse Show Association, Ltd. is a 501(c)(3) nonprofit charitable organization headquartered in Washington, D.C. WIHS is an official USEF Heritage Competition and is recognized as a Top 25 Horse Show by the North American Riders Group. WIHS is rated CSI4*-W by the Fédération Equestre Internationale, the world governing body for horse sports.