Prize List for Washington International Horse Show presented by MARS Equestrian Now Available Online
All New! WIHS President's Cup Grand Prix presented by MARS Equestrian Taking Place at Tryon International Equestrian Center
August 27, 2020 - Washington, D.C.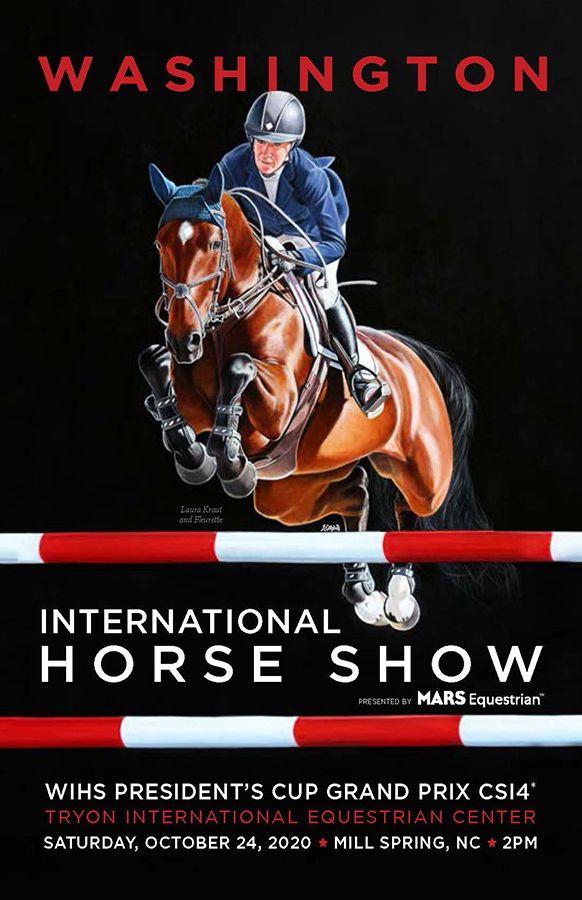 Special thanks goes to the WIHS Official Artist,
Sharon Lynn Campbell
Sharon Lynn Campbell, who created the stunning portrait of the 2019 President's Cup Grand Prix winners, Laura Kraut and Fleurette, owned by St. Bride's Farm.
The Prize List for the 2020 Washington International Horse Show (WIHS) presented by MARS Equestrian™ taking place at Tryon International Equestrian Center (TIEC), October 21 – 25, 2020, is now available online. In addition to the previously announced WIHS Championship classes to be held at TIEC this year, the WIHS President's Cup Grand Prix CSI4* presented by MARS Equestrian™ will also be hosted by TIEC on its original date of October 24, 2020, at 2 p.m.
COMPETITION INFORMATION
Entries for WIHS Championship classes close on September 15 and will be accepted through online submission only. Acceptance emails will be sent after entries are received. Stabling arrangements can be made after acceptance through a unique stabling link provided to each competitor.
Entries for the WIHS President's Cup Grand Prix CSI4* presented by MARS Equestrian being hosted by TIEC this year will be completed through TIEC. Additional details and prize money information will be released in the coming weeks.
While spectator access will be prohibited, all WIHS events will be streamed live on USEF Network.
TIEC VENUE
As previously announced, due to COVID-19 restrictions in Washington, D.C., Capital One Arena remains closed and unable to host WIHS. In an effort to find an outdoor venue equipped to accommodate effective social distancing and abide by all CDC and USEF COVID-19 protocols, TIEC was selected as the 2020 location in cooperation with the Pennsylvania National Horse Show (PNHS) and US Equestrian (USEF).
View TIEC's Completed COVID-19 Action Plan
"The organizations involved in making this happen worked tirelessly to seek out a venue that would not only offer the prestigious level of competition that WIHS is known for, but to also guarantee a safe competition environment," said Victoria Lowell, President of WIHS. "We anticipate the same quality of competition that has become synonymous with WIHS in the past. WIHS is a cherished event on the North American show jumping scene, and we are dedicated to adapting to a changing environment and producing a safe and successful event for all those involved."
The health and safety of WIHS exhibitors, staff, and sponsors is the top priority for WIHS in this unprecedented year. Safety protocols will be enacted to provide as contactless an experience as possible. To learn more about the COVID-19 precautions and changes being made to WIHS for 2020, please CLICK HERE.
2020 WIHS TRAVEL INFORMATION
Delta Air Lines is pleased to offer its Meeting Network® program to WIHS as the Official Airline of WIHS.
Discounted Delta Meeting Network® flights can be booked HERE with WIHS Meeting Event Code: NMUHK.
For information on lodging options, please email lodging@tryon.com.
For more information, please visit www.wihs.org, join us on Facebook, and follow us on Twitter and Instagram, YouTube, and Snapchat. Tag us using #WIHS2020.