Martha W. Jolicoeur Presents Leading Lady Rider Award at 2018 Winter Equestrian Festival
December 13, 2017 - Wellington, FL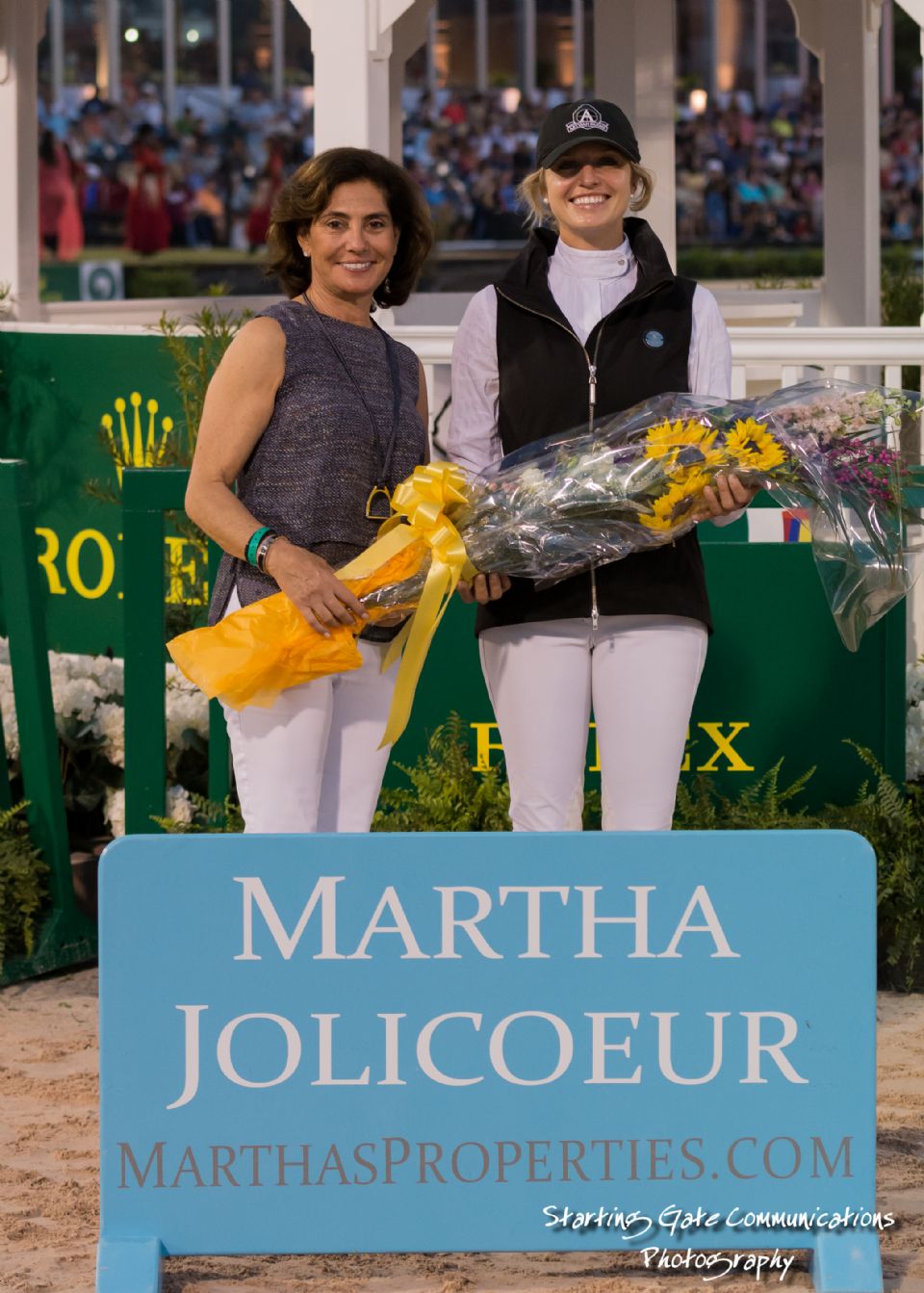 Martha Jolicoeur presents the Martha Jolicoeur Overall Leading Lady Rider Award, in memory of Dale Lawler, to two-time Canadian Olympian Tiffany Foster during the 2016 Winter Equestrian Festival in Wellington, FL.
Photo by Starting Gate Communications
Martha W. Jolicoeur will present the Martha Jolicoeur Leading Lady Rider Award for the eighth consecutive season at the 2018 Winter Equestrian Festival running January 10 through April 1 in Wellington, FL.
A steadfast sponsor of the Winter Equestrian Festival since 2010, leading South Florida real estate broker Martha W. Jolicoeur is a part of the elite Douglas Elliman Real Estate Sports and Entertainment division. Based in Wellington, Jolicoeur has been serving the Wellington equestrian community full-time since 2005 and specializes in both residential and farm properties that fit her clients' lifestyles.
"Equestrian sport is the only Olympic discipline where men and women compete against each other, and I enjoy recognizing the women who rise to the top among some of the best riders in the world," said Jolicoeur, a competitive amateur rider in her own right. "The Leading Lady Rider Award was my favorite to try and win when I was competing, so it has been a very special opportunity to present the Leading Lady Rider Award for the past seven years, and I look forward to meeting even more talented female riders during the 2018 WEF season."
Jolicoeur will present the weekly Martha Jolicoeur Leading Lady Rider Award, given in memory of fellow realtor and horseman Dale Lawler, to the high-score female rider based on performances in the weekly WEF Challenge Cup Series and grand prix events. In addition, the cumulative highest scoring lady rider will be presented with the Overall WEF Leading Lady Rider Award at the completion of the 2018 Winter Equestrian Festival.
In addition to presenting the Leading Lady Rider award, Jolicoeur is the title sponsor of the Low Junior/Amateur-Owner Jumper Division throughout the 12-week Winter Equestrian Festival. The division consists of three jumping events, including the $10,000 Low Junior/Amateur-Owner Jumper Classic held each Sunday.
"Wellington is the winter equestrian capital of the world, and the Winter Equestrian Festival has equipped me with unique opportunities to help buyers and sellers find their own piece of horse heaven," said Jolicoeur, who has been working within the Wellington real estate community since 2005. "It is an honor to be involved with the Winter Equestrian Festival and to interact with some of the world's top show jumping athletes, trainers, and owners looking to find a place to call their own or sell in Wellington."
To find out more about Martha W. Jolicoeur and her range of property listings, visit www.marthasproperties.com. Also, find her on Facebook and Instagram for a behind-the-scenes look at her available Wellington properties.