Germany's David Will Scores Back-to-Back Victories at Royal Horse Show
November 11, 2016 - Toronto, Ontario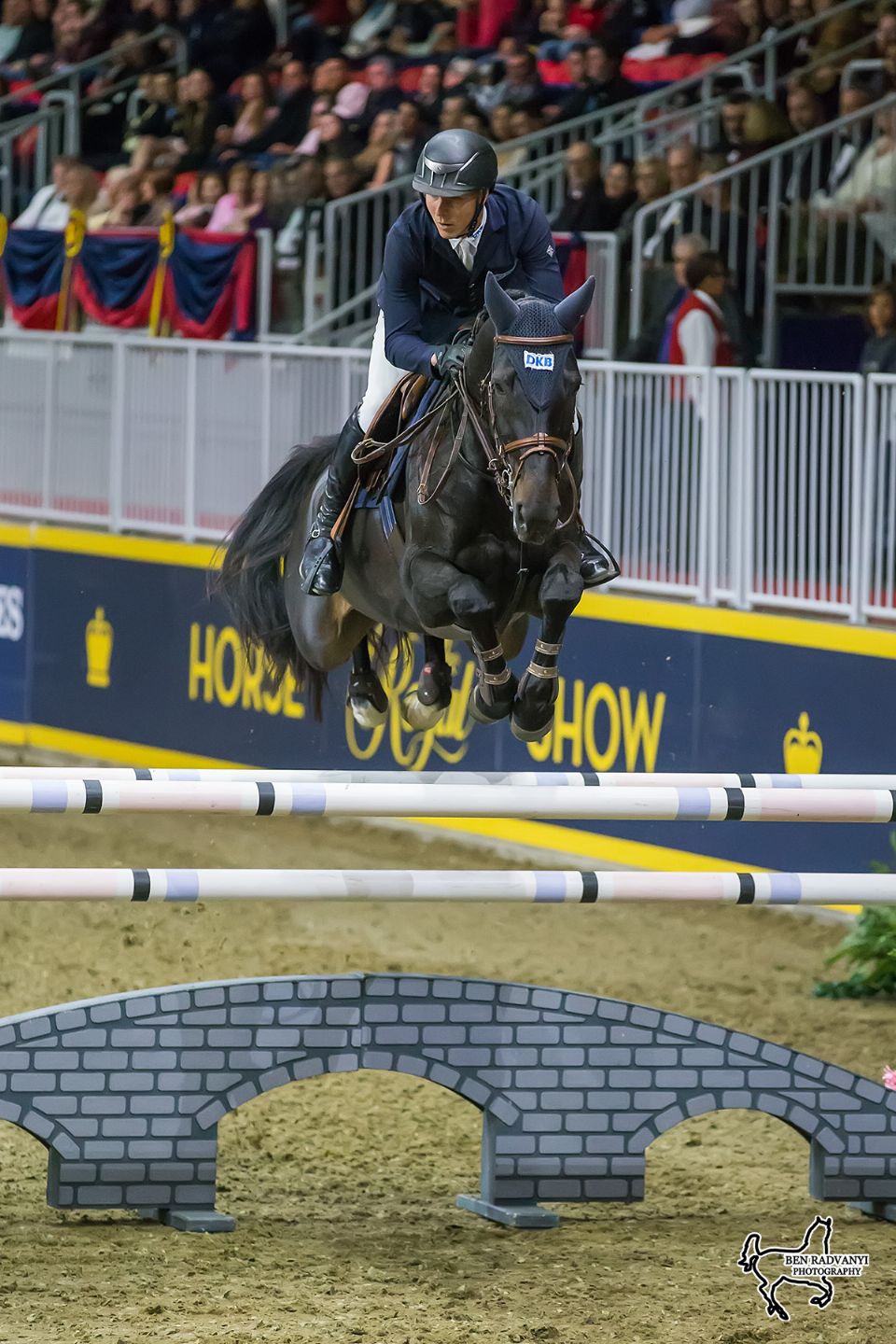 Germany's David Will riding Calista topped the $50,000 Weston Canadian Open at the CSI4*-W Royal Horse Show on Friday, November 11, in Toronto, ON.
Photo by Ben Radvanyi Photography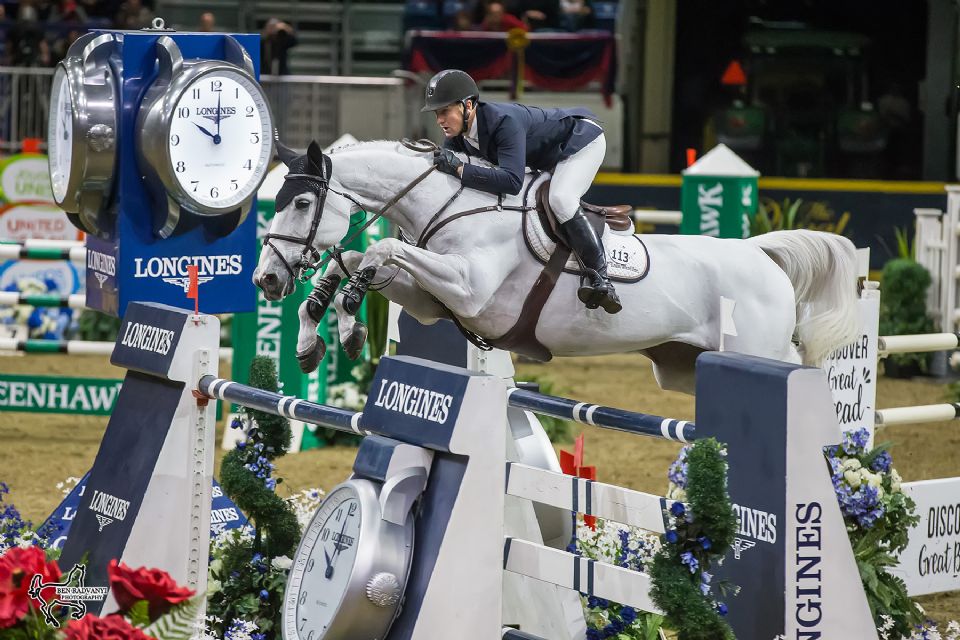 Two-time U.S. Olympic team gold medalist McLain Ward and Malou finished second in the $50,000 Weston Canadian Open at the CSI4*-W Royal Horse Show.
Photo by Ben Radvanyi Photography
Jessica Springsteen of the United States and Tiger Lily jumped to third place in the $50,000 Weston Canadian Open at the CSI4*-W Royal Horse Show.
Photo by Ben Radvanyi Photography
David Will of Germany scored his second victory in a row, winning the $50,000 Weston Canadian Open on Friday, November 11, at the CSI4*-W Royal Horse Show, held as part of the 94th Royal Agricultural Winter Fair in Toronto, ON.
Hot off his win in Thursday night's $35,000 International Accumulator aboard Cento du Rouet, Will returned to the Ricoh Coliseum with Calista to top a 22-horse starting field. Racing over the speed track, Will shaved more than two full seconds off the time posted by three-time Olympic medalist McLain Ward of the United States, stopping the clock in 51.20 seconds versus Ward's time of 53.31 seconds aboard Malou.
"There were many, many options," said Will of the track set by course designer Bernardo Cabral of Portugal. "I decided into the second double to do five strides because she has a very big stride. Then you could do an inside turn again to the next one. The course designer asked everything from us - if we can leave out strides, if we can do short turns. It was a very nice course.
"McLain was second today," continued Will. "It's really, really hard to beat him, so it's like a little plus, even. It shows me that I've done well if I'm able to beat him."
U.S. rider Jessica Springsteen finished close behind in third place with a time of 53.77 seconds riding Tiger Lily for owner Stone Hill Farm. Ten-time Canadian Olympian Ian Millar was fourth in front of an appreciative home crowd, stopping the clock at 55.09 seconds riding Dixson, owned by Susan and Ariel Grange. Ireland's Darragh Kenny rounded out the top five riding Cassini Z, owned by 2008 Canadian Olympic team silver medalist Mac Cone's Sothern Ways.
For Will, his first trip to Canada has been a winning one. In addition to bringing two of his own horses from Europe, he was reunited with Calista, a horse he rode as a seven-year-old. Now owned by fellow competitor Georgina Bloomberg's Gotham Enterprizes, Bloomberg generously loaned her horse to Will for The Royal.
"It couldn't be any better!" said Will of competing for the first time at The Royal. "It's a great show, especially for us riders. There's a really good crowd that pushes us to do our best performances. You feel that all of the people are involved in horse sport, and they really know if you are doing good at what you have done. It's just great!"
Competition at the Royal Horse Show continues on Saturday with the crowd-favorite $15,000 Canine-Equine Challenge, presented by the Toronto Star, as the matinee performance, and the grand finale, the $75,000 GroupBy 'Big Ben' Challenge, to close out the international show jumping division.
Tickets for the Royal Horse Show can still be purchased by visiting royalfair.org or ticketmaster.ca.
For more information on the Royal Horse Show, the marquee event of The Royal Agricultural Winter Fair, visit royalfair.org/horse-show. A complete horse show schedule can be accessed here.
Funding support for The Royal has been provided by the City of Toronto and the Government of Ontario.
$50,000 Weston Canadian Open – Thursday, November 11
Rider Country Horse Faults Time
1. David Will Germany Calista 0 51.20
2. McLain Ward United States Malou 0 53.31
3. Jessica Springsteen United States Tiger Lily 0 53.77
4. Ian Millar Perth, ON Dixson 0 55.09
5. Darragh Kenny Ireland Cassini Z 0 55.33
6. Vanessa Mannix Calgary, AB Winslow High 0 56.70
7. Jonathon Millar Perth, ON Bonzay 0 57.52
8. Hyde Moffatt Brantford, ON Granturo 0 59.79
9. Harrie Smolders Netherlands Corrada 0 62.03
10. Nick Skelton Great Britain Big Star 0 62.52
11. Leslie Howard United States Donna Speciale 4 51.05
12. Shane Sweetnam Ireland Cobolt 4 53.35
About The Royal
The Royal Agricultural Winter Fair is the world's largest combined indoor agricultural and equestrian show. This year, the 94th Royal Agricultural Winter Fair runs from November 4-13, 2016, at Exhibition Place in downtown Toronto. For competition schedules, live webcasting, results, and to purchase tickets, visit www.royalfair.org.