27th Annual Capital Challenge Horse Show Made Possible by Generous Sponsor Support
September 23, 2020 - Wilmington, OH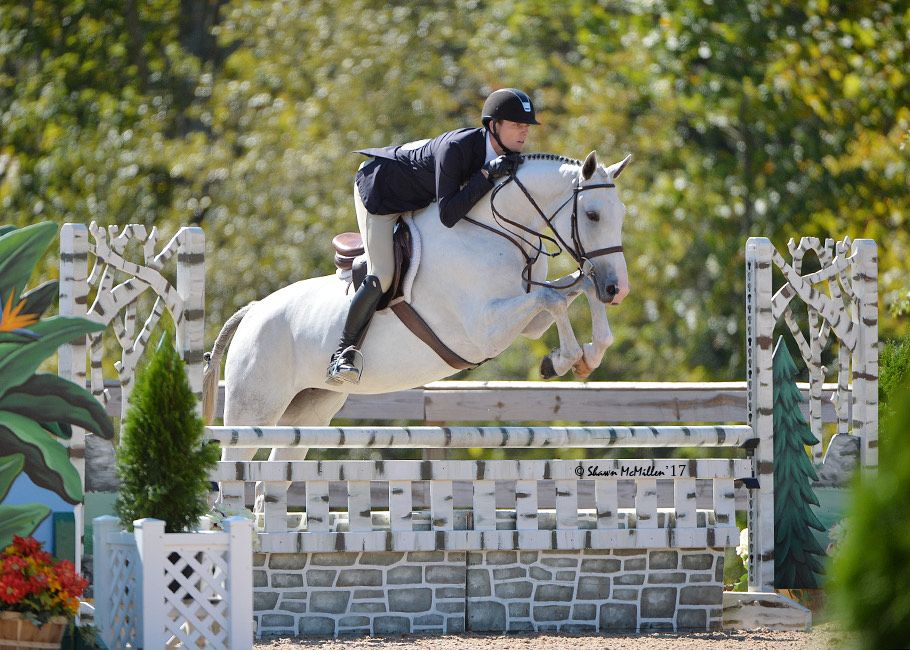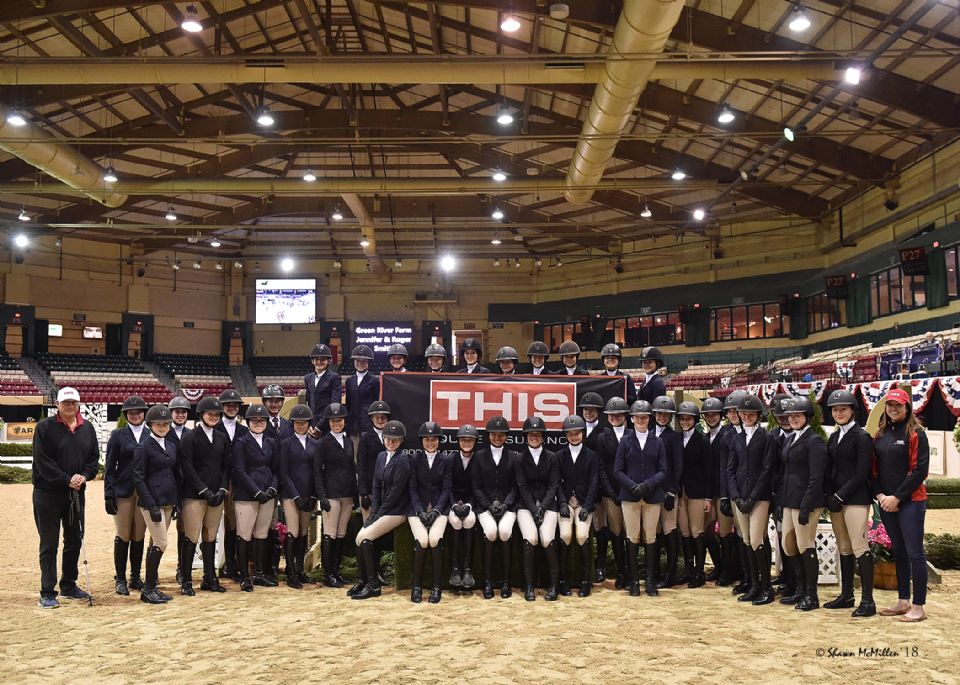 Michael Taylor (pictured far left) with a group of THIS National Children's Medal finalists. Since THIS began sponsoring the THIS National Children's Medal in 2008, more than 500 young riders have participated in the final at Capital Challenge.
Photo by Shawn McMillen Photography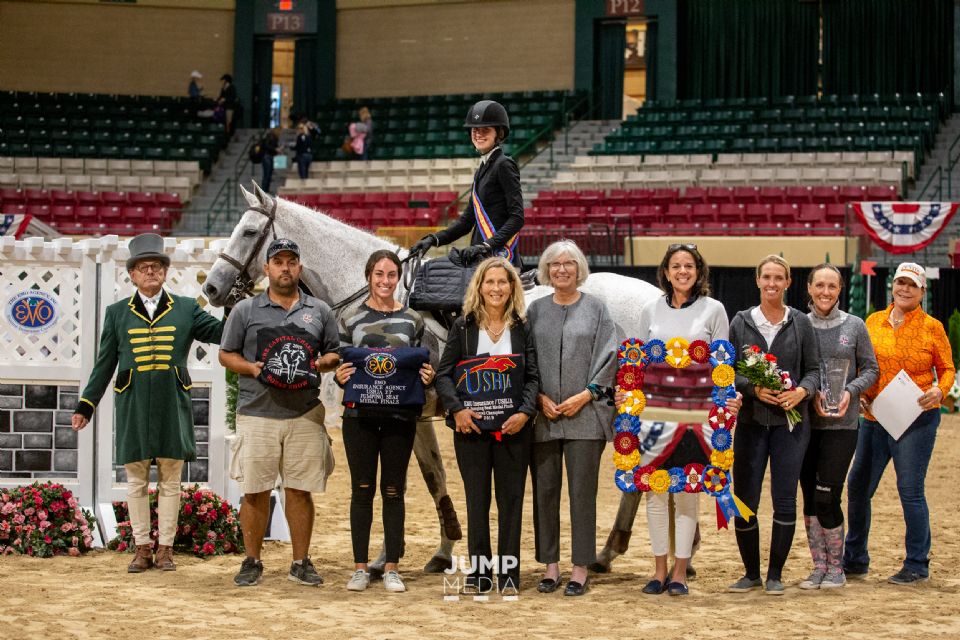 The EMO Agency, Inc.'s Sue Bopp (pictured fourth from left), presented Morgan Rosia as the 2019 winner of the EMO Insurance/USHJA Jumping Seat Medal Final - East.
Photo by Jump Media
The Capital Challenge Horse Show owes its success to the show's longstanding, generous corporate and patron sponsors. This year, the support has been tremendous.
In total, more than 100 sponsors and donors have contributed to the 2020 Capital Challenge Horse Show, to be held Friday, September 25, through Sunday, October 4, at the World Equestrian Center – Ohio.
Of those numerous supporters, dozens have been generously contributing to the Capital Challenge Horse Show for more than a decade. Many have also been a part of the horse show since its inception, such as equine insurance company, the EMO Agency, Inc., which supports the EMO Insurance/United States Hunter Jumper Association (USHJA) 3'3" Jumping Seat Medal Final and the EMO Trip of the Show awards.
"We've been with the show for 27 years; I still remember that because it's the year that I got married – 1993!" said Sue Bopp of the EMO Agency. "Before they had the World Championship Hunter Rider (WCHR), we sponsored the adult hunter classic. Then when CCHS started holding the WCHR classes, EMO started awarding the Trip of the Show and the Trip of the Day.
"The USHJA approached us to support the Jumping Seat Medal, and we are proud to be the title sponsor," continued Bopp. "Capital Challenge is one of the premier indoor shows, so we felt that it would be a good match for EMO. The show gets top quality horses and riders from both the West Coast and the East Coast. You don't have to qualify, but everyone knows that if you win at Capital Challenge, it's a really big accomplishment."
This year's EMO Trip of the Show awards, given to the horse with the highest scoring round in its division, will be presented across 10 divisions, and the winner of the EMO Insurance/USHJA Jumping Seat Medal Final will be named on Saturday, September 26.
"I love what I do," said Bopp, who has been in the equine insurance industry for 34 years. "We have great clients, and we want to support the industry and to give back."
Of the Jumping Seat Medal Final in particular, Bopp added, "I really like the fact that there's a stepping-stone for kids to do the equitation."
That same idea of providing a pathway for young equestrian athletes is also what led Michael Taylor of Taylor Harris Insurance Services (THIS) to get involved as the longtime presenting sponsor of the National Children's Medal, which welcomes 40 finalists to Capital Challenge each year.
"Billy Glass and Oliver Kennedy had come up with the National Children's Medal, and we became involved in 2008," said Taylor, who founded THIS in 1987 and who has grown the company into a leader in the industry. "Personally, I'm a huge supporter of young people's sporting efforts. I really like that the National Children's Medal looks after that side of the sport. I think it's so important for youth to learn about how to excel in sports and particularly with horses. It gives them lots to think about as far as discipline and dedication.
"Since we got involved in 2008, more than 500 finalists have participated in the THIS National Children's Medal Final," continued Taylor. "I think that's a great testament to the class. I always feel that Capital Challenge does a brilliant job, and it's very well managed. It's a pleasure to be a part of that whole effort."
Similarly, for sponsors, such as Ken and Didi Mackenzie's Quail Hollow Tack, that are also vendors, the quality of the Capital Challenge Horse Show and the team behind it are what have kept them coming back for 26 years.
"The most important thing is that it's the best hunter show in the country," said Ken Mackenzie, who only missed Capital Challenge's inaugural year and has been a vendor and sponsor each year since. "Everything's done with a touch of class; the way you'd want any horse show to be run. It's like the ultimate horse show. The really exceptional thing is that normally you have West Coast horses and East Coast horses competing in different parts of the country. At this show, everyone competes at the same show, so it's really the first time all year that hunters from all over the country are in the same location competing against each other, so the quality is unbelievable.
"I care enough about the show that I'm a sponsor there as well as being a vendor," continued Ken Mackenzie. "When Billy [Glass] and Oliver [Kennedy] first came up with that format, we wanted to support them, and we've felt that way ever since."
In addition to longtime sponsors, the Capital Challenge Horse Show team is proud to welcome many new, young patrons of the show this year, including Geoffrey Hesslink and Brendan Williams of Hesslink Williams LLC.
"Geoffrey and I have both loved this show since we were kids; we sat down at the beginning of the year and picked a couple of shows that we wanted to support going forward," said Williams, who alongside Hesslink will have 12 horses competing at this year's Capital Challenge, with Hesslink in the irons in the professional divisions plus clients competing in the junior hunter, equitation, and children's jumper classes.
"We tried to pick a few shows to compete at that really feel special for all of our clients," continued Williams. "At Capital Challenge, between the ribbons and presentations, they do such a nice job that everyone leaves feeling happy. I think they do a really good job of making every single class feel very important. It's a great experience for us, for the clients, and for the horses."
See this year's list of more than 100 sponsors and donors, including class sponsors, award donors, and more, here.
Details on this year's show, including the complete prize list and schedule of all hunter, jumper, and equitation offerings can be found online here.
To learn more about the Capital Challenge Horse Show, visit www.capitalchallenge.org, and find the horse show on Facebook, Instagram, and Twitter.