Two Weeks of Back-to-Back International Show Jumping Competition at Ottawa's Wesley Clover Parks
June 27, 2019 - Ottawa, ON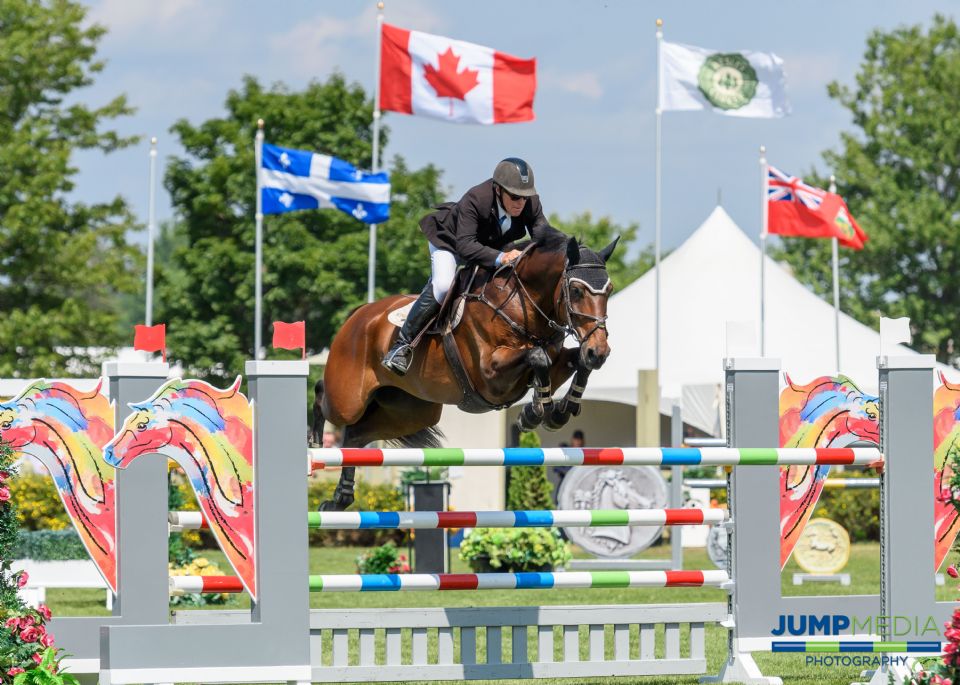 Canadian Olympian Hugh Graham of Schomberg, ON, pictured riding Knock Out 3E, will be back to defend his title in the CSI3* Grand Prix at the Ottawa International Horse Show.
Photo by Jump Media
World-class show jumping will return to Canada's national capital for two weeks of back-to-back competition at the CSI2* Ottawa International I and the CSI3* Ottawa International II, to be held at Wesley Clover Parks in Ottawa, ON, from July 10-14 and July 17-21, respectively.
This year, both weeks of competition have the added distinction of being sanctioned by the Fédération Equestre Internationale (FEI), allowing riders to earn valuable world ranking points – an added draw for international competitors.
Featured events of the CSI2* Ottawa International I include:
Thursday, July 11 – $36,100 CSI2* Open Welcome, presented by Wellings of Stittsville
Friday, July 12 – $10,000 Canadian Hunter Derby Series Open Hunter Derby, presented by Pepsi
Saturday, July 13 – $36,100 CSI2* Classic, presented by RBC
Sunday, July 14 – $5,000 1.15m Canine Equine Relay, presented by Royal LePage Realty and featuring dogs from Dogz Canine Sports Centre
Highlights of the CSI3* Ottawa International II include:
Wednesday, July 17 – $7,000 CSI3* Welcome Speed, presented by Deloitte
Thursday, July 18 – $37,000 CSI3* Capital Classic
Friday, July 19 – $10,000 Under 25 1.40m Grand Prix, presented by MarBill Hill Farm
Saturday, July 20 – $134,000 CSI3* Grand Prix, presented by Brookstreet Hotel
Sunday, July 21 – $15,000 National Grand Prix, presented by CIBC Wood Gundy
Horses and riders will compete on Wesley Clover Parks' expansive grass field with jumping courses set by 2016 Rio Olympic Games course designer Guilherme Jorge of Brazil and Germany's Olaf Peterson, Jr.
Bridging the two-week Ottawa International Horse Shows is the new "Spurs and Sparkles" fundraising event to benefit the Ottawa Regional Cancer Foundation. Beginning at 5 p.m. on Monday, July 15, the "Spurs and Sparkles" fundraiser will be an opportunity for the Ottawa community to see world-class show jumping athletes and their horses up close and personal, all for a great cause. A thrilling "Get Up and Gallop" race will match local business leaders and celebrities with grand prix riders while live and silent auctions will add to the fun. Food stations catered by Brookstreet Hotel, local craft brewery and whiskey tastings, and a DJ will ensure a great evening of entertainment. For more information and to purchase tickets, visit www.SpursandSparkles.com.
Conveniently located at the Moodie Drive exit off the 417 highway, Wesley Clover Parks' uniquely urban location makes the Ottawa International Horse Shows one of the very few Canadian show jumping tournaments to be held inside city limits.
For more information on the Ottawa International Horse Shows, visit www.OttawaEquestrianTournaments.com. Find the latest updates including class announcements, prize lists, photos, and more by following Ottawa Equestrian Tournaments on Facebook here.
- 30 -