Stacia Madden, BarnManager, and WIHS Shared the Fundamentals of Equitation with Maryland Pony Club Riders!
May 1, 2019 - Mount Airy, MD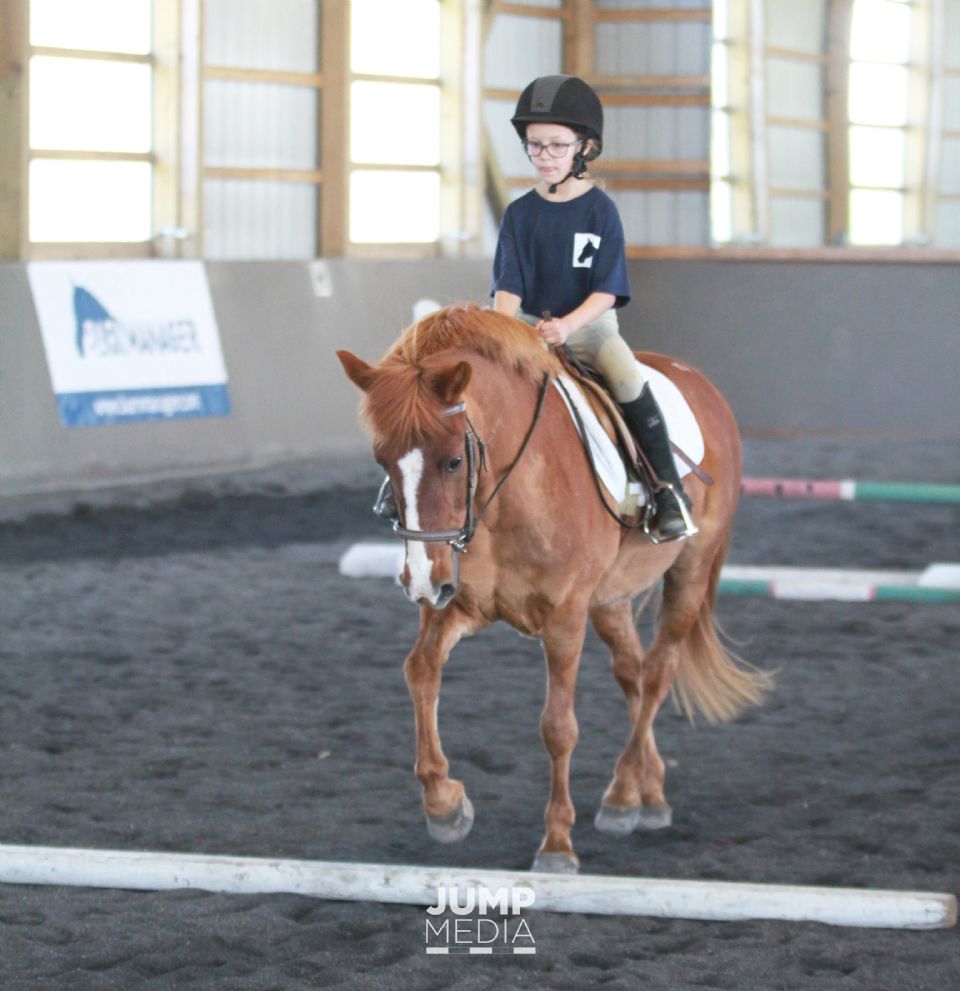 Pony Club rider Metou Liker works over a ground rail exercise with her mount, Flicka.
Photo by Jump Media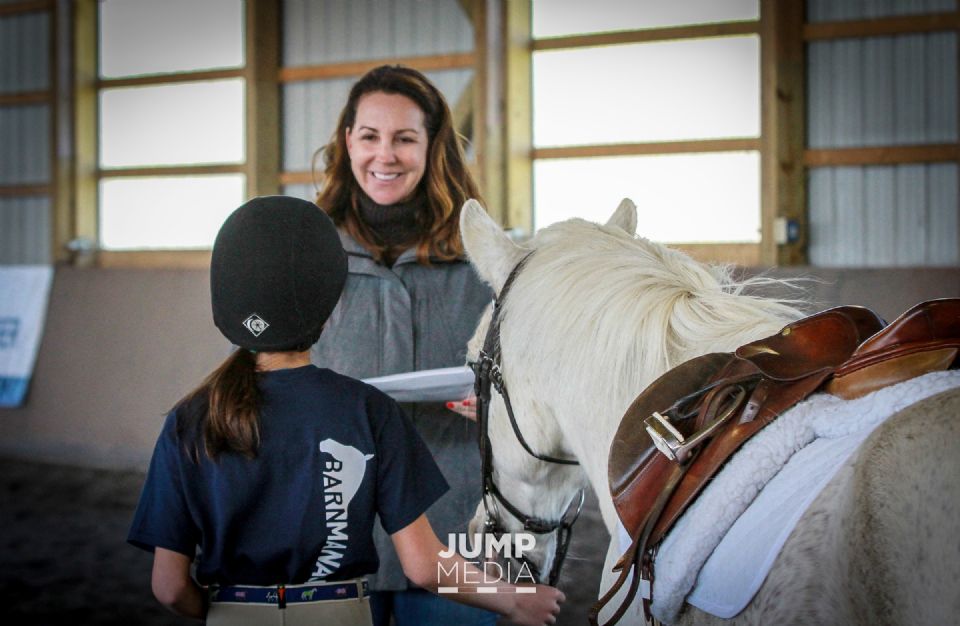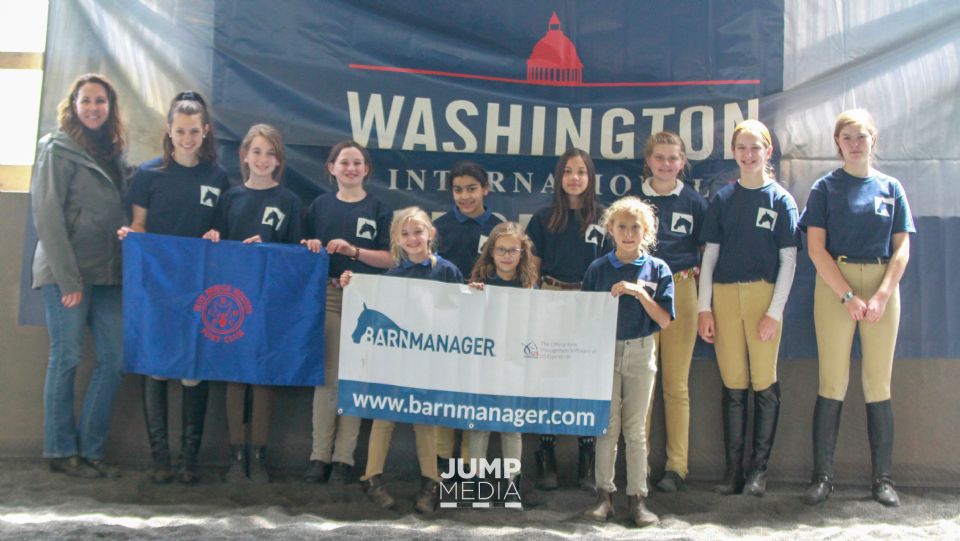 Stacia Klein Madden with the group of Iron Bridge Hounds Pony Club riders who participated in the Fundamentals of Equitation clinic.
Photo by Jump Media
Stacia Klein Madden is renowned for training top equitation riders, and on Saturday, April 27, 11 members of the Iron Bridge Hounds Pony Club (IBHPC) had the opportunity to benefit from Madden's equitation expertise thanks to the Washington International Horse Show (WIHS) and BarnManager – and to IBHPC's video production skills!
The Pony Club riders submitted this winning entry into the 2018 WIHS Barn Night Group Video Contest, presented by BarnManager, and in turn, were awarded the "Fundamentals of Equitation" clinic with Madden.
"The Washington Barn Night Clinic is a unique and fun opportunity for BarnManager to promote horsemanship and education and have a little fun while we're at it!" said Nicole Lakin, founder and chief executive officer of BarnManger. "We love participating in the Washington International Horse Show, but sponsoring the clinic allows us to have a continued presence in the local equestrian community as well.
"We had a blast watching equitation guru Stacia Madden work with the Iron Bridge Hounds Pony Club," continued Lakin. "Stacia is an incredible teacher, and she imparted wisdom to the tough and dedicated riders with the use of creative analogies and a deep understanding of how all riders learn differently. It was so much fun to watch the riders tackle new challenges, try different methods to solve a problem, and ultimately end their rides with a smile and a feeling of accomplishment."
The riders participating in the clinic, ranging in age from seven to 16, generally focus on dressage, show jumping, and eventing in their lessons, but Madden's emphasis on equitation provided them with tips and tools that can be beneficial to their riding across disciplines.
"It basically comes down to basics," explained Madden, who trains out of her own Beacon Hill Show Stables in Colts Neck, NJ. "The basics are the same, whether you're teaching somebody to be on a horse for the first time, or whether you're trying to win a national championship. It's just levels and degrees of what you're trying to fine-tune.
"It's really refreshing to teach at this level because you can see the kids get it so fast," continued Madden. "They're like sponges, and they take in the knowledge so fast. When you're at a grass-roots level, you can see the improvement so much faster. It's very gratifying!"
Throughout the day, Madden taught five groups of riders, ranging in skill level from young walk-trot riders to those competent at jumping three feet, and both riders and parents alike expressed how much they felt was gained from Madden's instruction.
"This is a gift for us," said Theresa Riley, the mother of D2 Pony Clubber Ella Riley, who rode in the clinic. "We have great instructors, but we don't always have the opportunity to have such high-caliber trainers for the children. This is something that's very valuable for them; hopefully they take what they've learned here and carry it on."
Ella Riley added, "It went really well. She's a great trainer! I'll take home a lot of fun memories from today, and I'll now I know how to stop from a canter. The canter-halt transitions were something I hadn't done much. I know I'd worked on it once before and failed miserably, so it was nice to be able to figure it out. She's just a great trainer. I hope we win next year!"
"It's amazing; they would have never had this opportunity if it wasn't for the Washington International Horse Show and BarnManager people putting it together for us," Carrie Roesler, the mother of another of the Pony Club participants, Penelope Roesler, said. "I was impressed how she tailored each lesson to what she saw in the first five minutes and was able to correct some things that the girls have been working on for a really long time. It means a lot to them."
For those interested in entering the 2019 WIHS Barn Night video contest, presented by BarnManager, and winning a clinic of their own in 2020, visit www.wihs.org/barn-night to learn more.
"WIHS is a great partner, and we love their dedication to both high-level equestrian sport as well as the local equestrian community through their programming, their Regional Show, and through the clinic," concluded Lakin.
To learn more about BarnManager, visit www.BarnManager.com.
About BarnManager
BarnManager is the official barn management software of US Equestrian, providing horse owners and managers with the tools they need to streamline and simplify their daily management responsibilities! Now available for only $10 a month, the software and app offers digitized record keeping for the many facets of horse care and has developed intuitive and simple business tools to make small business management accessible and easy. Learn more and start a two-week free trial at www.BarnManager.com!
About the Washington International Horse Show
Established in 1958, the Washington International Horse Show is one of North America's most prestigious and entertaining equestrian events attracting more than 26,000 spectators annually to Washington, D.C., for Olympic-level competition plus community and charity events. More than 500 top horses and riders arrive from all over the globe to jump for more than a half a million dollars in prize money. Highlights include the $135,000 Longines FEI Jumping World Cup™ Washington for the President's Cup presented by Events DC, the $25,000 Puissance high jump, $50,000 Speed Final on Military Night and Kids' Day, a free, fun and educational community event. Learn more by visiting www.wihs.org.