Spurs and Sparkles Fundraiser Coming to Ottawa Equestrian Tournaments
June 4, 2019 - Ottawa, ON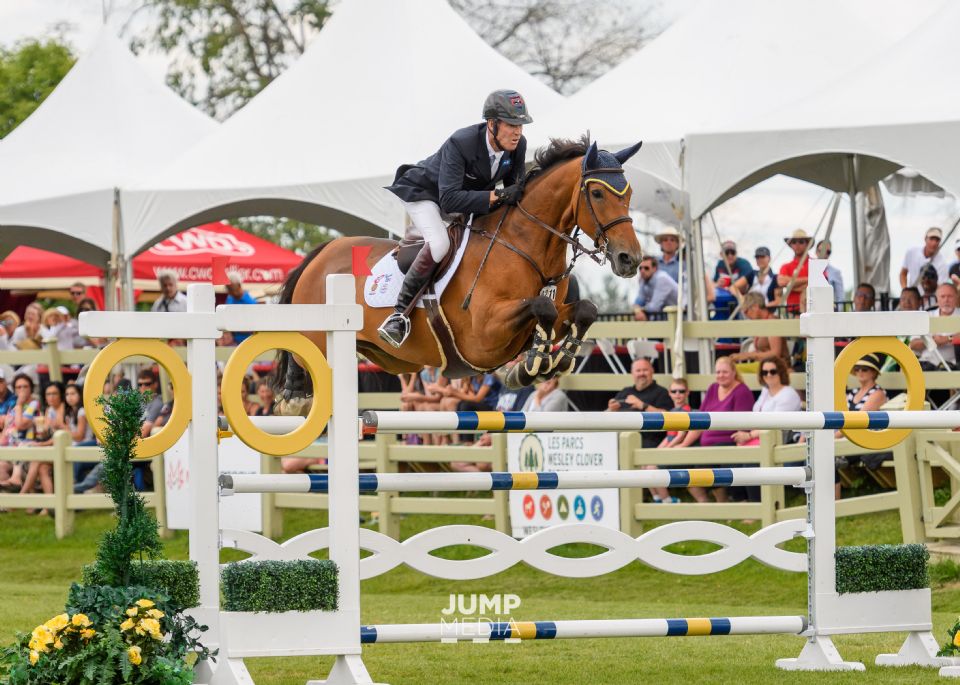 Ten-time Canadian Olympian Ian Millar of Perth, ON, will be one of the team members at the "Spurs and Sparkles" fundraising event for the Ottawa Regional Cancer Foundation on Monday, July 15, at Wesley Clover Parks in Ottawa, ON.
Photo by Jump Media
The Ottawa Equestrian Tournaments have introduced a new charity component, the "Spurs and Sparkles" fundraising event, to benefit the Ottawa Regional Cancer Foundation on Monday, July 15, at Wesley Clover Parks in Ottawa, ON.
Beginning at 5 p.m., the "Spurs and Sparkles" fundraiser will be an opportunity for the Ottawa community to see world-class show jumping athletes and their horses up close and personal, all for a great cause. Highlighting the evening is the thrilling three-part "Get Up and Gallop" race where local business leaders and celebrities will be matched up with grand prix riders and their horses to form teams. First, competitors will test their skills with a stick and ball putting distance, then navigate a wild and daring golf cart track on the grass field at Wesley Clover Parks. As soon as the golf cart driver crosses the finish line, their equine partner will race over a show jumping course for the third and final phase of the "Get Up and Gallop" race. Speed is the name of the game, and the team with the fastest combined time will be declared the winner. Adding to the charity component, teams are available for purchase, and a Calcutta auction will allow spectators to bid on their favourite teams.
In addition to the action on the field, guests will enjoy a wide range of activities under the Capital Tent, presented by Ottawa Tourism. Food stations will be catered by Brookstreet Hotel while local craft brewery and whiskey tastings will add to the fun. Live and silent auctions will feature such coveted items as a private riding lesson with the Millar family and an opportunity to watch the $134,000 Grand Prix on Saturday, July 21, from the in-ring gazebo, giving one lucky bidder an unprecedented and up-close view of the action.
"We are really looking forward to hosting an event that brings show jumping sport together with the local community in a fun and entertaining way," said Karen Sparks, Executive Director of Wesley Clover Parks. "Cancer research is a cause that is close to my heart, and we are so pleased to work with the Ottawa Regional Cancer Foundation, a local organization working so hard to change the lives of those affected by cancer, as our charity partner. It's going to be a fun night unlike anything Ottawa has ever seen before!"
Tickets are $175 per person or $150 if purchased by a group of 10. Click here to buy yours today!
"Spurs and Sparkles" will bridge the two-week Ottawa International Horse Show, running from July 10-14 and July 17-21, 2019, at Wesley Clover Parks, conveniently located at the Moodie Drive exit and the 417 highway. For more information, visit www.SpursandSparkles.com.
For more information on the CSI2* and CSI3* Ottawa International Horse Shows, visit www.OttawaEquestrianTournaments.com. Find the latest updates including class announcements, prize lists, photos, and more by following Ottawa Equestrian Tournaments on Facebook here.