NetJets® U.S. Jumping Team Has Strong Start in Opening Day at FEI World Equestrian Games™ Tryon 2018
September 19, 2018 - Mill Spring, N.C.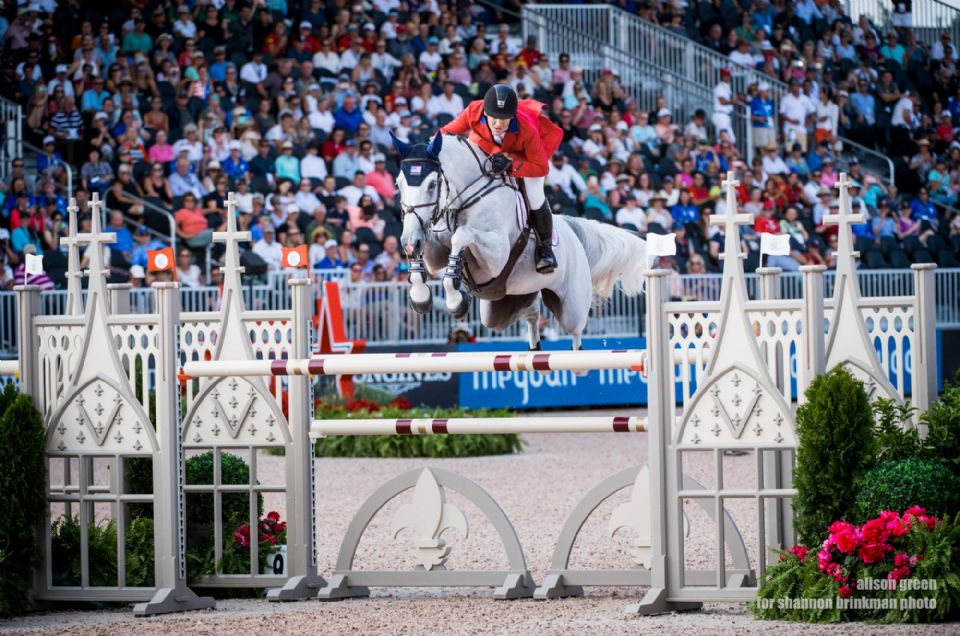 McLain Ward and Clinta led the NetJets U.S. Jumping Team in the opening day of the FEI World Equestrian Games Tryon 2018.
Photo by Alison Green for Shannon Brinkman Photo
The NetJets® U.S. Jumping Team started their first day of competition on Wednesday, September 19, at the FEI World Equestrian Games™ (WEG) Tryon 2018 as they compete for a team qualifying spot at the 2020 Tokyo Olympic Games. They recorded a strong result, finishing in fourth place as a team with a total of 6.59 penalties. The team of Devin Ryan, Adrienne Sternlicht, Laura Kraut, and McLain Ward were led by Chef d'Equipe Robert Ridland.
Today's round was a faults-converted speed format and served as a qualifier for the team and individual standings. The results from today's round will be combined with Thursday's Round 1 and Friday's Round 2 for the final team score.
First into the ring for the U.S. was Ryan (Long Valley, N.J.), riding Eddie Blue, LL Show Jumpers, LLC's nine-year-old Dutch Warmblood gelding. They had one rail down, which added four seconds to their time for a total of 83.62 seconds. With the multiplier used for individual standings, Ryan is now in 38th place with 3.64 penalties.
"After day one, he felt great out there, he felt confident, he felt solid," said Ryan of his mount that he has ridden for five years. "It was a blast walking through the ring and having the whole crowd and the American crowd cheering you on. It's unbelievable when I get on that horse, the confidence that I have in him. I think he believes in me that much too."
Sternlicht (Greenwich, Conn.) and Cristalline, Starlight Farm LLC's 10-year-old Bavarian Warmblood mare, also had one rail down and finished with a time of 84.86 seconds. With 4.26 penalties, the combination sits in 45th place and served as the drop score for the team.
"I'm really happy to be here," said Sternlicht, who is riding in her first championship. "I'm happy that I had a confident round, but I know that I can do better for my team."
Olympic gold medalist Laura Kraut (Wellington, Fla.) is riding in her third FEI WEG for the U.S., this time with Zeremonie, Old Willow Farms LLC's 11-year-old Holsteiner mare. The pair put in the first clear round for the U.S. team in a time of 80.08 seconds. This slotted them into 12th place on 1.87 penalties at the end of the class.
Kraut said, "The mare was just amazing. She stuck right to the plan. I'm cautiously optimistic that the three days in a row should not really impress her too much. I think we're looking good at the moment."
Anchor for the U.S. team and four-time WEG veteran McLain Ward (Brewster, N.Y.) rode Clinta, an 11-year-old Oldenburg mare he owns with Sagamore Farm. The two-time Olympic gold medalist piloted Clinta to a clear round in 78.49 seconds, much to the delight of the home crowd.
"She felt spectacular," said Ward of the mare that he has ridden only since March. "Maybe if it were a jump-off, I would have taken a bit of a risk in a few more places, but today is a little bit risk and reward. She tries so hard; she gives so much of herself. She loses a little time in the air for sure, [but] I'm thrilled with the way she went."
Ward and Clinta currently sit eighth individually with 1.08 penalties.
In team competition, Switzerland leads with 2.64 penalties, The Netherlands is second with 4.35 penalties, and with 6.42 penalties, Brazil is third.
The NetJets U.S. Jumping team returns Thursday, September 20, for their second ride, which counts toward individual and team standings, at 9 a.m. EST. Team medals will be determined after the top 10 teams return for a third round on Friday, September 21.
Stay up to date on the NetJets U.S. Jumping Team at WEG by following USA Jumping on Facebook and US Equestrian on Twitter and Instagram, featuring a daily Instagram Story. Use #USAJumping and #Tryon2018
The USEF International High Performance Programs are generously supported by the USET Foundation, USOC, and USEF Sponsors and Members.