Land Rover Named Official Vehicle of Washington International Horse Show
October 17, 2018 - Washington, D.C.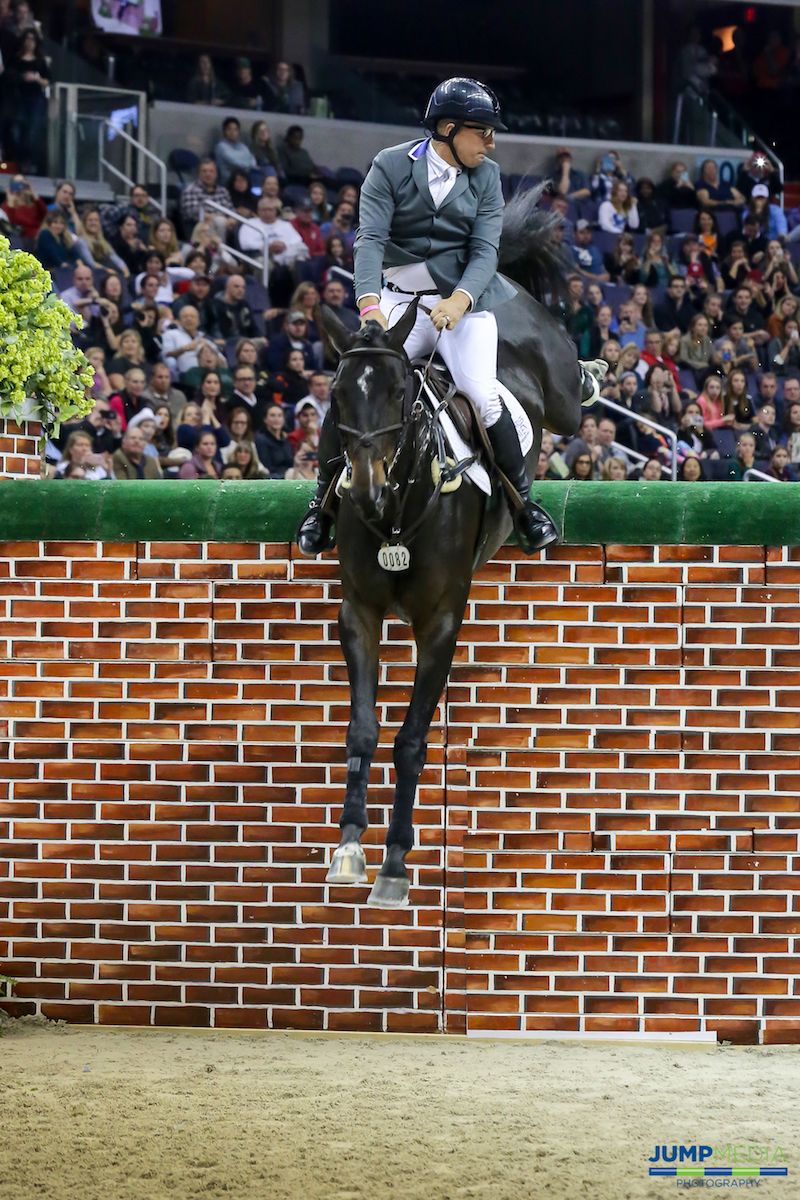 2016 and 2017 winners Aaron Vale and Finou 4 clearing the 6-foot-7 puissance wall at the Washington International Horse Show.
Photo by Jump Media
The 2018 Washington International Horse Show (WIHS), which will celebrate its 60th anniversary from October 23 through 28 at Capital One Arena in downtown Washington, D.C., has named Land Rover the Official Vehicle of the historic event, as well as title sponsor of the $25,000 International Jumper Land Rover Puissance.
Land Rover has a storied dedication to involvement with equestrian sport across the globe, including the Land Rover Burghley Horse Trials in England and Land Rover Kentucky Three-Day Event in Lexington, KY. Additionally, Land Rover established a partnership with US Equestrian (USEF) in 2010, which includes the sponsorship of the Land Rover U.S. Eventing Team.
WIHS is proud to welcome Land Rover to its family of devoted sponsors and join the celebrated list of events they support, according to WIHS Chairman Anne Poulson.
"Land Rover has been an exceptional supporter of horse sport across many disciplines, and we are honored that WIHS will join that list," she said. "WIHS prides itself on connecting show jumping with a variety of horse sport fans and involving mainstream brands in the success of the event. Supporters like Land Rover help WIHS accomplish the goal of introducing the exhilaration and awe of equine sports to fans from all walks of life."
Land Rover will headline Friday, October 26, at WIHS as title sponsor of the $25,000 International Jumper Land Rover Puissance. Friday is also the seventh annual WIHS Military Night, presented by Caterpillar, where WIHS will welcome competitors and spectators alike to salute members of the U.S. military. This year, riders will take aim at the North American indoor puissance record set at 7' 7 1/2," by Anthony d'Ambrosio and Sweet 'N Low at WIHS in 1983. WIHS Military Night benefits the Tragedy Assistance Program for Survivors, and will offer complimentary tickets to military personnel and their families in cooperation with Land Rover.
"Having a longstanding relationship with equestrian sport in the U.S., Land Rover North America is pleased to be partnering with the Washington International Horse Show for the first time," said Kim McCullough, Vice President Marketing, Jaguar Land Rover North America, LLC. "This prestigious multi-faceted event is the perfect platform for Land Rover to engage with both current owners and prospective new customers.
On site, Land Rover will display the Range Rover Velar at its booth located on the concourse level where visitors will have a chance to meet some of the competitors at rider autograph signings and collect a commemorative gift. Attendees to the display will have an opportunity to learn about the Range Rover Velar, as well as the full line-up of Land Rover models, each which encompass their own defining characteristics, personality and positioning.
Land Rover introduced the fourth member of the Range Rover family, the Range Rover Velar, at London's famed Design Museum in early 2017. For 2018, the Range Rover Velar was named World Car Design of the Year at 2018 World Car Awards.
Bringing a new dimension of modernity and elegance to the Range Rover family, the Velar is designed to fill the white space between the Range Rover Evoque and Range Rover Sport; offering levels of luxury, refinement and all-terrain capability never before seen in the mid-size SUV segment.
WIHS will continue a longstanding tradition as one of the world's most celebrated indoor horse shows in 2018 and again host the $135,000 Longines FEI Jumping World CupTM Washington, presented by Events DC, with coveted qualifying points on offer for the 2019 Longines FEI Jumping World CupTM Final taking place in Göteborg, Sweden, in April. Additionally, WIHS will welcome qualified hunter, jumper, equitation, and pony riders from across the nation and celebrate year-end titles, including the coveted Lindsay Maxwell Charitable Fund WIHS Equitation Finals.
For more information on Land Rover please visit www.LandRoverUSA.com or follow the brand on Twitter and Facebook. For more information on WIHS please visit www.wihs.org, join us on Facebook, and follow us on Twitter and Instagram, YouTube, and Snapchat. Tag us using #WIHSTurns60, #WIHS2018 #HorsesInTheCity, #FEIWorldCup, and #Longines.