Go Behind the Scenes of Georgina Bloomberg's Success with Horse & Country TV
July 10, 2018 - New York, NY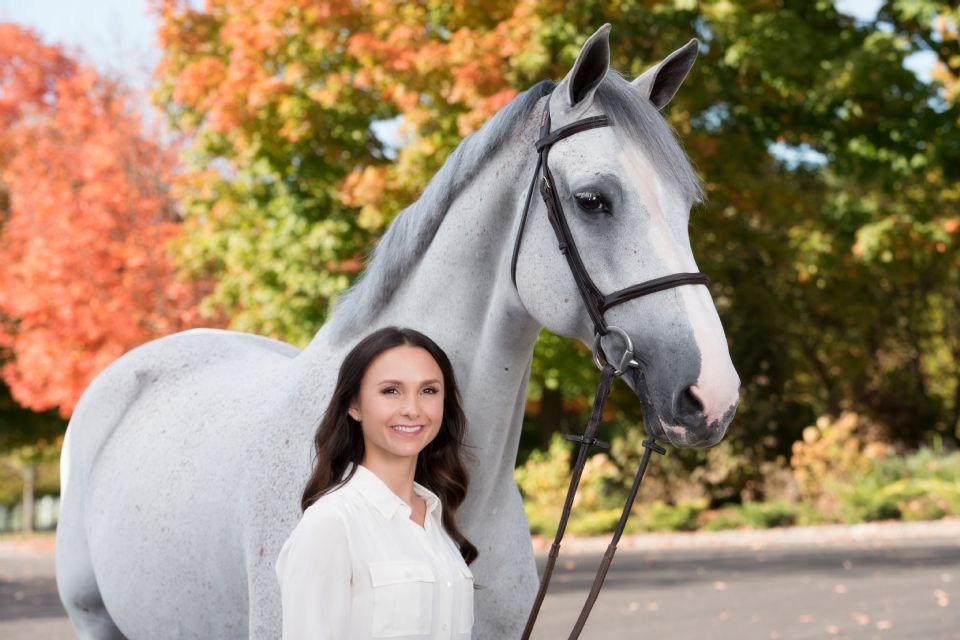 Georgina Bloomberg is the focus of Horse & Country TV's new U.S. programming in shows Barn Talk and Masterclass USA.
Photo by Geoffrey Tischman
Fans of top international show jumper Georgina Bloomberg can get an exclusive look behind the scenes of her training program in two special episodes aired on Horse & Country TV on Tuesday, July 10 at 7:30 p.m. EST. Bloomberg, 35, is a veteran of U.S. Nations Cup teams, a member of the bronze-medal U.S. team at the 2015 Pan American Games, and a winner of more than 50 grand prix classes as well as a mother and active philanthropist.
"I am excited to share my story and our animals with the viewers of Horse & Country TV," said Bloomberg. "I hope that seeing our story will inspire others to get involved with their local animal rescue and that our schooling exercises will help those interested in show jumping!"
Horse & Country TV is a British television channel broadcasting in the United Kingdom, Ireland, the Netherlands, Sweden, Germany and Australia and worldwide on multiple online platforms. Horse & Country TV is the go-to place for the passionate audience for equestrian sports and lifestyle, with 790,000 viewers quarterly. In April, Horse & Country TV launched in the U.S. on Roku players.
In the Barn Talk episode, Bloomberg takes Horse & Country TV's cameras on a tour of her beautiful North Salem, NY, farm. Viewers meet a few of Bloomberg's top horses and learn about how Bloomberg's program keeps them in winning form. Bloomberg also introduces viewers to several of the charming rescued animals that live on the farm, including the famous pig Wilbur and a goat named Petey, as well as various dogs and a retired New York City carriage horse.
Bloomberg discusses her passion for the sport and her dedication for philanthropic causes such as animal rescue and her charity, The Rider's Closet, in addition to how she juggles competing at the top levels of the sport alongside raising her son, Jasper.
Immediately following the Barn Talk episode, Bloomberg appears in a Horse & Country Masterclass USA, where she takes viewers through a few of her favorite schooling exercises, explaining the benefits and goals of the exercises as she rides them. It's an in-depth look at how a grand prix rider works at home to put together the pieces of a winning performance in the ring. Bloomberg has developed multiple homebred young horses through the ranks and illustrates how the exercises can benefit both experienced and greener jumpers.
The Barn Talk episode debuts at 7:30 p.m. EST on Tuesday, July 10, with the Horse & Country Masterclass USA episode following immediately with subscribers able to watch on https://horseandcountrytv.us/ or with the Horse & Country TV app. Both episodes will also available for on-demand viewing for subscribers after their debut on all of Horse & Country TV's platforms. Make sure to sign up at https://horseandcountrytv.us/subscribe/ in order to join in on this exclusive look into a top show jumper's life and program.
For more information on Georgina Bloomberg, visit www.georginabloomberg.com. Follow her Facebook page and Instagram to see more behind the scenes with Bloomberg's horses and career.
An animal lover from an early age, Georgina Bloomberg has combined a career in international show jumping with extensive philanthropic work with animal welfare and The Rider's Closet, an organization she founded to help provide underprivileged riders with clothes and equipment. Bloomberg, who also co-authored four young adult novels about the horse show world, is based in New York City, NY; North Salem, NY; and Wellington, FL.